The dos and don'ts of dropping trou at a nude beach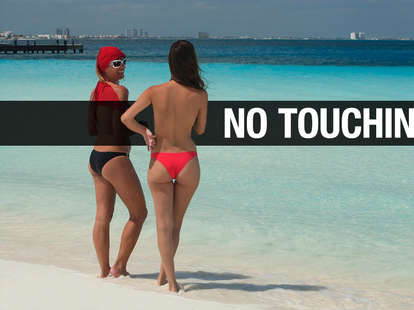 Thrillist
Thrillist
Contrary to popular fantasy, nudist resorts don't exist so you can chase hot women around the pool all day; that's why there's a Playboy Mansion you'll never get invited to. These seemingly liberal locales often run a tight ship when it comes to proper etiquette, so before you go balls to the wall, make sure you know all the rules.
The Basics
While individual resorts lay out their own guidelines, there's fundamental nudist "know-how" you should have down pat. If you do nothing else during your stay, abide by these four rules -- in part so you don't look like a total amateur, but mainly because the disappointing glares you'll receive cut even deeper when you're standing there completely naked.

1. Always keep a towel on hand
In a valiant effort to maintain certain sanitation standards, you're required to sit on a towel in any common area. Phrased another way: No bare asses on the bar stools. Got it?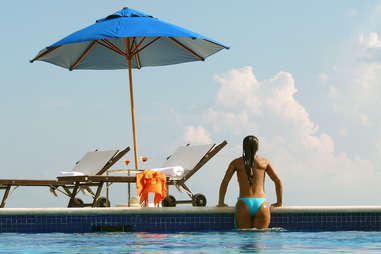 2. No gawking
Don't be that creepy guy in the corner. Just don't. Be the creepy guy lurking poolside… just kidding. FYI, nudists can tell you're still staring at them behind those mirrored aviators. You're not fooling anybody.

3. Never photograph anyone without permission. Many nudists are camera-shy.
Probably due to the fact that most of them shouldn't be nude outside their own rooms (yes, we understand, they're proud of their bodies, and America is such a prudishly repressed society blah blah blah) but unfortunately, this means your Nashville filter won't get any play this vacay. #keepyourselfiestoyourself

4. Explicit sexual behavior is not permitted
At all. You were warned; this isn't Hef's house in the '70s. Leave coitus to the privacy of your room, and don't change the mood in the communal hot tub.
Advanced Nudism
With the basics under your belt (which is still in your luggage 'cause you're not wearing any clothes), there are some resort-specific regs worth noting.
1. Be careful when feeding the wildlife; animals bite
Cypress Cove Resort in Kissimmee, FL, knows that just because you're going au naturel, it doesn't mean Mother Nature's your BFF. Sure, it's sexy when your lady gives you a little nibble, but Alvin and his chipmunks might not be so gentle. Luckily, this rule is in place to remind you those little suckers do, indeed, eat nuts. Also, beware of alligators as they can bite your wang clean off.

2. Jewelry that attracts a lot of attention is not welcome
Probably smart advice anywhere, but several nudist properties, including Cypress Cove, Caliente Club & Resorts, and Berkshire Vista Resort in Hancock, MA (happy coincidence or brilliant marketing strategy?), do not invite Prince Albert to the party (either in a can or otherwise), and frown upon large jewelry, displayed on genitalia or elsewhere.
3. You must return to your room by 9p sharp each night
No wait, that's one of Hef's new rules for the bunnies back at the Mansion. He's gotten strict, but dude's snoozy after his early bird dinner!