The most luxurious nude resort you'll see all week
Despite what you think you may know about nudist resorts from late-night cable and that shoebox of pics you found in your parents' closet, not all of them need conjure up images of saggy man boobs, rundown rooms, and Summer of Love yarns. No, turns out there are luxury resorts for people who like to go upscale, but still dress down. Or, not at all.

Welcome to Hidden Beach Resort - Au Naturel Club, a five-star, all-inclusive, adults-only, clothing-optional, nudist resort in Mexico's Riviera Maya that bills itself as the "go-to resort for [hyphenated adjectives and] discerning nudists".
Forget packing a bag. According to the literature, "a nudist could literally spend a week at this property without having to put on a single piece of clothing once."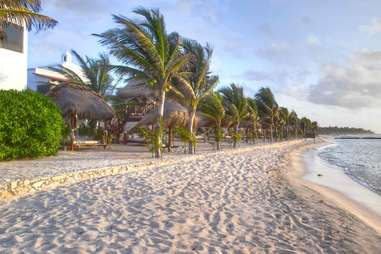 Secluded and private, the resort is surrounded by a mangrove jungle that effectively shields guests from peeping Toms.
It's also surrounded by an awesome lazy river, which makes the bottom-floor rooms swim in/swim out. Said river leads straight to an equally awesome swim-up bar.

Where you can drink, join the occasional nude disco, or...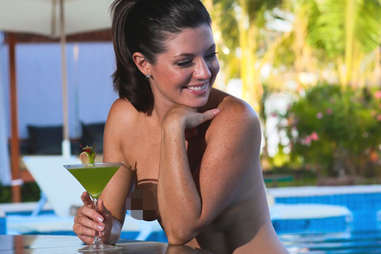 ...make initially awkward small talk with naked women like this. Despite the flirtatious pose, the resort boldly asserts that the atmosphere is "not sexually charged".
Hands down, the best part: no dressing up for dinner. At least until someone blurts out, "Waiter, there's a hair in my soup!"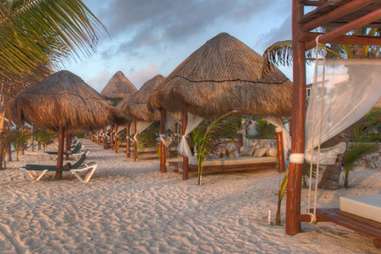 You can also book private, candlelit dinners on the beach.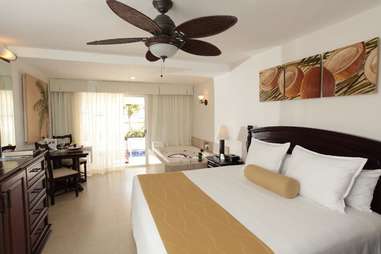 Champagne awaits your arrival, the mini bar is restocked daily, and the hospitality staff offers a rose petal turndown service every night. Also, each of the resort's 42 rooms boast an ocean view.
Activities range from morning yoga and massages, to beer pong, beach volleyball, and nightly theme parties, not to mention cooking/cocktail classes, trivia (!!), and giant chess. You can decide what's "good naked" and what's "bad naked".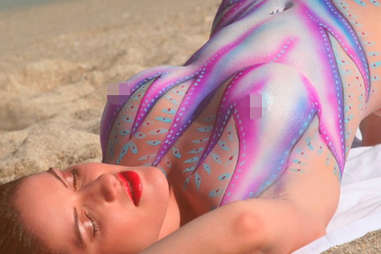 There's also sexy body painting and weekly paint parties. How have you not already booked your trip?!?!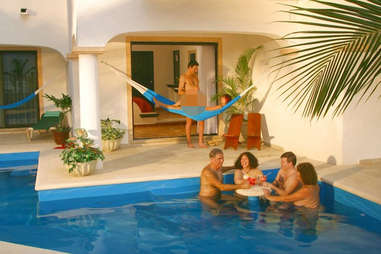 Okay, so this one actually does looks like a scene from a late-night movie you don't want to watch. Let's move along.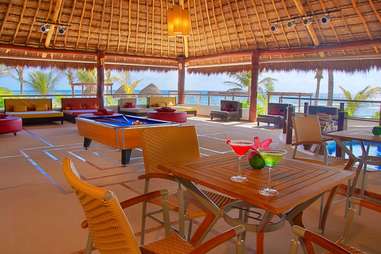 Concerned about hygiene? Don't be. Nudist rules/etiquette dictate you carry a towel with you to sit on at all times. And according to the resort, "We are constantly cleaning chairs and surfaces". We assume that includes the pool cues.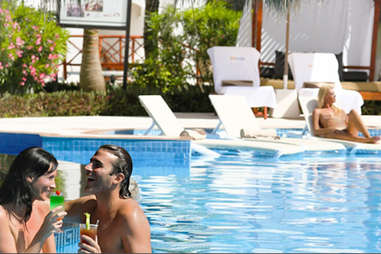 Finally, wondering what to do if you... uh, get aroused? Or if this woman tells yet another hilarious joke? Truth be told, the resort claims that "it actually doesn't happen often". The arousal that it is. Apparently, the guests are a bundle of laughs.
To see more of the resort, and... ummm... the guests, click here.
Sophie-Claire Hoeller is Thrillist's über-efficient German associate travel editor, and no, just no. Follow her fully dressed adventures @Sohostyle