Conquering fears, one thong at a time.

| Oliver Byunggyu Woo/EyeEm/Getty Images
Conquering fears, one thong at a time.

| Oliver Byunggyu Woo/EyeEm/Getty Images
RuPaul ends each episode asking, "If you don't love yourself, how in the hell are you going to love somebody else?"
The sentiment is lovely in theory, but a tad starry-eyed for a community that notoriously holds ourselves to unrealistic body standards. Many of us gay men tend to idol-worship six packs, turkey leg-shaped quads, and other physical characteristics that are, frankly, not a representation of what's actuallly attainable for most (especially without steroids). And many of us even go so far as to claim not-out (and maybe not-even-gay) celebrities like Shawn Mendes as one of our own because being "just too pretty and perfect" can only mean one thing: He has to be gay—no ifs, ands, or buts. (Okay, well, maybe butts. But only if they're perky.)
The act of truly loving yourself is loving every inch of you, and not just the raw and real personality that you've gone out of your way to cultivate over the years. Like many gay men, I've struggled to accept this notion for quite some time, dismissing body insecurity as irrelevant, so long as I make up for it by being humorous, excelling in my career, or prioritizing friendships.
It may sound cliché, but as a recently turned 35 year-old, I determined something had to change and it had to change now. So I decided to bare it all.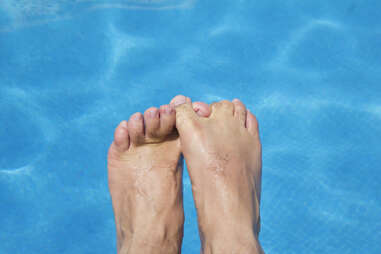 Going au naturel
My timidity over my naked self undoubtedly stems from this common belief that the amalgamation of my flesh and bones just isn't enough. On some days, I go full yas-queen, flaunting in the mirror and admiring the shape of my derriere and nether regions. But still, other times I can randomly wake up feeling like my body parts were pieced together with masking tape and trash found from the Staten Island dump.
What's bizarre and slightly ironic is that I don't judge other people's bodies the way I do my own. I've dated and loved many men with far-from-perfect figures. Society has essentially programmed us to think that people who don't fit the Avengers superhero mold are "less than," but my reality is that I find strength in seeing body-confident celebrities like Lizzo break the norm and show that they're more than enough. And yet, I still have trouble applying this philosophy to my own life.
Nobody really has to give two shits about the way you look when at your most vulnerable.
So in a desperate attempt to overcome this nudity phobia and perhaps inspire myself with Lizzo-like gay men who can walk out with their cock out and give zero fucks, I spent a week in sunny Palm Springs to galavant around two of their most famous clothing-optional resorts: Descanso and INNdulge.
Too much shame in my game
Upon arriving to Descanso, I was greeted by gays going au naturel and relishing the desert sun underneath the property's intertwining palm trees.
Fear and discomfort immediately consumed me and I attempted to camouflage myself in a far corner with a laptop and a mission to do work. But of course, as the only one wearing swim trunks, I stood out like a sore thumb. A naked me would be like Adam in the Garden of Eden, but after the whole shame thing hits. Except I wouldn't be looking for a fig leaf to achieve modesty. Instead, I'd be wrapping a damn tree around my junk and creeping back into the dense foliage to live with the butterflies (and away from Eve, obvi).
When it came to dropping trou, day one was a complete wash. And not one in the outdoor shower where happily naked and carefree men thrived as I noshed on a granola bar from the couch in my air-conditioned room.
Nude is the mood
Day two started the same way day one ended: uncomfortable. While I had a busy eight hours of exploring Palm Springs (more on my favorite places and activities below!), my brief (pun intended) moments at the pool were adorned with a Speedo and an awkward half-smile.
But later that night: a breakthrough. And it wasn't just the result of liquid courage. It came in the form of a painfully cute boy who I ogled earlier in the day. This guy simply owned every curve and crevice of his body and with an air of confidence (but not arrogance!) that I envied oh-so-much.
"Why are you wearing that?" he boldly asked about my swimsuit as we sat together in the hot tub.
"I guess I don't have to," I replied, sliding it off somewhat flirtatiously and plopping it on the ground nearby. I almost felt like a fraud, pretending as if I was on his level of self-assurance and had been this way my entire life.
This is what Pride month is really all about… a celebration of our community and the people in it, all shapes and sizes.
The reality, of course, was that I wasn't. But I will tell you that in that moment, no matter how insignificant it may seem, I felt completely liberated. It was just a body. It was just a penis. He had one, I had one. There was no shame.
Whether or not we hooked up is for a different story, but I was in shock at how quickly one bold, simple move could completely remove a mental block I've possessed for as long as I can remember. Sometimes you just have to lean into the discomfort of a situation to yield a big payoff. And not only did I lean in, I went balls to the hot tub wall and just accepted it.
Am I a nudist now?
After leaving Descanso a couple of days later, I checked into INNdulge, another clothing-optional resort with a similar vibe, but a completely different setting. Unlike Descanso, INNdulge isn't canopied by trees. Instead, its oversized pool is the heart of the complex and swells with outgoing and gregarious gay men from all walks of life.
That night, the suit came off again, as did any traces of day one's inhibitions. In fact, every insecurity dissipated. It was like I was the rabbit coming out of a magician's black top hat, shocking even myself with the sudden transition.
Being joined by other naked men put us all on an even playing field. We sat around, we knocked back drinks, and we shared stories about our life experiences. And then it all seemed to click: This is what Pride month is really all about… a celebration of our community and the people in it, all shapes and sizes, who have, despite the odds, found comfort in being unabashedly and brazenly themselves in their purest form.
Flourish in the freedom of basking in the bodies that God, the universe, Buddha, Beyoncé, a pack of cells, or whatever deity you believe in gave them.
Of course we are all attracted to different body types, especially of the chiseled variety that takes hard work to achieve, and there is a level of voyeurism to nude resorts that can deter even the most body confident people. But ultimately I reached a peace of mind where I didn't care about the way I looked or how others perceived me. And to reach this state—quite literally the opposite of how I've lived my life up to that point—resulted in unadulterated bliss.
Descanso and INNdulge don't just exist for the excitement and thrill of being naked, but for the preservation and tradition of this idea that nobody really has to give two shits about the way you look when at your most vulnerable. They're safe havens for men who likely grew up feeling judged, ostracized, and less than, only to now flourish in the freedom of basking in the bodies that God, the universe, Buddha, Beyoncé, a pack of cells, or whatever deity you believe in gave them.
So if I can offer one piece of advice for anyone wired like me: Take the risk, trust the process, and enjoy the reward. You'll certainly be glad you did.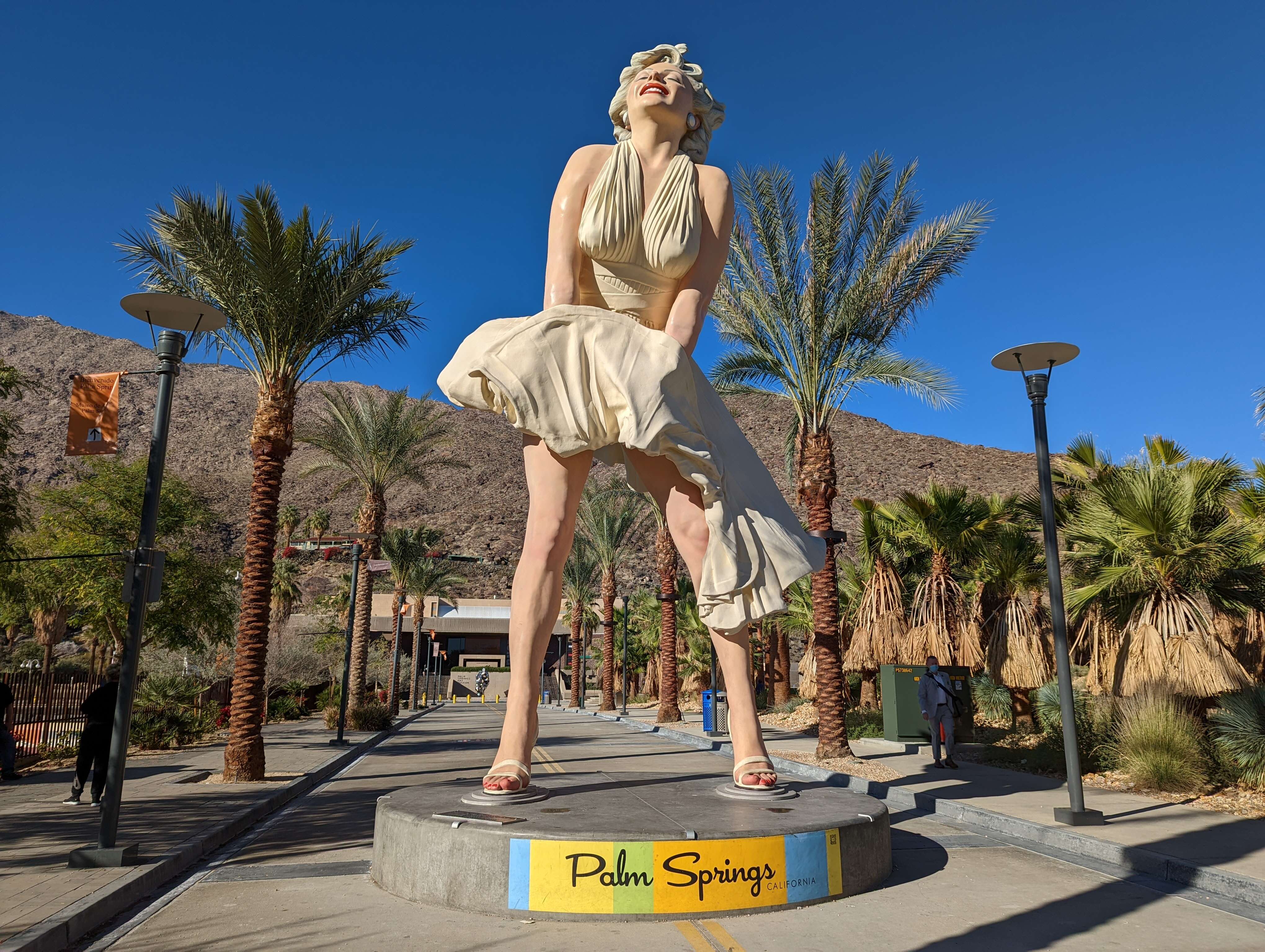 Where to go when the clothes come back on
As a travel writer, I'd be remiss to not offer recommendations in Palm Springs when the clothes come back on, as either a gay man or someone looking to be loud and proud no matter who you are. Because it turns out, Palm Springs is the perfect place for someone looking to say "eff it, I am who I am." The carefree nature of the area's resorts trickles into every business with chefs and entrepreneurs focusing solely on their craft and passion and less on the noise or the relentless attempt to impress other people. This bare-it-all attitude really does shine, which is why it's unsurprising that Palm Springs has become such a popular retirement destination.
So fave spots? Food and drink-wise, Palm Springs offers some of the most memorable I've had this year and rivaled—dare I say it—nearby Los Angeles in overall taste and quality. Brunch-goers will revel in Farm's robust offering of omelets with homemade bread and jams or Cheeky's impressive line-up of Southwestern-inspired dishes like chilaquiles, huevos rancheros, and summer squash sopes with spicy tomatillos.
You'll also want to take advantage of the desert city's flora and fauna by booking a hike through Red Jeep Tour, which isn't just a beautiful respite from the hustle and bustle from downtown, but an educational one. With enthusiastic and well-traveled John as our guide, we learned everything about the area, from its native and thriving Indian culture to the subspecies of spiky desert plants that I'm eyeing to pot and display in my apartment.
For a more manicured look at nature, venture to the world's largest rotating aerial tram car where the 20-degree drop in temperature at its peak will provide a much-needed reprieve from sweltering heat. The summit also offers stunning, panoramic views to remind you that Palm Springs is, indeed, almost intimidatingly mountainous. You can even spot the iconic Ace Hotel, where you could book a much-deserved treatment at Feel Good Spa once you get back down.
For other meals and drinks, you mustn't pass up the overloaded sheet-pan nachos at Blackbook, the trio of Asian-influenced crudos at dog-friendly Boozehounds, and the Nashville hot chicken-inspired fried oyster mushrooms at Workshop Kitchen Bar (served with pickles and buttered toast to keep things extra authentic). The Vietnamese food at Rooster and the Pig is also a star, with lines forming before its 5 pm opening time for a chance to nosh on umami-packed sweet potato noodles and a chicken-stuffed curry ball swimming in spicy basil.
Or you can enjoy your meal with a side of entertainment. Asia SF Palm Springs brings the house down with a high-tech lip sync extravaganza featuring only transgender performers, while the Palm Springs Cultural Center offers Tuesday jazz nights with acts that could easily be on Broadway and french fries that give McDonald's (the best of the best) a run for its money.
Cap your evening with a bright libation or three from trendy 1501 Uptown Gastropub or Eight4Nine Restaurant & Lounge, which incorporate local citrus and herbs into their drinks.
And if you're hunting for the perfect outfit for non-nakie times, a stop at Destination PSP is an absolute must with one-of-a-kind, retro-inspired designs in home goods, swimwear, and clothing that will, frankly, make you want you to reconsider wearing nothing for the week.