Topless coffee shops and other businesses where nudity is a bonus
Some restaurants have strict dress codes -- jacket required, no shorts, etc., etc. Other businesses sell themselves by selling sex and nudity -- mostly strip clubs, in fact.
Then there are businesses that have nothing to do with either, but understand the simple premise that sex sells.
These inventive proprietors are cashing in by dressing down their staff, transforming every day hangouts and activities into nudity-fueled experiences. We weren't interested in topless pools, strip clubs, or nudist clubs. That's all completely normal (sort of). Instead, we sent our crack staff after places where you wouldn't expect to see people in states of undress, and came up with these fine examples of unexpected nudity.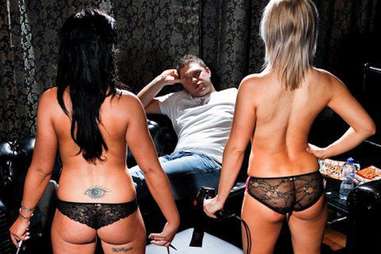 A Topless Hair Salon
Hot Cuts – Sydney, Australia
They'll take their tops off, then they'll take a little off the top. Topless hairdressers and a beer with every cut and shave – they're not kidding when they say this place was designed by men, for men. Oh, and there are strip shows and fantasy themed cuts, too.
Just don't make a fool of yourself by asking for Sal the barber because he knows how you like your sideburns. You're not here for Sal.
A Golf Course
La Jenny Naturist Course – Le Porge, France
No one really looks good in pastels or plaid, so the always fashion-conscious French came up with a nifty solution: Hit the links without your clothes! In fact, complete nudity is required, putting it in direct opposition to most every other course out there. Duff in the buff at this 22-acre, six hole course -- the only nude course in Europe, and most likely, the world.
Steakhouses
Robert's Steakhouse – New York City, NY
This place serves up the American dream in the form of red meat, as well as titillating cuisine. No, really. The food's supposed to be excellent. Flirtatious "servers" will feed you or give you lap dances.
Rachel's West Palm Beach – West Palm Beach, FL
You can enjoy your meal in a faux elegant dining room or in the middle of the strip club, next to the stage of your choice -- you know, should you feel like there isn't enough flesh on your plate already.
Coffee Shops
Bottoms-Up Espresso – Renton, WA
People say they go to Hooters for the wings. That's a lie. Consider this the raunchier Hooters of coffee shops, where people go for the excellent cappuccinos, not the cleavage. Weirdly, there's an equally scantily clad café chain by the same name in California, and the very similar Smoking Hot Espresso with two locations in Washington state. Probably better to avoid asking about milk options for your latte.
Chot Nho Café -- San Jose, CA
San Jose has an apparently flourishing subculture of Vietnamese cafés full of stripper-waitresses. However, a recent crackdown by the police ensures that officially, no one's naked. But what happens unofficially is anyone's guess.

Coming Soon
Boob Cuts – Las Vegas, NV
Sin City has just about every other kind of nudity, so why not a nude hair salon? We'll let this place's succinct slogan speak for itself: "Snip. Shave. Boobs."

Sophie-Claire Hoeller is Thrillist's associate travel editor. She's unfazed by all this as she's from Germany, the land of gratuitous nudity. Follow her @Sohostyle