Since I am the self-proclaimed Queen of Christmas (Mariah Carey? I don't know her.), I obviously had to find the most festive of all holiday markets in the world. And because Germany basically started the whole Weihnachtsmarkt tradition, where we willingly, nay, joyfully freeze our butts off in order to shop amid the glow of twinkle lights and steaming drinks, my hunt took me to Nuremberg in Bavaria, about half way between Munich and Frankfurt. It is here where I experienced the magic of December.
Directly in the middle of the city, I beheld the Nuremberg Christmas Market, which—tracing all the way back to 1628—is one of the oldest in Deutschland and one of the most festive in the world. In fact, the four-week celebration here is so iconic, so historic, that its very name "Christkindlesmarket" has actually been trademarked by the region and is generally perceived as the gold standard. So I took in everything there is to know.
By going on private guided tours, meandering through the mazes of stalls, and interviewing a handful of locals (under the pretense of anonymity, of course), I gained the insider tips for tackling the storybook town's most wonderful time of year. Here is a quick, but thorough list of the most fascinating learnings that I gathered along the way. Consider it an early gift for your own Christmas-hunting needs.
Don't take the Christkind Angel's picture
Perhaps the most important figure of the holiday market is its real-life Christkind Angel, selected from a pool of applicants who must meet the following criteria:
Born in Nuremberg or have lived there most of their life
Between the ages of 16 and 19
At least 5'2" and not afraid of heights (she is perched above the Frauenkirche "Church of Our Lady" in the main square for various ceremonies)
Willing to work in any weather as part of a two-year post

If you spot her, it's like coming across a local celebrity (or Glinda from The Wizard of Oz, frankly), but don't rush to take her picture—photos are reserved strictly for those who make a donation to a children's charity. She will not be afraid to enforce this rule, nor will her police entourage who, while looking spiffy and dashing in their very-well-fitting uniforms, are also quite intimidating in tone and stature.
Hunt for the rarer regional gifts
You'll surely be delighted to find hand-crafted ornaments, personalized leather goods, and some seriously fluffy scarves at the stalls throughout the market. But there are two main products worth finding here that are specifically from Nuremberg and Nuremberg alone.
The first is a prune man made from—you guessed it—prunes, combined with birch wood (forming the "backbone"), figs, and a painted walnut head. It is said that prune men were invented by a wiredrawer in the 18th century who wanted to gift his children something special, but only had wire and a plum tree. The result: prune man (and now prune women or prune gender-neutral people, if you will), which symbolize the act of gift-giving around the holidays. Legend also has it that a prune man will bring money and happiness to households, but don't eat the adorable figure—they're just for show and can be maintained for years with light dustings and infrequent alcohol rubs.
The other regional product from this area is the Nuremberg Rauschgoldengel, a strikingly ornate tree-topper that has directly inspired the look of the aforementioned Christkind Angel. Its tradition began 350 years ago, after a local craftsman tragically lost his young daughter, who later appeared to him in a dream dressed in a golden hood and robe. In an effort to bring this dream to life, he took the head of a doll, a rolled brass metal plate, and gold-adorned clothing and wings to create the angel that you now see sold in Nuremberg today. While many modern iterations are constructed with cheaper materials, look for the Rehder family booth, which has existed for generations and still incorporates the delicate gold sheets as part of the angel's ensemble.
Eat not-so-fast food
There is obviously no shortage of festive treats that line the dozens of red and white-striped stands. From chocolate-covered fruits and glühwein (mulled wine) to marzipan and pretzels the size of catcher's mitts, Nuremberg goes all out with freshly-prepared food and drink to celebrate the holiday season.
But like Nuremberg's crafts, there are really two delicacies that are truly from the region: lebkuchen and sausage.
The former is a honey-sweetened cake, almost like gingerbread, that is cookie-shaped and either glazed, dipped in chocolate, or enjoyed on its own. Invented by Nuremberg monks in the 13th century, the spiced sweet must follow strict protocol to be considered traditional, with rules like "it must contain no less than 25 percent nuts" or "it must contain less than 10 percent wheat flour."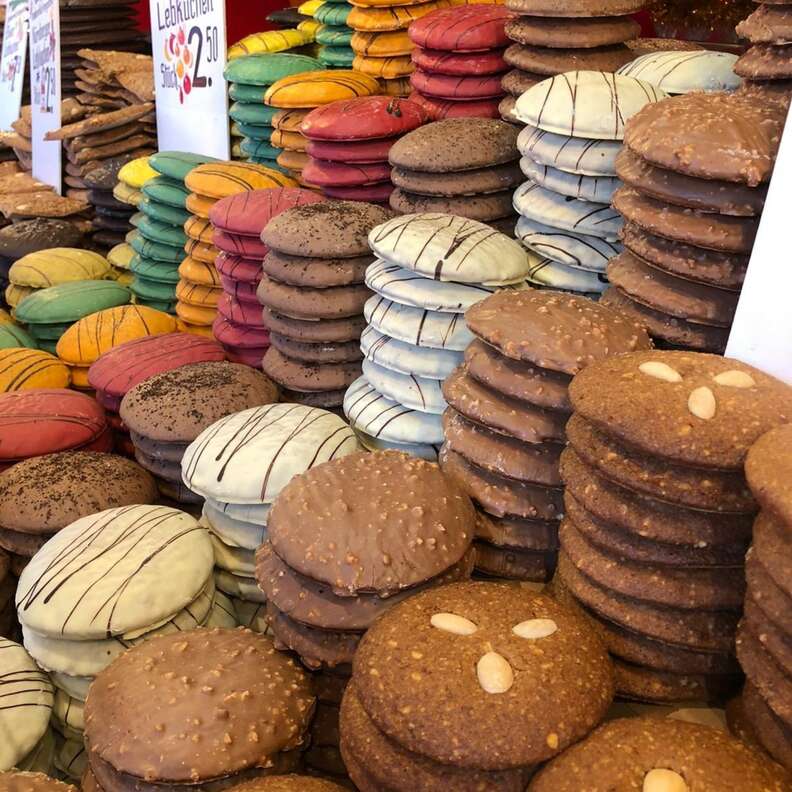 Nuremberg sausage, typically served in threes on mini hoagies, is also no stranger to extreme regulation. For authenticity purposes, E.U. laws require local brats to be 7-9 centimeters long, 20-25 grams in weight, and have no more than 35% fat content. The pork must also be sourced from nearby farmers and seasoned only with a handful of spices like salt, pepper, and marjoram. While mustard is readily available, locals will recommend a sprinkling of freshly-shaved horseradish for the perfect zing.
There is also a myth that "the best" stands are on the market's busy corners. The reality, at least according to locals, is that stall ownership changes yearly, and it's best to simply go where your nose leads you.
If the crowds become overwhelming, you can, of course, head to a nearby restaurant like Die Wirtschaft for a traditional Franconian feast, sans the lines or the urge to push people out the way.
Spend a beautiful day in the new neighborhood
The main market is located in Old Town, as is most of the holiday hustle and bustle, but do not limit yourself to this ultra-touristy area. Venture to trendy neighborhoods like Gostenhof for a more laid-back experience that will allow you to walk among the locals.
Stefan Stretz, the man behind Nuremberg's second largest brewery, Schanzenbräu, serves his signature red beer and a full menu at the no-frills meeting spot, Schanzenbräu Schankwirtschaft (which is reminiscent of Cheers with its ability to draw residents for weekly pints and laughs). Aside from touting one of the most tender pork shoulders and delightfully tangy sauerkrauts you can find, Stretz also manages a nearby Advent Market, which is full of old-world charm and small-town hospitality.
It was here, in a church square in front of Dreieinigkeitskirche, where I actually chatted with most of the Nuremberg residents who were eager to help tourists like me get the most bang for my buck (or euphoria for my euro). This is where I also found the most unique and creative iterations of Old Town's holiday classics, like glühwein in rosé, white, and spicy varieties (as opposed to popular red), as well as a hot beer (Stefan's, of course) with a splash of rum.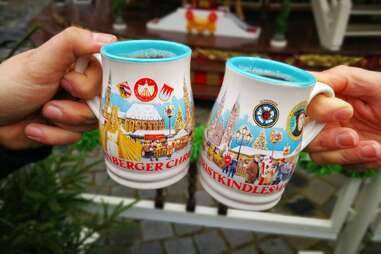 Remember the Earth
You won't see much plastic in Nuremberg's holiday markets. In fact, the only vendor allowed to sell it is Playmobil, famous for its figurines and toys for children. Otherwise, food is served in paper products that can be recycled, and beverages are presented in reusable mugs that can either be kept as a memento or returned in exchange for a few euros.
It's the entire country's mission to scale back its carbon footprint, which you also see among its businesses, including famed Hotel Victoria. The 62-room boutique accommodations, conveniently located at the base of Old Town and adjacent to Nuremberg's main train station,
takes an eco-friendly, minimalist approach in providing the bare necessities, but in a quaint, luxurious environment. While at first it may seem against the grain to stay somewhere that scales back on full-fledged amenities, it's a sobering and grateful reminder of just how much waste any traveler can go through during a short trip.
Good things come in threes
Nuremberg, centrally located in Germany, is an easy train ride to Frankfurt and Munich, which also boast some of the best Christmas markets you can find, so you can tickle your fancy on a holiday market spree.
If you want to keep the merry and bright feelings rolling, the Römerberg Christmas Market is a favorite in Frankfurt, set among the facade of rainbow-colored buildings (almost like the ones you'd find in Curacao) and an oversized, double-decker carousel. The stay is complete with lodging at the newly-remodeled and highly buzzed-about Westin Grand, which encourages guests to "play well" and "eat well," with modern rooms and an expansive lobby decked floor to ceiling with lights and metallic Christmas decorations.
Munich's main Christmas market in historic city center Marienplatz is an unsurprising show-stopper. It's also conveniently located next to Viktualienmarkt: a year-round culinary epicenter with stalls owned by chefs and entrepreneurs who must undergo a lengthy application process to even be considered. Once approved, they can also only specialize in one type of cuisine, as to not compete with nearby businesses. Be sure to stop by Caspar Plautz's booth to experience potato varieties you've never even heard of, fried, boiled, pureed, and prepared to your heart's content.
Like Nuremberg and Frankfurt, the markets can get quite crowded, so a stay at the newly-open Scandic in the eastern neighborhood of Macherei will provide a much-needed respite with rooms that face the Alps.
Ambitious travelers can realistically knock out all three cities in a long weekend, creating a Christmas-filled itinerary that would even give Santa a run for his money.