Somehow, New York Is the World's Best City for Young People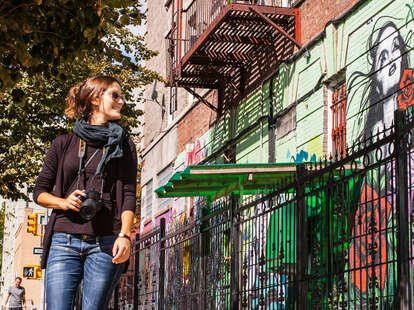 <a href="http://www.shutterstock.com/gallery-1835582p1.html?cr=00&amp;pl=edit-00">DrimaFilm</a> / <a href="http://www.shutterstock.com/editorial?cr=00&amp;pl=edit-00">Shutterstock.com</a>
In New York, people will tell you 35 is the new 25. That probably has something to do with the fact no one (aside from investment bankers and rich kids) can afford to buy real estate or have kids. But guess what? That doesn't stop the Big Apple from being the best city in the world for young people!
At least, that's what the latest Youthful Cities Index says. The survey questioned 10,000 people aged 15-29 and collected data based on 101 indicators, including affordability, arts and culture, transit, food, nightlife, health, and travel, to find the best city for people still cut up about Zayn leaving One Direction. Or who even know what that last phrase means altogether.
Of the 55 cities ranked, New York claims the top spot, cited for its thriving film, music, and fashion scenes. Which is great news for anyone who loves that stuff, but it's not like any of it's cheap. Then again, this study comes from the same folks who deemed Paris the cheapest city for YAs last year, so, take it with a grain of salt or 20.
London, another cash-sucking city, takes second place, thanks to its free National Health Service and travel opportunities (after all, Heathrow's one of the world's busiest airports). And Berlin lands third place because of its easy "digital access," though if you can pull yourself away from a computer screen, the German capital's nightlife and culture are on point. Plus, it's reasonably affordable.
The US managed three more cities in the top 10, including San Francisco, Chicago, and Los Angeles. The rest? You'll just have to check that out for yourself. Like, right below here.
10. Amsterdam, Netherlands
9. Mexico City, Mexico
8. Los Angeles, CA
7. Chicago, IL
6. Toronto, Canada
5. Paris, France
4. San Francisco, CA
3. Berlin, Germany
2. London, UK
1. New York City, NY
Head here for the full ranking.

Chloe Pantazi is an editorial assistant on Thrillist's travel team. Yes, that's a British accent. No, she doesn't watch Doctor Who. Follow her on Twitter at @ChloePantazi.