The Biggest Mistakes Every Tourist Makes in New York City
If you're even thinking of being in NYC, check out the rest of our DestiNATION: New York City guide. It's stacked with expert advice from locals on what to eat, where to drink, and what to do in the Greatest City on Earth.
I loved coming to New York City when I was a kid. We'd stay in the same house in Flushing, Queens, where my mom grew up, with my doting Irish grandmother and her tough-as-nails sister -- my Aunt Kay, who showed me the ropes in the big city. She taught me how to walk like a New Yorker (quickly) and how to eat a slice (fold it). She took me to parks and museums. She even once scheduled an appointment at the Met for 10-year-old me to, with gloved hands, thumb through their priceless archived rare baseball card collection.
Mostly, Kay kept me from looking like a moron to other New Yorkers. And something stuck: I loved these trips so much, I moved here right after college and have stayed for the past 16 years and counting. You might not have your own Aunt Kay, but in the long tradition of New Yorkers wanting visitors to act just like us, please allow me. These are the mistakes you're bound to make when you're here.
Winging it once you get to the airport
Hopping into a cab and zipping to your hotel or Airbnb sounds easy. Depending on your karma, sometimes it is. However, most of the time Nate Silver can't predict the cab stand line, traffic, price (often $60+), nor sanity of your driver.
Want an Uber/Lyft? Be sure to request the pickup from the "Arrivals" level. Or save enough to buy lunch at Momofuku and try public transportation. AirTrain is simple from JFK and Newark (which is in New Jersey, ICYMI!). Slightly slower, a public bus (the M60 SBS) can take you from LGA to Harlem, where you can connect to the subway.
The middle ground? Take one of the shuttle services that run to all points in the city. Sure, you still fight traffic, but it's far cheaper than a cab and maybe you'll make new friends.
Staying in a Midtown hotel
For many people, "New York City" is synonymous with what locals call Midtown -- Times Square, Theater Row, skyscrapers, hustle, bustle, and the Naked Cowboy. Also, congestion, pricey but so-so food, the same chain stores you have in any big city… and exorbitant hotel prices.
Hotels outside of Dante's Inferno (i.e., Midtown) can be far cheaper. Opt for Brooklyn or Queens, which can be a quick train ride from Midtown (any train ride under half an hour qualifies as quick in this town). Having a home base in another neighborhood will also make it easier to avoid the neon and billboards of so-called "Disneyfied New York." Plus, you might find a side to the city you never knew.
Missing out on the "other" museums
Everyone knows about The Met, MoMa, The Natural History Museum (the one where Night at the Museum takes place?) and probably the Guggenheim, too, if you've ever paid more than $25 for a haircut. But smart tourists go for the deeper museum cuts. If you're an art junkie, The Frick, The Neue Gallery, the (Met-affiliated) Cloisters, The New Museum, and the new(ish) Whitney in the Chelsea neighborhood offer fantastic, tightly curated collections. While you're in Chelsea, find cutting-edge art the dozens of open galleries.
If art isn't your thing, other options include the Transit Museum, the Tenement Museum, and the Museum of Sex. That last one you'll find -- and this isn't a joke -- by asking for MoSex.
Waiting in line for tourist traps
Lines can signal something worth checking out: a special exhibit at MoMa, a great brunch spot, a secret club. But frequently, it's just rush hour traffic on the tourist highway.
Still, you can outsmart the hordes. If you have only a few days in the city, hit the most congested/popular attractions on your list at off-peak hours. If you must see the Statue of Liberty, for instance, buy an advance ticket online and go early; it beats spending hours waiting for the ferry. (Just don't buy a ticket from someone off the street. The only ferry that actually stops at Liberty Island is Statue Cruises. The others will only loop around the island.) Or even better: Check it out from the FREE Staten Island Ferry.
Assuming the city is still crime-infested
Yes, this is a big American city, and we have our share of graffiti, people talking to themselves at high volume, and doorways that smell like pee. But don't let it freak you out: The city may literally have never been safer. Manhattan, in particular, is experiencing historic lows in crime. In 2016, murders and assaults were down to just 20% of their 1990 levels. So relax, use common sense, and you will be fine.
Being afraid of getting lost in Manhattan
Here are a few things to know about Manhattan: Most of it is a grid, with streets running east-west and avenues running north-south. Broadway slices across these diagonally. If you get to a neighborhood with the word "Village" in it or drop below Houston St (pronounced "HOUSE-ton") the grid disappears. You WILL get lost forever, especially in Chinatown. Just kidding, you have an iPhone -- just look it up.
Getting lost and staying lost
Don't be afraid to ask for help. We don't mind -- and in some cases, actually appreciate the chance to show off our knowledge. In a pinch, every New Yorker is bound by honor and a strange reflex to give an earnest answer to the question, "Where's the nearest subway station?"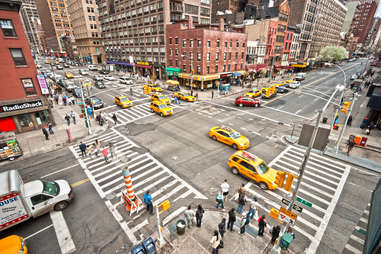 Not understanding how to hail a cab
To hail a cab for the first time feels like a victory. First, look for a cab with the rooftop adornment illuminated (it's the triangular plastic thing with an advertisement and their four-digit medallion number). If that isn't lit up, the driver's probably unavailable, but no one will mind if you put your hand up anyway, just to see.
You'll need to step off the curb and beyond any parked cars to be seen. You're basically in traffic now, so get assertive. Extend a hand as if you're waving goodbye to a brave soldier, and attempt to make eye contact with the cabbie.
If there isn't a jerk 30ft up the block from you also trying to hail a cab, that should work. Pro-tips: intersections offer more opportunities to hail a cab. And 5pm is "shift change" time -- which means, when you most need a cab, there is not one available. Plan accordingly.
Overlooking a few key subway tips
Some five million people a day take the subway in New York -- a population more than half the states in America. That's a lot of people! I don't know you, but I can promise you're smarter than many of them. So the first step to using the subway: Don't be intimidated. Just do a bit of homework.
To find the best routes in advance (plus travel time estimates) or check service status for each line, use www.mta.info. Also, download a subway map to your phone in case the Wi-Fi acts up (we have that in underground stations now!) or bring a paper version. This will be invaluable in the event of a hiccup in your travels, as when a train is diverted to a different train line or goes out of service suddenly.
It might go without saying, but the trains run both ways, so make sure you hop on one going in the direction in which you intended. In Manhattan, most Queens- or Bronx-bound trains head generally north, while Brooklyn-bound trains go south.
Also be aware that some trains on the same line go "local" (stop at all stations) while others go "express" (stop at only certain stations, for expediency). Usually, if you get on an express train by accident, and blow by your intended stop, it's not a problem -- just hop on the local train going in the opposite direction and backtrack.
Not walking "like a New Yorker"
Sidewalks in New York are highways. You wouldn't slow down or stop suddenly on a highway, would you? No, you'd pull to the side. Do the same here when you need to text or gawk at tall buildings or tie your shoe. Because in New York, you should walk with a purpose, no more than two people abreast. And always remember that the greatest courtesy you can do for New Yorkers is not to slow them down on their way to wherever they're heading. Because chances are they're already late.
Assuming a car will be faster than the subway
The old joke in New York goes, "Do we have time to take a cab?" If you're heading somewhere with subway service, that's usually going to be the quickest way to get there. Trains don't have to contend with bikes, pedestrians, and red lights. My rich friends who aren't celebrities still take the subways more often than not, reserving cabs/Ubers for getting home after a late night.
Taking a pedicabs
Getting hauled around rickshaw-style by some poor person pedaling a bicycle turns out to be one of the city's stealthiest luxury goods. Those things can cost $5 PER MINUTE. I'll carry you on my back for $300 per hour.
Ignoring street vendors or B-graded restaurants
When I worked in Midtown, the postage stamp-sized Kwik Meal cart on the corner of 45th St and 6th Ave serving lamb on pita was my favorite lunch stalwart. I praised Kwik Meal many times to out-of-towners, and was amazed that they'd still go elsewhere for half the lunch at twice the price.
One thing to keep in mind: If there is a line, chances are, locals love what they serve. The same goes for those health department "restaurant grades" you'll see posted outside of every establishment (i.e., A, B, or C in blue capitals). Inspectors are notoriously finicky, but if there's a crowd, it's probably OK that the place doesn't have an A.
Eating whatever
Do a bit of research or risk eating mediocre expensive food. If you're going out on Friday or Saturday without a reservation, plan to dine very early or really late if you want to eat somewhere nice. If a restaurant is empty on a warm night, something is wrong. Keep walking.
Assuming all New Yorkers are jerks
New Yorkers can be sweet or sour, depending on who and when. Sometimes we're in a hurry or had a bad day, so we'll unintentionally come across as gruff. Do keep your wits about you -- some of us ARE jerks or WILL try to rip you off. Most of the time, though, we're willing to share our love for our home generously. We'll assist you if you're lost, give a you square deal, and help if you're distressed.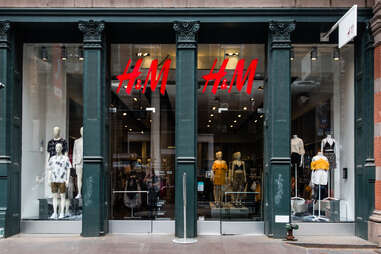 Shopping in stores that are in every other city
Don't you have a mall back home? If you're taking a plane here, don't get sucked into American Eagle or the Banana Republic. The smaller stores and unique-to-NYC spots are why you're here.
Stressing about doing "everything"
It's impossible to do it all. Don't over-schedule. Leave time for transit and kismet -- sometimes you'll fall in love with a neighborhood and will want to spend the whole day exploring. Do it!
Going to bed too early
In his track "New York State of Mind," local son Nas famously rapped, "I never sleep / 'cause sleep is the cousin of death." Contrary to lore, the city does sleep, but put that off as long as possible, because after a visit, you'll always remember the nights: Times Square at 1am, or Rockefeller Center at Christmas, or Greenwich Village on a Friday night as a blizzard blankets the city.
Missing all the free stuff
New York may be home to many a $17 cocktail, but it's also full of good deals. Free museum days, open-access galleries, free comedy nights, buskers in the parks and subway stations -- you could get culture all day without spending a dime. If you're skeptical, check out our list of free things in NYC.
The final three no-nos
Don't slow down ANY line for ANY reason. Be ready to order, swipe your Metrocard, pay your admission -- whatever.
Don't be that person who snaps a selfie at the 9/11 Memorial. That's an open wound, so treat it with respect.
When it rains, if you use a freaking huge golf umbrella on the sidewalk, throw out everything I wrote above about New Yorkers' kindness. We also know how to make an NHL-grade shoulder-check look like an accident.
Sign up here for our daily Thrillist email and subscribe here for our YouTube channel to get your fix of the best in food/drink/fun.
JP Howley made every one of these mistakes when he was merely a Kentuckian. Now that he's a full-fledged New Yorker, he makes New Yorking look easy.