Presented By
Wine and Adventure Await in This Underexplored Canadian Valley
Sips, scenery, and sustainability in BC's overlooked wine country.
Presented By
Note: The US State Department has issued a Level 3 travel advisory to reconsider travel to Canada, and non-essential travel at the Canada-U.S. border is currently off-limits. For more information on British Columbia's response to COVID-19, click here. For now, use this guide as inspiration to satisfy your wanderlust safely from home.
When it comes to British Columbia, most travelers' minds go immediately to Vanvouver. That makes sense: It's a metropolitan cultural hub known for its great food and proximity to Canada's sprawling western wilderness. But east of the city lies a region that fully immerses visitors in the region's rich indigenous history while giving access to a wealth of great food and one of North America's most overlooked wine regions: the Okanagan Valley.
The fertile forests, fir-covered mountains, and crystal lakes combined with the wine and food culture alone make Okanagan Valley a prime destination. But in a country where indigenous-led tourism is the fastest-growing travel sector -- driven by the desire for more sustainability minded wandering -- the opportunity to experience the culture and adventure offered in this lush Northwest region while also engaging with and supporting the indigenous way of life makes it one of the 20 Places We're Dreaming About in 2020. What follows is a guide to exploring, adventuring, eating, and drinking in the Okanagan Valley. And yes, it includes stopovers in Vancouver.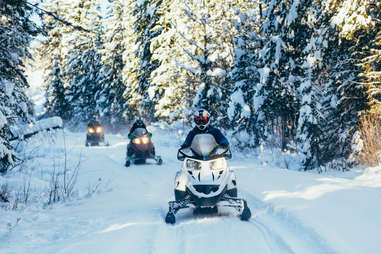 Know before you go
Summer is ideal for a visit: take advantage of the warm weather to go hiking, biking, and get out onto the water. Summer also brings celebrations for Kelowna Pride Week and National Indigenous Peoples' Day, as well as outdoor concerts hosted throughout Kelowna by Parks Alive! in July and August.
Fall brings harvest activities and beautiful colors in the South Okanagan. Home to an impressive collection of ski resorts, the northern part of the region is also appealing in winter. Big White Ski Resort promises deep powder and is famed for its "snow ghosts," trees completely draped in snow. A winter visit also means you can snowshoe over trestles along the Kettle Valley Rail Trail, B.C.'s longest trail network.
Traveling may be on pause, but that doesn't mean your dreaming and planning has to be. With The Marriott Bonvoy Boundless™ Card, earn 6X Points at 7,000+ hotels participating in Marriott Bonvoy™ and 2X Points on all other purchases, including future flights. For the journey ahead, carry a card that's here for you now.
Days 1-2: Kelowna
Laid-back Kelowna is the Okanagan Valley's main city, and unless you drove from Vancouver, it's where you'll most likely fly into. Base yourself in the Delta Grand Okanagan Resort for two nights: Perched on the edge of Okanagan Lake, it's your best bet for a room with a view. And rent a car: There's lots of driving coming up.
Kelowna is surrounded by vineyards. Tantalus Vineyards, a 20-minute drive from Downtown, is a LEED-certified winery that puts as much emphasis on reducing its carbon footprint as on producing premium, single-vineyard wines, which you can try while taking in lake views from its tasting room.
Indigenous World Winery (IWW) in West Kelowna is Canada's first fully Indigenous-owned winery. The company incorporates cultural elements into its products, with petroglyphs dotted around the tasting room and bottle labels that feature stories from the Okanagan Sylix culture. In 2020 you'll also be able to sample IWW's newly launched vodka, the first product from its new distillery. You don't have to move far for dinner, either. Red Fox Club, underneath the winery, serves an ever-changing Indigenous-inspired menu that features items such like bison chili and wild salmon fritters.
On your second day, get outside. Start with a self-guided tour of the West Bank First Nation's Public Art Program, then hit the trails. Kelowna is within easy reach of plenty of great hiking trails of varying lengths and difficulty. The Paul's Tomb Trail is the closest and easiest, and ends at a beach. More challenging is the hike to the summit of Mount Boucherie, an extinct volcano with 360-degree views of Okanagan Lake. Alternatively, head just north of the Okanagan to Chase for a canoe tour with Indigenous-owned and operated outfitter Moccasin Trails. Paddling along the traditional waters of the Secwepemcuu'l'ecw (Shuswap Nation), you'll learn the history of the area from a local Knowledge Keeper.
Day 3: Osoyoos
Surrounded by mirrored lakes and tall mountains, the road from Kelowna to Canada's desert region and the small southern town of Osoyoos is a highlight all by itself. But don't get too distracted on the drive because you're here to visit North America's first Indigenous winery, Nk'Mip Cellars (it's pronounced Inkameep). Check into the Spirit Ridge Resort, which is strolling distance from Nk'Mip Cellars and Nk'Mip Cultural Centre, where through interpretive walks, displays, and a reconstructed village, you can learn about the Osoyoos Indian Band who own the center and winery.
Afterward, sample the wines at Nk'Mip Cellars: It crafts a wide selection from pinot noir to chardonnay; an ice wine made from riesling; and several blends, including the Mer'r'iym, which means "marriage." Afterward have a dinner of Indigenous-inspired cuisine next door at The Bear, The Fish, The Root & The Berry, named for the Four Food Chiefs of the Sylix peoples' creation stories.
Keep it going: Head to Vancouver
Vancouver's always a good idea, and, if you've come out west, you may as well add on a couple of days in one of North America's most alluring cities: it's around a four-hour drive from Osoyoos.
Don't skip highlights like Granville Island Market, Kitsilano Beach, and the bustling historic neighborhoods of Gastown and Chinatown -- and catch breath in tranquil Dr. Sun Yat-Sen Classical Chinese Garden. But also make time to see the city from a different perspective: Indigenous-led tourism is also thriving in Vancouver.
Book a tour with Talaysay Tours and explore Stanley Park from an Indigenous point of view: You'll learn about traditional uses of plants and trees and hear the stories behind the park's famed totem poles.
To learn about the art of the first peoples of the region, start at the Bill Reid Gallery of Northwest Coast Art, which displays the namesake Haida artist's sculptures and jewelry alongside exhibits by up-and-coming Indigenous artists. The UBC Museum of Anthropology houses thousands of ethnographic and archaeological objects from BC First Nations, including totem poles, hunting tools, masks, hand-carved figures, and hand-woven baskets. Socially conscious art lovers should stay at Skwachàys Lodge, owned and operated by the Vancouver Native Housing Society. As well as housing an urban Indigenous artist residence, the lodge has 18 rooms designed by Indigenous artists whose work is also sold in the on-site gallery.
MORE:These are the most beautiful places to visit in Canada
Keep it going even longer: Explore Vancouver Island
If you still have a couple of days to spare, hop over to the eastern shore of Vancouver Island. Take the ferry from Horseshoe Bay, just north of Vancouver, to Nanaimo. After a wander along the waterfront, get back into the car for a road trip along the oceanside Highway 19A. Stop at Parksville for a stroll along Rathtrevor Beach; Qualicum Beach for a hike along one of its park trails or to explore the waterfall of Little Qualicum Falls Provincial Park; and Coombs Old Country Market to check out the goats that hang out on its grassy roof. Make one more stop at the hamlet of Fanny Bay -- and Fanny Bay Oysters --before checking into the Kingfisher Oceanside Resort and Spa. Make time for the hydrotherapy experience in the spa and a seafood dinner at Ocean7 Restaurant before turning in.
The next day, either take to the trails or get out onto the water. Island Mountain Rides can take you riding through forests, along creeks, and over cedar bridges on purpose-built mountain bike trails around Cumberland. Alternatively, embark on a boat adventure with Homalco Wildlife and Cultural Tours. From late May through August you'll discover the traditional land and stories of the Homalco First Nation -- and likely spot whales, eagles, and black bears -- while from mid-August through October you can see grizzly bears fattening up on salmon before winter hibernation.
MEET THE WRITER
Karen Gardiner is a freelance travel writer from Scotland. In the past 10 years her work has appeared in publications including Condé Nast Traveler, BBC Travel, Canadian Geographic Travel, and The Guardian.
When was the last time you were in the Okanagan Valley? What drew you there?
I've been to BC four times -- three times in the past year -- and visited the Okanagan Valley in November. I was there to attend the International Indigenous Tourism Conference, which was held in Kelowna. The conference was an instructive insight into the huge diversity of Indigenous-led tourism experiences -- from wildlife watching to restaurants, hotels, wine-tasting, and art experiences -- that are offered all across Canada.
Number one can't-miss recommendation for a visitor?
You can't miss First Nations-owned Kekuli Café -- famed for its fantastic motto: "Don't panic ... we have bannock!" Co-owner Sharon Bond started the business by selling bannock (a type of fry bread that is a staple of Indigenous cuisine) on the pow wow circuit. She now has two BC cafes (one in Westbank, the other in Merritt) serving the versatile bannock in all kinds of different ways... I recommend the wild salmon breakfast bannock.
Next big trip you have planned in 2020?
I am not a planner and struggle to book a trip more than six weeks out. But I'll definitely be back in Japan at some point to finish my book that is set there -- I lived in Tokyo for a few years.
What's your ultimate bucket list destination you've always wanted to visit?
Nunavut, Greenland, and Siberia. I really like cold, northern places.