Tight dirndls, heavy beers, and grabby hands: The life of an Oktoberfest waitress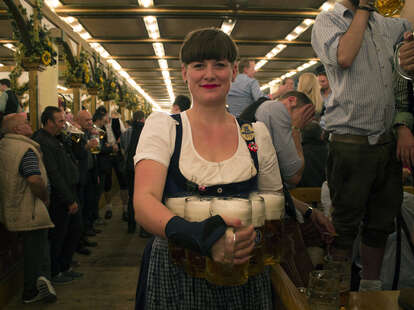 When it comes to hiring waitresses for Oktoberfest, Hofbräu tent host Herr Steinberg has a relatively easy job. While he receives more than 1,000 applications for the 250 waitress jobs (sorry, men – only female servers here), it all comes down to connections. Each year, the currently employed women choose their own trusted friends as members of their three-person teams, and once someone is lucky enough to get a coveted job in the tent, she rarely leaves. Friends fill in for an occasional year's vacancy, but the job is expected to go back to the original waitress once she's ready to return.
Daniela, the only professional waitress among those serving Block K of the Hofbräu tent, has been part of the team for 7 years; Susanne, an architect, 5 years; Sonja, a renowned professional photographer, 4 years; Andrea, wife and mother of three, 3 years; Tina, preschool teacher (confirming that toddlers are just like tiny intoxicated adults), 2 years.

I was curious to know what brought women of such varied backgrounds together.

"Julia!" was the resounding answer.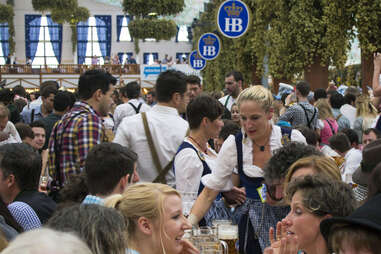 The matriarch of Block K, Julia, has been working the Hofbräu tent for 19 years. During the other 11 months, she works as a food stylist and cookbook author, with her second beer garden-themed book about to hit the shelves. She assembled her special six-person unit over many years, and each woman plans her vacation time around the 16 day-festival.

Julia plays den mother and helps each woman learn the ropes at the HB tent, and enforces rules they happily follow; most importantly, that they spend time together during the year. The women meet regularly to have drinks, make dinner, hike in the Alps, and escape for short getaways.

The physically and mentally exhausting nature of the Oktoberfest fortnight requires trust that's cultivated in familiarity. Each server needs to know she can lean on her fellow team members when she's endured so many boob ogles, grabby hands, and sawdust-covered blobs on the floor. Worming your way through 10,000 sweaty, beer-swilling revelers 12 hours a day for 16 days straight tests the limits of even the most crowd-loving extrovert.
"Some people go on a pilgrimage [walking] through the Alps from Munich to Italy in order to test their personal boundaries", said Sonja. "I look at these 16 days like my own yearly experiment. Can I do it? Can I make it? It overwhelms all of your senses and you wonder if you're capable. But I prove to myself how strong I am."

The women spend extra hours in the gym leading up to Oktoberfest to physically prepare to lift, carry, and dodge their way through the tent. Their toned torsos show it. Running helps their endurance for the grueling 12-14 hour weekend shifts.
I tried my luck at carrying beers as the waitresses do. After lifting just one load of 10 sloshing beer mugs, a crowd cheered for me and snapped Facebook-worthy photos. I found new respect for the Oktoberfest waitresses – and probably a few strained muscles in the process. Sure, I managed one round, and could imagine doing it for a few hours. But those brave women do it all day, for 16 days. They haul beer by the ton – quite literally.

A bit of math from the HB back office revealed that in one day, one waitress sold 450 Maß of beer (1 Maß = 1 Liter). Since each Maß weighs approximately 5 lbs, this means that over the course of a shift, each waitress transports 2,250 lbs from the filling stations to the tables. That's just over one TON – not to mention bringing all of the empty glasses back to be washed.

My one-round photo opportunity suddenly felt far less impressive.
Everything at Oktoberfest is about scale. Like all other tents on the Theresienwiese, every year the Hofbrau's football field-sized tent is built from scratch beginning in mid-July – including its industrial kitchen that can cook 828 whole chickens simultaneously, two balconies with their own beer filling stations, full plumbing for the numerous bathrooms, a raised stage for the 16-piece house band, a live broadcast TV studio, a radio booth, and back offices.
Just before 3pm, the waitresses have the unenviable job of clearing out their section of inebriated partiers and hand-washing each of the tables to prepare for afternoon reservations. The omnipresent security forces, some former American military soldiers, corral the most stubborn dawdlers to speed up the process.

The team designates one person as chef for the day, tasked with preparing a healthy, vegetarian lunch and vitamin-packed green smoothies to start each morning. "We have to take care of ourselves", Julia said. "We want to stay healthy."

"Everyone else gets sick with a head cold and sore throat after the first week. This is our way of preventing that", Sonja added.

They take full advantage of their 30 minutes of relative peace (though not at all quiet) to eat and chat in the middle of the freshly cleaned tables, prompting many photos from bystanders.
In complete, almost comical contrast, male servers work in the Augustiner tent across the street. Only allowed to work in the calmer balcony instead of the jam-packed main floor (because of their need to carry all food and drinks up and down the tent's steep stairways and because they don't fill out the décolletage-enhancing Dirndl uniforms quite as well), the waiters seemed genuinely confused at my questions about how they prepared to work on the Wiesn.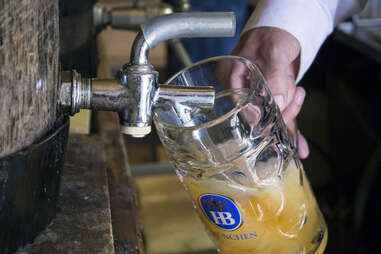 "Nothing"; "Extra workouts? I get that from carrying the beer"; "I show up and sure, I wonder if I'll be able to survive all day, but you do one or two rounds and your muscles remember"; and "Eat differently? Why?" were among the befuddled answers.
The men agreed, however, that it's easier for women to earn tips, and yes, they also have to fend off the occasional grabby hands, but they shrug it off as part of the deal. They also echoed the HB women's rationale about what keeps them coming back, year after year.
​"We've been friends since university. The hours are long but we have a great team and we really trust each other".
Back at the Hofbräu tent, the guests began filling up reserved tables, and the roller coaster starts again for the evening rush. Businesses and Hofbräu regulars secure tables up to a year in advance, leaving long lines of impatient partiers waiting behind the guarded front entrance for space to clear in the standing-room section. Reservations require each person to pre-purchase at least one Hendl and two beer tickets, which keeps cash transactions to a minimum.

Unfortunately, the waitresses then have to explain to the guests that the tickets only cover 90 percent of the total cost, but don't include the 10 percent the waitresses earn. It's a slightly confusing system to understand when sober, and after a Maß or two, it becomes even more difficult for the waitresses to collect the expected one to two Euro "Trinkgeld" per beer. They all admitted to learning the word for "tip" in several languages, including Italian and Russian.
Like clockwork, each guest finishes his plate of smoked sausages, or herbed cheese schmears, then orders another beer and climbs up on the table to shout along to Bavarian hits and international crowd pleasers. If you haven't learned the three words to "Ein Prosit" (Cheers!) before arriving on the Wiesn, rest assured they'll echo in your head for years, since at any given moment, at least one tent's band is playing the ubiquitous drinking song.
The night turns predictably rowdier as it continues, but the waitresses seem unfazed. They know that no matter what, security has their backs. Table sleepers, handsy patrons, and beer sprayers all get thrown out immediately, no questions asked. If pukers can pull themselves together, sometimes they're allowed to stay, but they rarely want to return to the sawdust-covered scene of the crime.
The end of the night can't come quickly enough for these hardworking haulers of beer and joy. After the last guest is ushered out of a section, the rubber gloves come back on and the women get to work scrubbing the tables while the cleaning staff takes care of the floors. Underwear, shirts, a baby stroller, and a pair of teeth litter the room among the odd items orphaned by their owners.
Like any good team, the women in Block K know that an after-work drink is the best way to wind down and bond over the day's horrors. I joined them for a Maß and celebratory schnapps in the neighboring section of tables. The endless stories of antics somehow seem normal at Oktoberfest. They told me excitedly about the luxury spa vacation they take every year the day after closing night, helped me to finally master the art of opening a beer bottle with a lighter, and taught me the handle configuration & hugging of the glasses techniques that make it possible for them to lift and carry 12 Maß of beer at once. (I'm looking forward to the next time I can pull out those two party tricks.)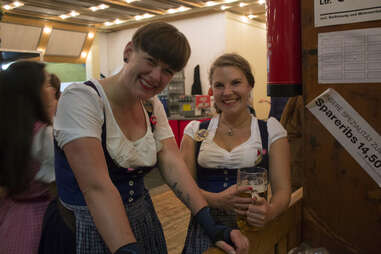 "Of course the money is important", Susanne told me. Ah, yes, the mythical amount of money the waitresses take home. No one will reveal the exact amount, but even the most conservative rumors make eyes widen. "But I couldn't keep doing this if that were the only thing. It's a great change of pace from my regular job and it's fun". She added, "It's a lot of fun in 16 really intense days. Our team is really special and the friendships we make here are lifelong."

These are more than dirndl-clad bar maids. These are close-knit, funny, hard-working women.

My advice? Mark down Oktoberfest on your world-traveling bucket list. And tip your waitresses.