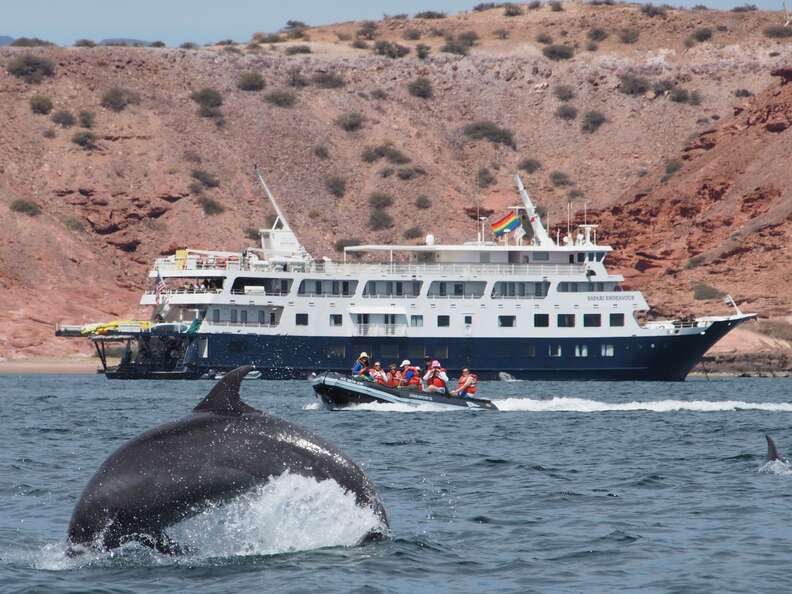 Not quite a whale, but still works.

| Courtesy of Olivia Travel
Not quite a whale, but still works.

| Courtesy of Olivia Travel
The year is 1990 and Judy Dlugacz, co-founder and president of Olivia Records, has an idea to help her esteemed but struggling record company. Launched in 1973 using a $4,000 loan—and not-so-surreptitiously named for the 1949 classic lesbian novella by Dorothy Bussy—the mission of the collective was to bypass the predominantly male financial gatekeepers of the music business, in a time when a woman couldn't even get a credit card without a co-sign from a man (that happened shortly after in 1974, with the Equal Credit Opportunity Act's monumental passing). Olivia Records would make music by women, for women, keeping the money in the pockets of creators.
The business saw some high points. They created the first lesbian anthology, in response to Anita Bryant's 1977 anti-gay campaign. They sold out Carnegie Hall for two consecutive nights, at the time the largest single-grossing event at the hallowed space since it opened in 1891. And they racked up thousands of names on their mailing list.
But being beloved didn't then—and often still doesn't—necessarily translate to cash flow. Then one day a fan mused, "Wouldn't it be great to have a concert on the water?" Dlugacz, struck by the idea, reimagined it as a four-night cruise in the Bahamas with Olivia artists like Dianne Davison and Cris Williamson headlining as entertainment. She scraped together $50,000 for the deposit to charter the SS Dolphin IV, and announced the event to Olivia's devoted mailing list.
It was an immediate hit. "She said 'send in your deposit, and you can't cancel,'" summarizes Tisha Floratos, Olivia's vice president of travel and business operations. "Within weeks, the first ship was sold out, and Judy chartered a second ship for two back-to-back cruises. That was the start of Olivia Travel."
L is for lesbian… and liberation (also other stuff)
Now, one year shy of their 50th anniversary extravaganza of back-to-back cruises in the Caribbean (coincidentally 50 is the Roman numeral L, "from Lesbian to Liberation to Love!" notes the website), Olivia Travel is the most influential lesbian travel company in the world. Throughout their storied history, their programming has been booked by more than 350,000 people, embarking on 300 trips spanning cruises, riverboat vacations, and resorts, all of which are rented or chartered specifically for Olivia guests. There have been author summits and film festivals on board, leadership trips with icons like Billie Jean King, and tennis clinics with stars like Martina Navratalova. Continuing the legacy of their musical roots, performers have included the likes of the Indigo Girls, k.d. lang, and Melissa Etheridge.
They've even made history: In 1993, Olivia visited the Greek island of Lesbos, "probably the largest lesbian pilgrimage in a few millenia," Dlugacz has said. And they've also had some time in the spotlight. In 2006, the Showtime series The L Word introduced Olivia to the world via season two's "Land Ahoy." The episode showcased what the cruises could be: part Lilith Fair on the sea, part summer camp, and part feminist seminar, with a dash of Hedonism II.
This year, they once again teamed up with Showtime and The L Word, taking over Punta Cana's Club Med Resort for an all-inclusive party with the stars of the current Generation Q reboot. Cast members beamed in through Zoom to the 1200 guests, a number that encompasses those first cruises combined.
The Punta Cana excursion was one of 35 trips Oliva has scheduled through 2023. The onslaught represents a reemergence from their COVID-related hiatus, as they usually average 10 to 15 trips each year to LGBTQ+ friendly destinations, introducing both the guests to the country, and the country to the guests. "This company has been around for so long, not only creating these vacation experiences for women so that they could feel free, but also creating visibility for LGBTQ+ women," says Floratos. "We go to different parts of the world, where maybe there's a certain opinion about gay women. And we come and we bring kindness and joy and generosity everywhere we go." Case in point? After docking at a port in Turkey just after the end of the Kosovo war, the guests on board infused so much money into the economy there were articles written about the "wonderful women of Olivia."
Olivia Travel has covered everything from Amsterdam during tulip season, Rio De Janeiro, and the Amazon to African safaris, the British Isles, Japan, Tahiti, Israel, and the Galapagos. You name it, they've gone there—and if they haven't, they welcome guest suggestions.
And yet, even as the world's biggest, most influential lesbian cruise company, helmed by a leader once appointed to President Obama's LGBT Leadership Council for his re-election committee, they're barely known outside of LGBTQ+ circles. Most of the growth has been word of mouth. "Friends tell friends, friends bring friends," says Floratos. It's essentially organic, much like their grassroots beginnings.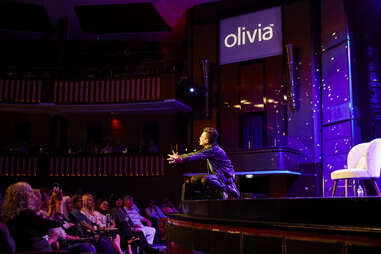 Letting it all hang out
Margaret Cho tells a joke about a gig early in her career, working as a comedian on an Olivia cruise. Or as she calls it, the "lesbian love boat." It was to Alaska, an apt choice because, as she explains, "lesbians love whale watching." In her standup routine, she quips that there were 800 lesbians onboard, and a whole boatload of drama: "Were you looking at her, or her, or her, or her, or her, or her, or her…?" (You get the picture.)
And yeah, if you're looking to stereotype a lesbian cruise, this is probably what you'd come up with. And yeah, lesbians do love whale watching. Floratos confirms that when it comes to requested trips, Alaska is "definitely high on the list of where people want to go." But put a group of lesbians and trans folk together on vacation, and things can quickly get bawdy, even in the tamest of circumstances—like when they're naming their horses for a horse racing event. In Cho's recounting, they went with Galloping Clitoris, followed by crowd favorite No Dick For Me.
"What sets us apart is bringing entertainment that's by the community, for the community," says Floratos. If you're looking for folk music, poetry readings, comedy, memoir and erotic writing instruction, discussions on lesbian sex health, advice from sex therapists, and vision workshops with a life coach, you've come to the right place. There are also commitment ceremonies. "It's so much more than a vacation that we're able to provide for our guests," adds Floratos. "It's deep, meaningful connections in such a beautiful way."
And if you want to wear practically nothing, go to a neon-lit '80s theme party, lounge in a pool while comedians tell dirty jokes, and give your horses NSFW names—yeah, you can do that, too.
Like so many queer spaces that came before it—from bookstores to back rooms providing places for mingling, plotting revolution, or just plain existing—at their core, these trips are places where you can be yourself, honestly, freely, and without worry, while feeling the strength of an in-tune and like-minded community. In fact many—like this Twitter user—don't realize how much the burden of mainstream society is lifted until they actually experience such a magical environment. Olivia even has its own theme song called "Beautiful Together" (lyrics: "Beautiful Together; We lift each other up and we're feelin' free"). And the guests keep on booking. On average, 60 to 80% of Olivia's guests are repeat customers. It's the "O effect."
Finding love, lust, and everything in between
In Floratos's 20-year tenure at Olivia, she's seen a dramatic change in demographic. Whereas in the past they may have skewed older and coupled up, today's guests range from 21 to 92 years old (the older guests are called OWLs, or Older Wiser Lesbians), arriving as friends, couples, chosen families, mothers supporting daughters, and vice versa. Attendance numbers are also rising for non-binary and trans clientele.
"On [the Generation Q] trip we started to see more transgender guests join and have this sense of feeling so welcome in the community, whether that's female to male or male to female," says Floratos. "And there were so many guests that I met and came up to me and introduced themselves as non-binary, or clearly were in the transgender community. And that's the beautiful thing about Olivia, as the company continues to grow it's beyond just women as well."
But the biggest growth in population by far has been solo travelers. "We had nearly 400 solo travelers on the [L Word Generation Q] trip," says Floratos. There are so many solo travelers booking Olivia trips, in fact, that there's now dedicated solo programming, should you want to participate. "You can go and have your alone time if that's what you want," says Floratos. "But you know that this is where you're gonna have your meals, this is where you're gonna sit in the theater for the shows, these are the events that we're gonna have during the day, so that you can meet other solos."
And though they don't actively promote the "single ready to mingle" ethos, as Floratos puts it, an Olivia trip could easily serve as a vacation singles club. Or even a matchmaking service. "We want solos to feel that they have space to meet other solos," says Floratos. "There have been many guests who have found their love on Olivia."
For evidence, look no further than Floratos herself. 18 years ago, she was approached by DJ Rockaway, the woman who would eventually become her wife. "I was leading a resort, and my wife was on as a vacationer," she says. "She came up to me at the end of the week and said 'I'm a DJ in New York, here's my business card—if you're ever looking for a DJ, call me.'"
A year later, they hired Rockaway as regular entertainment for the company. Then things started to happen. "There's an interesting thing about our Olivia team, our entertainers, our DJs—we're like a real family," says Floratos. "There were a few years where we would be on trips together, [but] in other relationships. And then on one trip to Punta Cana, we were both single. We'd always had a fondness for each other as friends, and we realized, 'My gosh, I think there's something a little more than just friendship here.'"
They got married in 2015, and in what seems like a dream married life scenario, often work together in paradisiacal locations. Inspired, perhaps, by her own journey, Floratos imagines writing a book about all the relationships she's seen blossom on the trips. "Where else are you gonna find the love of your life? An Olivia vacation!"
Vanita Salisbury is Thrillist's Senior Travel Writer. She really likes whale watching too.