Presented By
Eat, Drink, and Explore Oregon's Rugged Coastal Towns
A dreamy, beery Pacific wonderland defies your expectations of West Coast living.
Presented By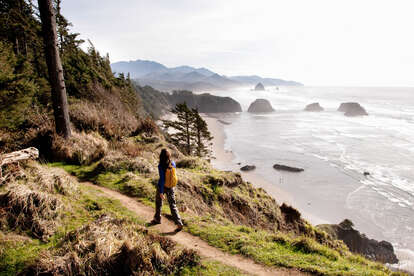 "Heeeeeey yoooooou guuuuuuuys... this place is great!!"

| Jordan Siemens/Getty Images
"Heeeeeey yoooooou guuuuuuuys... this place is great!!"

| Justin Martinez / EyeEm / Getty Images
Note: For the latest information on Oregon's response to COVID-19, click here. Keep in mind that many businesses and public lands across the state may be closed or limited, and events may be cancelled or postponed. For updates on temporary closures and travel restrictions in Oregon, click here. For now, use this guide as inspiration to satisfy your wanderlust safely from home.
To the untrained eye, the northern coast of Oregon is stuck in amber: A series of small towns butting up against beaches both sandy and rocky. They've long drawn visitors with their dreamy mix of environments, from the Japan-esque mossy forests and rocky coastline to the Northeast-evoking crab shacks, oyster bars, and fishermen's dives that dot the winding roads.
But look closer at the land that gave us The Goonies and you'll find a stretch of coastline whose identity is so much more: Breweries are popping up everywhere, serving sailors and surfers alike. Artists and outdoorsmen are flocking, bringing with them a hunger for food that goes well beyond the requisite fresh-caught fish & chips (though there's a lot of that too). It's that balance between laid-back coastal eccentricity and hunger for culture that makes the north coast of Oregon one of our 20 Places We're Dreaming About in 2020. And here's how to do it right.
Know before you go
The best time to visit the Oregon Coast is summer. Not just because events like Goonies Day hit Astoria during the sunnier days. It's because it's the only time of year when you're not risking the weather shifting from 80 degrees and sunny to 80mph winds and rain before you can gather your beach blanket. That's only a slight exaggeration. Winter brings smaller crowds and bigger surf with relatively mild weather, but Poseidon's a vengeful guy, so better not tempt him once September goes out to sea, unless you dig a more introspective and solitary experience and like your sunshine interspersed with gale forces... and if that's your disposition, December in Oregon should be your jam.
Where to stay on the northern coast of Oregon
What follows is a north-to-south itinerary, but really, you can hit any of these locations with ease regardless of where you set up camp. A beachside Airbnb is easy to come by most anywhere, and is your bet bet. But otherwise it's a matter of choice. Want to have more of a city feel while having the option to bar crawl? Astoria's your spot, likely in the old-school Commodore Hotel. Want things quieter and breezier? Try Lands End hotel in Cannon Beach, or the fancier Headlands luxury lodge in Pacific City. Wanna go rustic? Cape Lookout near Oceanside has campsites, plus yurts and rustic cabins. Either way, you'll be plugged into the coastal community and able to cruise around at ease.
Traveling may be on pause, but that doesn't mean your dreaming and planning has to be. With The Marriott Bonvoy Boundless™ Card, earn 6X Points at 7,000+ hotels participating in Marriott Bonvoy™ and 2X Points on all other purchases, including future flights. For the journey ahead, carry a card that's here for you now.
Day 1: Beer, nostalgia, and more beer in Astoria
Chances are you're flying into Portland. If it's afternoon, call the day a wash: It's the last big-city action you're going to be in for a while, so get all that Portland stuff out of your system (and check out the big travel guide we made for Portland, if you want to do it right). But don't feel like you need to stock up on supplies and whatnot: The coast will have everything you need.
Once you set out from Portland, you're going to get a little tour of Highway 30, where you'll pass such landmarks as the vegan strip club and Scappoose's curious giant candle. Keep going. The road is the draw here, and it's less than two hours to your destination: Astoria.
Astoria's a bit of an odd coast city, mostly because it's not actually a coast city at all. Perched at the mouth of the mighty Columbia River, this is the place where Lewis & Clark eventually ended up, got rained on, said "screw it," and started walking back. As such, it's got a rough and tumble charm to it; a place where fishermen day drink like champions and sea lions steal prime real estate on the docks. Stroll around Downtown to get a lay of the land, then climb the landmark Astoria Column, which can best be described as a lightless lighthouse/big-ass pole sticking out of the ground offering very windy panoramas of the area.
You're probably going to want to do some Goonies stuff here, even if you didn't time your trip around Goonies Day, an annual gathering celebrating the film (this year is the 35th anniversary!). The 1985 classic is one of the city's main tourism draws -- it was filmed here, and you can walk around town taking in sights like Chunk's bowling alley and gaze upon Mikey's house, though tourist fatigue means the owner is very, very sick of this shit, so please be respectful and don't do the Truffle Shuffle on the porch or yard. The jail from the movie is actually the Oregon Film Museum, where you can commemorate other Astoria films overshadowed by The Goonies -- would it be too much to rename the school after Kindergarten Cop's John Kimble or erect a statue of Johnny 5 from Short Circuit?
Anyway, nerd, you're near the coast, so brave the lines at Bowpicker, a landlocked dory boat turned food cart (welcome to Oregon) that does fresh-caught, battered albacore. Then start drinking because Astoria is a beer city (again, welcome to Oregon). Buoy and Fort George are the stars of the show -- both mainstays on Oregon's favorite brewery lists -- while Reach Break and Astoria Brewing are also clutch. Round it out at Albatross, which serves up oysters and a uniquely Oregonian take on cioppino courtesy of pedigreed chef Eric Bechard. Then brave the dive bars -- there are a ton, so just roll the dice -- until your sea legs give out.
Day 2: Beach time and the Alligator Man in Long Beach, Washington
That was a big day. You need some beach time. After a surprisingly Portland-y brunch at the seemingly divey Columbian Cafe in Astoria, conventional wisdom would dictate you just drive south toward the small town of Warrenton until you find some sand. Conventional wisdom is wrong. Cross the Astoria-Megler Bridge -- it's that big, iconic sucker right in the middle of town -- and into Washington. A short drive away, you'll find Long Beach, which does, in fact, have very long beaches and a northeast vibe -- arcades, salt-water taffy, etc. -- plus one very famous resident.
Jake the Alligator Man -- star of tabloids -- is a fake-ass mummified man-gator who lives at Washington's best roadside attraction, Marsh's Free Museum, drawing something of a Burning Man contingent -- think burlesque dancers and people who drive art cars that look like Mad Max by way of Looney Tunes -- from throughout the land.
MORE: Get the full scoop on Jake, the mummified gator-man who captured Oregon's heart
After paying respect to Jake, just sort of wander around. If you're not fish & chipped out (please don't be, it's a huge part of this!) you can get your fix at the semi-divey Long Beach Tavern or cheffier takes on seafood at the Pickled Fish atop the trendy Adrift Hotel. This is a place positively humming with bakeries, markets, and bars, and everybody's pretty friendly. It's tiny, too, so just explore knowing that you've got Jake's blessing.
Day 3: Downshift at Cannon Beach
After a whirlwind of a first two days, it's time for a lazier couple days by taking the short drive south along Highway 101. If you've still got a hankering for that boardwalk-style experience, stop off in the little town of Seaside. This is probably the most touristy of places along the coast -- here you'll find the requisite aquarium, saltwater taffy emporiums, and throngs of families -- so if that's not your bag, you're not missing out.
The main attraction is farther south: Cannon Beach. This is a dreamy little seaside town that more or less feels like Norman Rockwell decided to pull up stakes and start smoking pot on the Oregon coast. It's a highly walkable hamlet full of art galleries and kite shops, and perhaps the most dog-friendly coastal town you'll ever experience, with Good Boys and Girls parading down the streets and going nutso on the beach. About that main beach: It spans the entirety of the city, and its centerpiece is Haystack Rock. This massive monolith protrudes out of the water like a mountain -- you definitely remember it as the rock One Eyed Willy's ship sailed past in Goonies. At low tide, you can walk right up to it and poke sea anemones.
MORE:Cannon Beach makes the cut for one of America's best beach towns
A lazy day in Cannon is highlighted by stopping in at the impossibly cute eateries, but two stand out: Lazy Susan is tucked into a beach house and serves up fantastic Benedicts, while Ecola Seafood is an ideal seafood shack where Neptune's bounty is fried up to order right off the dories. Do not be put off by the lines -- this is very much a locals and tourist spot -- and do not, under any circumstances, leave without a crab cocktail, which is best taken to go and consumed on the beach. For breweries, Public Coast might be the best of the bunch, but for the best taste of the coast's offerings, a trip to the local hardware store is a must; Cannon Beach Hardware offers up excellent pub food (fish & chips, obviously, but don't skip the fresh halibut ceviche, or the excellent burger if you'd rather turf than surf) alongside a selection of great beers. And you can buy nails there, too, because it's very much a hardware store. It's not just a clever name.
This is also home to some of the best hiking on the coast. Ecola State Park -- which, fun fact, doubled as Bells Beach, Australia, in Point Break -- offers up panoramic views of the town and rock formations, with a nice little alcove called Indian Beach that's a magnet for wetsuits. There are easy hikes and calf-burners to be had, and the harder the hike, the more rewarding the vistas. Plan to spend a good chunk of the day exploring, then head back to town to refresh: It's mere blocks from the entrance.
Day 4: Oceanside/Pacific City
Driving south of Cannon, you'll come across a wealth of cool little towns: sleepy Wheeler and Nehalem among them. Rockaway Beach -- a train town complete with abandoned rails where you can ride on pedal carts -- offers a bevy of beachside rentals with your requisite antique shops and ice cream parlors, though a stop at Pronto Pup is kind of a rite of passage: The roadside stand claims to have invented the corn dog, proving so with a mechanical hot dog out front. Keep going and you'll find beautiful vistas at Cape Meares, but don't resist the allure of the gigantic Tillamook Creamery, the highlight of this section of Oregon wine & cheese country, whose ice cream selection and offerings of free curds are essential. Then leave Tillamook before the cattle smell overtakes you.
Nearby Oceanside is one of the smallest towns on this list, and very much its hidden gem. It's a sleepy little municipality that comprises nothing more than a few restaurants (get the crab tacos!) and one of the best beaches on the coast, period. Two of them, actually: The main beach is sandy and sprawling, the perfect place to laze about. But it's sliced in half by a massive cliff face that has a tunnel carved through the middle -- stumble through the darkness and you'll find yourself on an isolated beach absolutely covered in agate, the milky-white, pearlish stones that are to the Oregon coast what Petoskey Stones are to Lake Michigan. It's a time suck of a day -- time at once stands still and goes by quickly here -- and a stone's throw from Cape Lookout State Park to the south. En route between the two, stop for an oceanfront beer and oysters at The Schooner to hear locals boast about their hauls from the ocean that day.
Cap it all off in tiny Pacific City. There's not a lot here, but what it has is among the coolest sights on the coast, period, and it all centers on Pelican Brewing. This massive brewpub sits directly on the beach, overlooking the other giant Haystack Rock. Work up enough courage via a couple of Kiwanda Cream Ales and you can climb up -- then run/sled down -- the beach's gigantic sand dune before kicking back on the beach or exploring the craggy Cape Kiwanda natural area. Wrap the day with a trip to the bougie Headlands Lodge and catch a kaleidoscopic sunset overlooking the rock. Have a fancy cocktail and incredible oysters while pondering calling one of the real estate agents whose signs dot the landscape. You're not going to want to leave.
Keep it going: Olympic National Park
If you want to keep exploring, you're in luck: Just keep driving. You could easily head back east and tack on a couple extra days in Portland, but if that coast life's been good to you -- and I'm going to bet it has been -- the best move is to continue north and explore the Washington coast, then fly out of Seattle. A quick drive up the 101 will give you glimpses of Mount Rainier and Mount St. Helens before you arrive at Olympic National Park, whose rich biodiversity includes rainforests, beaches, glaciers, and pretty much every other Pacific Northwest hallmark, save for Kyle MacLachlan offering you cherry pie.
The drive from Astoria to Olympic takes three hours on the 101, but don't be in a rush. Like Oregon's coast, there's much to explore here amid the tiny towns. And if you want to tie a bow on this whole movie-themed tourism thing, Forks, Washington, is just outside the northwest edge of the park. It's a pretty little town if you don't mind all the sparkling teenage vampires there to visit the home of Bella and Edward.
MEET THE WRITER
Andy Kryza is an award-winning journalist and senior editor of Thrillist's travel section. Currently residing in Los Angeles, he spent 15 years as a Portlander exploring the Oregon coast's many nooks, crannies, and dives (read his oral history of The Goonies in Astoria here). He has many, many favorite spots he's not about to tell you here. They're yours to discover.
When was the last time you visited the Oregon coast? What drew you there?
I just officiated a wedding in Pacific City in early January, where I got battered by sideways winds while wearing a very nice suit. But I've been up and down the coast endlessly. I've always been drawn by different things: first by my love of rock hounding (nerd) and movies (NERD), but eventually I came to be an avid hiker and explorer. I tried to visit a different town every time (Oceanside is my favorite -- you're welcome). There's nothing like emerging from a rain-drenched mountain pass -- with a couple cliff-diving pit stops in the Wilson River -- onto such a mind-blowing shoreline. I've been there a hundred times, and that first glimpse of the water through the trees still makes my knees buckle. Also, I keep returning in the hopes of finding a stray strand of Patrick Swayze's hair. It's out there… somewhere.
What was the most impressive thing about the coast you didn't expect?
Its sheer power. One of my favorite things that ever happened went down at Cape Lookout. We set up our tents at a campsite and then went to the beach for the day, when it was all sunshine and session beers. That night, we were so battered by rain and wind that we all ended up sleeping in cars. When I woke up, my tent was gone. I found it later, about 20 feet up in a tree, skewered through on a branch with all my stuff still in it. It was hilarious and terrifying and kind of perfect. Which really brings us back around to my first point: Go in the summer.
Number one can't-miss recommendation for a visitor?
Find a patch of beach to call your own (it's not hard), park yourself with some beers and maybe a crab cocktail, and watch the sunset. Then, stick around for the sky while staying warm by a fire. Sometimes, a cliche is a cliche for a reason. Also, don't sleep on the lands just in from the shore: The forests and rivers surrounding this area are treasure troves that demand to be hiked, summitted, swam, and camped. Finally, if you see a suspect-looking country store or shack selling smoked fish, stop. It's likely still warm from the smoker. Ask for the fatty belly.
Next big trip you have planned in 2020?
My family and I just got back from Tokyo and Kyoto, so we haven't planned anything yet, but I've been scheming for a long time to trick my wife and kid into a trip to Michigan's Upper Peninsula. It's truly one of the most magnificent wilderness areas in the US, complete with a shoreline I'd put up against anywhere else in the country.
Ultimate bucket list destination you've always wanted to visit?
Scotland. I've always wanted to go to rediscover my family roots there. Plus, I hear they make pretty good whisky.