Dinner and a movie is pretty much the lamest date idea ever. Dinner and a movie while soaking in a hot tub or sitting in a castle? Better!!
Because nothing's better than watching The Goonies under the stars and drinking beer out of a Nalgene, we've tracked down some of the most stunning, scenic, or otherwise odd outdoor theaters around the globe.
In an old slaughterhouse
Viehof Kino, Munich, Germany
June 11 – August 31
We're going to venture a guess that this is the only movie theater in the world located in an old slaughterhouse. And with its own beer garden. Call us crazy.
On Sydney Harbour
St. George Open Air, Sydney, Australia
January 10 – February 15
With stunning views of the famous Sydney Opera House and Harbour Bridge in the backdrop, who cares that you're watching Saving Mr. Banks?
In a geological marvel
Film on the Rocks, Denver, CO
June 3 – August 2
Red Rocks -- the naturally formed amphitheater in the Colorado Rockies that seats over 9,000 -- isn't one of the most famous concert venues in the world for nothing; majestic sunsets, brilliant colors, and perfect acoustics make this a favorite among concert-goers, musicians, and now film buffs alike.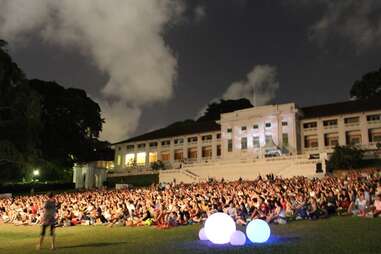 By a real life fort
Films at the Fort, Singapore
August 1 – August 10
Believed to be the site of an ancestral royal palace, this park is so scenic that the country's founder, Stamford Raffles, built both his home and the city's first botanical garden there. By late 1859, however, it had become a fort, armory, and barracks. And today? Well, today you can watch movies while sipping beer and wine from the on-site bar.
On a m*th$rf*ck$ng boat!
The Floating Cinema, London
June 12 – September 21
Enjoy films that focus on British culture from either the dry land of Hackney's riverbanks or aboard a 60ft-long barge.
In a hot tub. On a roof.
Hot Tub Cinema, New York City and London
Dates TBD
Basically, exactly what it sounds like/dreams are made of, Hot Tub Cinema lets you watch movies on a rooftop, in a hot tub, with booze.
In the shadow of an ancient church
Kino unter Sternen, Vienna, Austria
June 27 – July 19
Assuming How to Train Your Dragon 2 isn't holding your attention, stare instead at the Karlskirche, or St. Charles Church; a baroque beauty built in the early 18th Century, it's considered one of Vienna's most stunning buildings.
In front of Lake Zurich
Orange Cinema, Zurich, Switzerland
July 17 – August 17
Just try to focus on the movie with Lake Zurich and the city's glittering lights vying for your attention.
On the beach
Coney Island Flicks on the Beach, Brooklyn, NY
June 30 – August 18
This double whammy of an outdoor cinema has you sitting on the beach while Luna Park icons like the Coney Island Cyclone dominate the horizon.

By a castle
Cinema a la Fresca - Sala Montjuïc, Barcelona, Spain
July 6 – August 8
Dream about Scarlett Johansson and Penelope Cruz as you watch Vicky Cristina Barcelona while sitting next to the ancient walls of the city's Montjuïc Castle, a military fortress dating back to 1640.
In a cemetery
Cinespia, Los Angeles
July 19 – August 30
Location, location, location, as the old adage goes... Cinespia takes it to heart by letting you enjoy your favorite classics while sitting among celebrity graves at the Hollywood Forever Cemetery.

In the Renaissance
Cineteca Bologna, Bologna, Italy
June 20 – August 14
Is there a better place to watch The Da Vinci Code than the Renaissance-era Piazza Maggiore, where the 15th-century Sanctuary of Santa Maria della Vita rises majestically from behind the screen? You know, if you had to watch The Da Vinci Code.
In Ancient Greece
Cine Thisio, Athens, Greece
May 8 – July 23 (more dates to come)
Built in 1935, this old-school theater sits below the Acropolis and boasts incredible views of the Parthenon.

Sophie-Claire Hoeller is Thrillist's über-efficient German associate travel editor, and has had frequent flyer status since she was born in a Lufthansa terminal. Follow her @Sohostyle.