Welp, guess this headline really screws things up. But for at LEAST the next year these destinations will be relatively off the radar, untouched, underdeveloped, under-Americanized, and about every other turn-on word for adventurous travelers. It's fine if you like to sit on the beach at your all-inclusive and sip on that Bud Light. But if you need us, we'll be visiting these countries, with very few other Americans. You know, until we ruin them with this headline.
Recommended Video
Rent This Mexican Estate for as Little as $24/Person a Night
Belize
Why you need to go: Sun seekers will love the sandy cayes that run along the Belize Barrier Reef in the Caribbean Sea (a delight for divers, as well). Hikers will find mountains; tubers will coast along rivers that run through caverns. And those simply Indiana Jonesing for adventure can traverse the jungle to Mayan ruins.
Why it isn't more popular: Mexico, with 300 times Belize's population, hogs the spotlight: the Yucatan Peninsula, next door, boasts Cancun and Playa del Carmen, which have more Americanized tourism infrastructure. Belize has virtually no big-name, American-branded hotels. But that's kinda why it's great.
The one thing you must do: Visit Caye Caulker. This tiny island off the coast of Belize City is a backpacker's paradise. Rent a beach cruiser, grab a frosty Belikin beer, and stake out a hammock while the sun does its thing.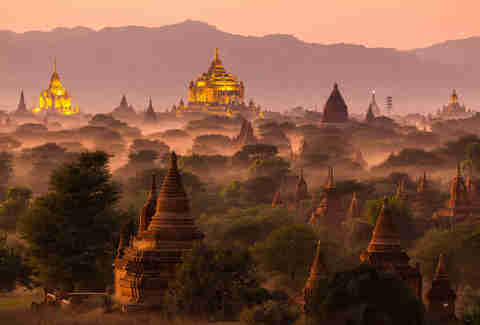 Myanmar
Why you need to go: It's the rare relatively untapped Asian destination, having opened its doors to tourism only in 2012. It remains a unique, authentic destination, relatively free of outside influence.
Why it isn't more popular: Fifty years of authoritarian military rule has a way of throwing a pall over a country. Also, it's not exactly nearby: getting there takes a 14-hour flight to Hong Kong, Bangkok, or another major hub, then another leg to get yourself to the capital, Yangon. Once you're there, getting around the country can be tricky as well. Flights, even if you can book one, may change or cancel on a dime. But a certain amount of improvisation comes with the territory -- and is part of the adventure -- when you're off the beaten path.
The one thing you must do: See the sunset over the fields of temples in Old Bagan. Less than a year ago it was possible to climb certain temples for the sunset, but today this has changed as tourism continues to increase and foot traffic began to damage some of the structures. Still, seeing the sun set behind the Irrawaddy River over plains of peeking pagodas is a must for any travel junkie.
Austria
Why you need to go: The city of Vienna is one of the most elegantly understated European capitals. Often called the "Paris of the East," this cosmopolitan city offers rich history, a booming arts scene, and spectacular architecture. But seriously -- once the seat of the Habsburg Empire, it's home to some of the most ornate palaces in the world, plus some bangin' turn-of-the-century Art Nouveau buildings. Music lovers and history buffs can walk in the footsteps of Austria's great composers: Mozart, Schubert, and Haydn.
Why it isn't more popular: Neighboring Switzerland and Germany tend to get top billing, and people often eschew Vienna for Prague.
The one thing you must do: Immerse yourself in Austria's wine culture, one of the world's richest. Just outside Vienna are villages known for their rieslings and gruners. For skiing, the Alpine slopes are world-class.
Northern Ireland
Why you need to go: The six counties that make up Northern Ireland, part of the UK, are steeped in Irish history and tradition, and are some of the most beautiful parts of the island. Belfast is a modern and eclectic city, while the countryside is picturesque with those green rolling hills and foggy sea views that Ireland is known and loved for.
Why it isn't more popular: A lingering bad rap from the period known as The Troubles still hovers around Northern Ireland. There was a time in the '90s when tensions still turned to violence between loyalists to the crown and the IRA (Irish Republican Army). Since 1998 hostilities have more than cooled, and the country is a safe destination for travelers.
The one thing you must do: Visit Giant's Causeway. This natural phenomenon on the northern coast features 40,000 interlocking basalt columns, which came from a volcanic eruption. The tops of the columns form stepping stones that lead from the foot of a cliff down into the sea.
Malaysia
Why you need to go: Tropical beaches, cheap lodging, and a unique world cuisine. Malaysia's geography -- two landmasses separated by the South China Sea -- puts it at the world's busiest crossroads of human activity, making it a melting pot of Chinese, Indian, and Thai cultures. (As well as a colonial outpost for the Dutch and the English; your native tongue will get you around pretty well.) Its capital, Kuala Lumpur, you know from its 1,483ft Petronas Towers, the tallest paired buildings in the world. 
Why it isn't more popular: Thailand, its neighbor to the north, is the more obvious choice for many Americans. And it's majority Muslim, a turnoff to Americans who conflate that with being stone-sober or scary or square. (It's none of those.) But we're clearly missing out. After China and Hong Kong, Malaysia gets the most foreign visitors of any country in Asia.
The one thing you must do: On the Borneo side, explore Gunung Mulu National Park. This UNESCO World Heritage Site includes caves and craggy karst formations.
Ecuador
Why you need to go: It's a budget adventurer's paradise: culture, cuisine, and architecture in Quito; unparalleled biodiversity in the verdant Amazon basin; rustic seashores; and, of course, 600 miles offshore, the Galápagos Islands. Ecuador's currency is, conveniently, the dollar. You'll find your tab rarely goes above $5, just like the temperature rarely strays above 70. 
Why it isn't more popular: Ecuador often loses out to Peru or Patagonia when it comes to adventure travel. But hikers, campers, and extreme sports enthusiasts are missing out on a treasure trove of trails, rivers, canyons, and volcanoes.
The one thing you must do: Everyone will tell you the Galápagos Islands, and this is true, but regulations and distance make them more of a standalone trip. If you are going to Ecuador, visit the Amazon basin and take advantage of the whitewater rafting, mountain biking, and trekking.
Mexico
Why you need to go: The country is so much more than the usual suspects: Cancun, Cozumel, Puerto Vallarta, Los Cabos. Try Copper Canyon instead, a larger and arguably more beautiful canyon than the Grand Canyon. The southern jungles are loaded with Mayan temples. Colonial cities remain packed with pastel-colored buildings and Spanish architecture. The food changes from state to state. Mexico City is cosmopolitan, European, and decidedly Latin.
Why it isn't more popular: Outside its beach towns, Mexico can feel like an unsafe bet. Do even the scantest bit of homework before going, and you'll be far from possible drug cartel violence, which is probably not a threat to most visitors anyway.
The one thing you must do: Consider the state of Oaxaca. Oaxaca City, a beautiful colonial city, boasts some of the best food in the entire country. A few hours away are the beach towns of Huatulco and Puerto Escondido. These bohemian beach getaways have been popular with Mexican travelers for years, but soon US travelers are going to catch wind. Beat the rush.
Cuba
Why you need to go: Because -- at last! -- you can. Cuba is truly unlike anywhere on Earth, and after 50 years of austerity, the locals are incredibly welcoming and happy to know you. 
Why it isn't more popular: It will be. In 2015, the US and Cuban governments started opening Cuba's borders to more US travelers. Early in 2016, six airlines were approved for nonstop commercial flights into Havana. Carnival Cruise Line has added Cuba to its itineraries, and Starwood has opened a new hotel. This is only the beginning.
The one thing you must do: Drink rum, lots of rum. And visit Old Havana. For now, before tourism transforms the country, it remains one of the most charming places in the entire world. It's every vision you have of Cuba, and it's all true, from the historic cars, to the architecture, to the gorgeous Malecon boardwalk that hugs the coastline. Beyond that, you can tour cigar factories, see Hemingway's old house, and hear live music (nearly every single bar will have some on hand).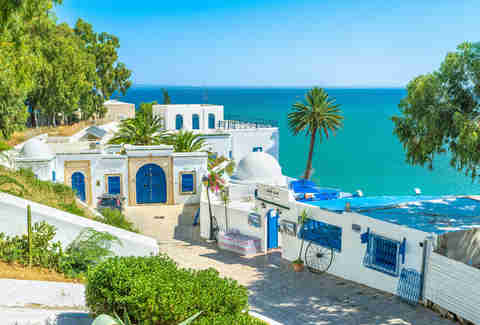 Tunisia
Why you need to go: This North African nation sits on the Mediterranean, giving it that balmy European feel that draws people to Sicily and the South of France. You can visit Tunisia for the beach alone, but you'll stay for the rich history, Ottoman ruins, and the incredible food. In the capital of Tunis you'll find a melting pot of Arab, French, and progressive Muslim influences. The labyrinthine Old Town of Medina is teeming with markets; the New Town, chic French cafés and locals buzzing about soccer.
Why it isn't more popular: It's had a bad rep by association since late 2010, when the Arab Spring started in Tunisia and spread to Egypt, Libya, Syria, Yemen, Bahrain, Saudi Arabia, and Jordan. Americans lump Tunisia in with its more volatile neighbors, but the country has since cooled off.
The one thing you must do: Visit the Amphitheatre of El Jem. With a capacity of 35,000, it's the largest Roman colosseum in North Africa, and more intact than Rome's.
Cambodia
Why you need to go: War-torn history notwithstanding, Cambodia's people are among the warmest, welcoming, and most hospitable anywhere. This tropical, jungly country has changed hands many times over thousands of years, leaving a fascinating mash-up of influences from China, Malaysia, Europe, Hinduism, and Buddhism. Its ruins are spectacular and its amenities are mind-bendingly cheap; you can go full beast-mode during a night out in the capital of Phnom Penh and still only spend $20.
Why it isn't more popular: Cambodia's neighbors, Thailand and Vietnam, tend to be more popular with mass tourism. And Americans still associate Cambodia with the Khmer Rouge and bombings during the Vietnam War.
The one thing you must do: Angkor Wat. Yes, it's going to be crawling with tourists. But seeing these ancient ruins as the sun rises behind them is simply spectacular.
Jordan
Why you need to go: Despite the regional turmoil surrounding it, Jordan remains a safe, hospitable destination where English is spoken as the second language. It's a peaceful blend of cultures, offering a glimpse into the Middle East that we might otherwise not be able to see due to security threats. Be prepared to see camel caravans, Roman monuments, and stupefying desert landscapes.
Why it isn't more popular: Stigma by association. Jordan borders Israel, the West Bank, Saudi Arabia, Iraq, and Syria. It isn't exactly top of mind when Americans think of places to chill.
The one thing you must do: Visit the sunny ancient city of Petra, Jordan's pride and joy, packed with tombs and temples carved into pink sandstone cliffs.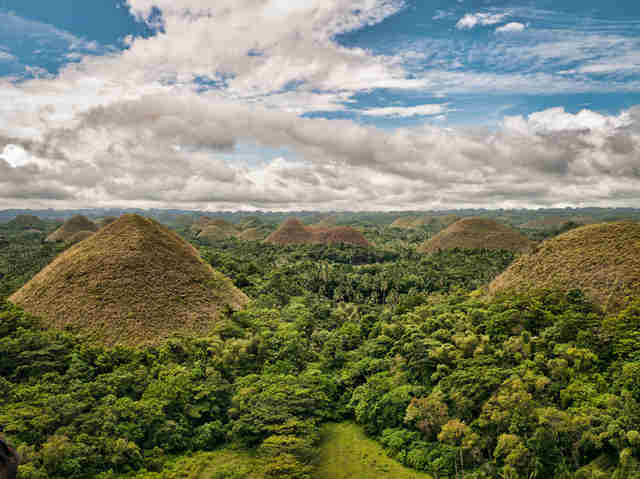 Philippines
Why you need to go: This is a water lover's paradise. The sea surrounding the Philippines hits that high note of perfect blues and greens. The scuba diving is world-class, and the people are welcoming and looking to make friends.
Why it isn't more popular: The air pricing and length of travel are the biggest issues here. Traveling for a full day to get there can be rough on the body. Keep in mind, though, that once you arrive, everything is incredibly cheap. A massage is $8. Taxi rides are less than $5. Four-star resorts run less than $50 a night. And a plate of lechon (pork) for an entire family costs $12.
The one thing you must do: Go to the island of Bohol, it's perfect for beach bums. There's loads of affordable diving options, boat tours, and snorkeling, and it's just a short ferry ride to Cebu for the casinos and nightlife.
Honduras
Why you need to go: If Honduras had the marketing budget that, say, Mexico or Costa Rica have, it would probably be the more popular destination. It offers all the same activities and natural splendor, but for loads cheaper. The country is simply stunning, packed with Mayan ruins, terrific sites for diving in the Bay Islands, beautiful nature parks, and volcanic lakes. 
Why it isn't more popular: Honduras suffers from a rough reputation. In 2014 its murder rate was 66 per 100,000 residents, one of the highest in the world outside a war zone. Yet the country is in the midst of rebounding, and each year tens of thousands of American students and tourists visit without incident. Just travel smart.
The one thing you must do: Party after-hours in La Ceiba, the lively "Entertainment Capital of Honduras." When the sun comes up, catch a boat to Roatán, one of the paradisal Bay Islands. Here you'll find that sexy Caribbean sand and sea, some of the world's best diving, and plenty of delicacies to sink your teeth into.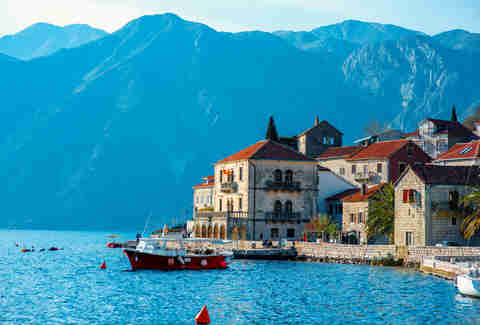 Montenegro
Why you need to go: Neighboring Croatia attracts throngs of tourists, but Montenegro's cuisine, architecture, and rugged mountains spilling down into the Adriatic coastline are every bit as gorgeous, without the crowds. Locals are charismatic, hospitable, and happy to chat with Americans. Oh yeah, and it's a bargain. A local draft will put you back a buck 75. 
Why it isn't more popular: It's small, relatively obscure, and not easy to get to, as there are no direct flights from the United States.
The one thing you must do: Rent a boat for the day and cruise along the Adriatic. Sip rakija at one of several waterfront establishments in Perast, the sublime mountain base-hugging village on the Bay of Kotor. You should also make a reservation at Stari Mlini, a beautiful restaurant that is cooled by canals and has killer ocean views.
Sign up here for our daily Thrillist email, and get your fix of the best in food/drink/fun.