America's Most Overrated Tourist Destinations
The United States is a massive collection of interesting, exciting, and often overlooked places to visit, which makes you wonder why people keep going back to the same overrated tourist destinations year after year. Maybe it's because there wasn't anyone to tell 'em that the Empire State Building doesn't have the best views in Manhattan, or that the Magnificent Mile isn't really all that magnificent... until now! Here are the 10 most overrated tourist destinations in America -- and better alternatives that you can find nearby.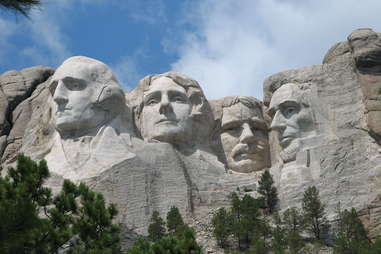 Mount Rushmore
Keystone, South Dakota
Fresh off failing to complete a giant monument to the Confederacy (yes, THAT Confederacy) on the side of Stone Mountain in Georgia, Mt. Rushmore's designer eagerly agreed to create a giant carving of some sort that would bring tourists to South Dakota... which he would also fail to complete before being fired rather ignominiously. Eventually this giant roadside attraction would be finished (not before leaving the men who worked on it with permanent lung damage), but it is seriously debatable whether or not it made the already pretty stunning Black Hills more attractive. What it has done is somehow become synonymous with greatness, sparking endless unnecessary debates about who belongs on the "Mt. Rushmore of [INSERT SOMETHING HERE]." The problem though is that this earnest, somewhat staid monument (that's actually smaller than you expect) doesn't even make our Mt. Rushmore of roadside attractions (Cadillac Ranch, anyone?!), and you have to go pretty far out of your way, so why bother?
What to do instead: There are far better things to do and see in the Black Hills. The nearby Badlands, which feel like taking a visit to the Moon -- are a far more memorable experience, and Wyoming's Devils Tower is a far more worthwhile structure to gawk at. But if you really need a view of Rushmore, just get a glimpse from the car. There are some solid views of the monument from Iron Mountain Rd, a spectacular stretch of highway that starts at Mt. Rushmore and ends 17 miles later at Custer State Park, where an even more incredible drive along the Peter Norbeck Scenic Byway -- boasting Pigtail Bridges, one-lane rock-walled tunnels, etc. -- awaits.
Empire State Building
New York, NY
Sure, King Kong's favorite building has some things going for it: the marble lobby is beautiful, and movies like An Affair to Remember and Sleepless in Seattle have made a trip to its 86th floor an enduring part of popular culture. But let's face it... It's crowded, and touristy, and once you're outside, peering through metal bars, it feels both cramped and utilitarian. Plus, it's not even the best observation deck in Manhattan.
What to do instead: Just 15 blocks north, the equally iconic Rockefeller Center (where you can also go shopping, ice skating, etc.) boasts its own Top of the Rock observation deck, which is more spacious and attractively designed, featuring high glass walls that make you feel like you're floating above the city. Best of all, the view from the Rock is better, partly because it includes a certain skyscraper you may have heard of -- The Empire State Building.
Hollywood Walk of Fame
Los Angeles, CA
There's a reason Hollywood's Chamber of Commerce decided to put stars bearing the names of stars (so clever!) on either side of this particular stretch of Hollywood Blvd: because there is literally no other reason for you to go there!
What to do instead: They say nobody walks in LA, but if you're into things you can check out on foot, then we recommend hiking for a few miles where you might actually see some stars, Runyon Canyon, or taking a stroll on The Strand, an iconic beachfront path that stretches from Pacific Palisades all the way down to Torrance.
Lombard St
San Francisco, CA
Um... is that it? Seriously, the eight turns on this famously crooked 600-yard-long brick street are hardly worth the effort of fighting the endless line of cars waiting to go down the hill -- one every 10 seconds or so, up to 350 an hour -- especially when you consider that despite all the traffic and a 5mph speed limit, it only takes a couple of minutes to reach the bottom, at which point you... um, just drive away, because there's literally nothing else to do there.
What to do instead: If you want iconic views of San Francisco, you can always cross the Golden Gate Bridge and take in the sweeping vista from nearby Vista Point. But the pro move is to cruise down the Great Highway, which runs along the western edge of the city, offering stunning views of the Pacific, and access to surprising expanse of sandy beach.
Statue of Liberty and Ellis Island
New York, NY
Lady Liberty, rising out of the New York Harbor off the southern tip of Manhattan, is one of America's most iconic sights -- but don't waste a whole afternoon in NYC taking the ferry to see it up close. It'll cost you more time and money than it's worth, and anyway there are perfectly good views of the statue from Battery Park. Ellis Island, which is accessed via the same ferry ride as the Statue of Liberty, was an important historical site, but isn't much of a landmark. As an immigration processing station, the island was basically a building for bureaucracy, and visiting it today is only moderately more interesting than a trip to the DMV.
What to do instead: If it's an amazing view of lower Manhattan you want, take a walk across the Brooklyn Bridge, where you can get the best views of the city and the harbor -- Statue of Liberty included -- for free. And if it's the immigrant history you're after, a much better alternative to Ellis Island is the Tenement Museum on the Lower East Side. Just a 10 minute walk from the Manhattan side of the Brooklyn Bridge, the Tenement Museum offers a remarkable glimpse into how New York's old immigrants actually lived once they got through Ellis Island, with fascinating tours of restored tenement apartments where German, Irish, and Jewish immigrants crammed together over a hundred years ago.
Mall of America
Bloomington, Minneapolis
It's the largest shopping mall in the United States, and attracts more shoppers than any other mall in the country, but it's basically just a bunch of stores you probably already have in your hometown, with a few extra kiddy rides sponsored by Nickelodeon, and a slightly depressing miniature aquarium to set it apart. What's worse is that it's not even the biggest or most extravagant mall in "America" -- that distinction goes to the West Edmonton Mall, which is owned by the same company (!) , and has it's own ice hockey rink, a giant water park, a Disney-esque "European Boulevard" full of boutiques, and a floating pirate ship right in the middle of the place. So, yeah if you're gonna go to an out of the way city just for the mall, apparently the smart move is going to... ugh, Canada.
What to do instead: If Canada isn't an option, Downtown Minneapolis boasts another giant structure that offers shopping opportunities -- the city's Skyway system is a collection of bridges (the largest of its kind in the world) that stretch almost 11 miles and connect buildings over 69 city blocks including the Nicollet Mall shopping district.
The Space Needle
Seattle, WA
So, you buy a ticket, wait in the inevitable line, and listen to a cute little spiel from the elevator operator about this iconic Seattle landmark during the 41-second trip to the top, for what? Views of the city you could've had from a nearby park for free? Yup.
What to do instead: If it's views of the city you're after then head to the aforementioned Kerry Park, which you might remember from the opening scene in 10 Things I Hate About You, or if you're in town during one of Seattle's surprisingly awesome summers, head to West Seattle where you can actually sit on the beach (!) and check out the city from across Elliott Bay.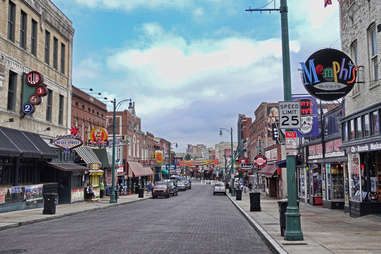 Beale St
Memphis, TN
This 1.8 mile stretch of road may once have offered an authentic Memphis experience, but today it feels more like Disney's Main Street, U.S.A., but with booze sold by an increasingly corporate array of bars hoping to cash in on what little is left of blues culture, while distracting you with frozen daiquiris. Which totally works by the way.
What to do instead: Um... head to Nashville? Or just go where the Memphis locals go.
The Alamo
San Antonio, TX
Remember the Alamo? While the battle of the Alamo may have been worth remembering, the present-day landmark is more forgettable. It's pretty much just some surprisingly unimposing stone buildings in a park across the street from a Jimmy John's.
What to do instead: Yeah, we know it's equally touristy, but the San Antonio River Walk is just a couple blocks away, and despite what you might think, actually boasts some of the best bars in the city, and some things you just have to eat before you die.
The Magnificent Mile
Chicago, IL
How magnificent can this stretch of the kind of retail/dining establishments (that you can totally find in most major cities) along Michigan Ave be if most people think it's actually called the "Miracle Mile"?
What to do instead: Look, what really sets the 'hood apart is the architecture (several of the country's tallest building are nearby), which sadly for the "Mag Mile" isn't best experienced from inside the largest Ralph Lauren store in the US, but from the top of the Willis Tower, or on a river cruise, or something else that doesn't involve shopping in a store you can probably find in your home town.
Sign up here for our daily Thrillist email, and get your fix of the best in food/drink/fun.
Bradley Foster is a former Thrillist editor whose Mount Rushmore of the NBA doesn't include... GASP!... Michael Jordan.