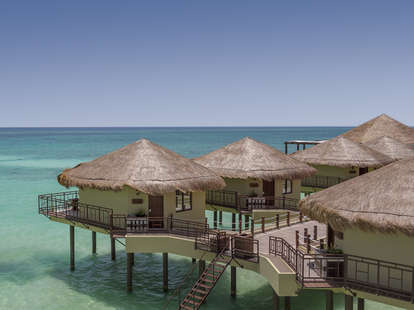 Courtesy of Karisma El Dorado
I had my first high in 2005, when I visited Pangkor Laut Resort in Malaysia. The villa, attached to a bridged walkway, floated above the sea, where colorful fish swam below and my bathtub had unobstructed sea-level views of the sunset, which I watched from my private deck. I listened to the water lapping at the stilts below me, truly giving a sense of place.
This was my first taste of a stay in an overwater bungalow. And you know what they say about the good stuff: it'll ruin you for anything else.
In the decade since, I've stayed in almost a dozen overwater bungalows in bungalow-iconic places, among them Bora Bora (Four Seasons Bora Bora, InterContinental Resort Thalasso Spa), the Maldives (One&Only Reethi Rah, Conrad Maldives Rangali Island), and Mexico (Rosewood Mayakoba). My overwater bungalow obsession is a weird travel addiction. So are, say, frequent-flyer mileage runs and danger selfies. Mine just happens to cost more per night than most Americans spend in rent.
They're ludicrously expensive because they're so rare
There's a certain thrill involved, but unlike trekking the globe to reach an airline status or falling over a cliff with a selfie stick, I'm peace-ing out to the world in a luxury-drenched villa raised above the sea, doing absolutely nothing at all. Overwater bungalows are synonymous with privilege, which is why honeymooners and jet-setters alike famously book them. They're extremely private (unless you're Justin Bieber). They come equipped with private pools, sun decks, glass-bottom floors, and occasionally butlers or staff delivering breakfast to you in canoes. In the morning, you can literally roll out of bed and straight into the sea.
Due to this sort of luxury, overwater bungalows are one of the most expensive room categories in the world. They're also crazy unique. You can get upgraded to a presidential suite in a hotel but, I mean, c'mon. You're still just stuck in a room inside a building.
Since overwater villas became a thing in the 1970s, when the first string of thatch-roof bungalows over crystal-clear lagoons debuted in the South Pacific, hoteliers have built relatively few of them. They're also generally in tropical, hard-to-reach destinations like Bora Bora and the Maldives, where the sea is Xanax calm with little to no monster waves or tides. These are places that, for the most part, are exempt from hurricanes, cyclones, and other natural disasters. Almost no one can afford them, and they're typically motivated by a romantic splurge or plain ol' baller status. The few that do exist, then, are the perfect lodging in perfect parts of the world. Take, for example, the Maldives resort Jumeirah Vittaveli, where the bungalows are massive bi-level suites that float in the middle of the ocean and require a boat to reach. You can practically smell the money you're burning while you're there, but you'll never forget a moment of it.
As resorts notice how much jerks like me will pay for an overwater villa, the new entrants are only more expensive. Luxurious overwater bungalows are debuting upward of $4,000 a night, with the cheaper versions still spiraling into four figures: Anantara The Palm in Dubai runs $1,600 a night; and Louis Vuitton Moet Hennessy's Cheval Blanc Randheli in the Maldives goes $2,200 per. Sandals Royal Caribbean in Montego Bay, Jamaica will debut five over-the-water villas in February, the first of their kind in the Caribbean, with rates starting at $4,000 a night. They're reportedly booked up for the first three months. Why so expensive? American honeymooners don't have to trek halfway across the globe to stay in one. Overwater villas are even becoming available in Mexico beach towns. Karisma Hotels & Resorts' El Dorado Maroma just debuted Mexico's first proper bungalows (30 palafitos) over the sea (Rosewood Mayakoba's villas are over a lagoon). Compared to typical overwater bungalow prices, rates at El Dorado's bungalows are a bargain at only $950 a night, including meals.
The first time is the best, and you can definitely afford it once
I'll be honest, though. Overwater bungalows are sort of like African safaris. That first experience is truly unforgettable, but even if you're lucky enough to go back, you find less of a thrill. Not that it dampens the obsession. Resorts that host these things are keen on making every part of the experience epic. You can leave your bungalow and sprawl out on virtually deserted beaches, dine in gourmet restaurants, get fully pampered in unbelievable spas, and explore the entire property on bare feet. The bungalows are just an extension of the luxurious qualities of the resorts, which tend to be five stars, plus or minus.
I know I'm an asshole for writing this story. A huge asshole. My overwater bungalow photos on Instagram get reverse-liked. But there's a sort of silver lining here. Not all overwater bungalows are created equal, and there are many I've stayed in that don't leave a hole in your wallet. If you want to give this a try at a reasonable price, Central America is a great destination for lesser-known, budget-friendly overwater bungalow resorts, offering trademark accommodations on stilts. Panama has five overwater bungalow resorts, while Belize holds four and Honduras three, many with rates starting at $250. Do a hotel search and you'll find the Maldives even has affordable overwater bungalows (albeit not as blinged out as the luxury properties), with many that can be booked for $300 a night.
You may not get butler service, glass-bottom floors, swaying hammocks over water, and private pools. But it beats shuffling around some regular hotel room in your socks.
Sign up here for our daily Thrillist email, and get your fix of the best in food/drink/fun.
Jimmy Im regularly travels to tropical destinations and writes about it. He is very, very tan.