As Tom Petty once sang: It's good to be emperor. Or was it king? Whatever, it doesn't matter. What does is that you don't have to actually be either one to enjoy the lifestyle, you just need to book a night at the Palace Hotel Tokyo. Revamped last year to the tune of one billlllion dollars, this mid-century palatial destination spot boasts 10 restaurants, bars, and lounges (three of which are manned by Michelin-starred chefs), an Evian-soaked spa, and even its own moat.
Recommended Video
Please Don't Hang Up: The Best BBQ & Barcade in Dog-Friendly Kansas City
Welcome to the lobby, in all its uber-Zen, green-and-glass-accented glory. Don't forget to take off your shoes. JK! You don't have to. Although, seriously, you could have a field day sock-skating all over those marble floors.
Nope, we weren't kidding about the moat! No doubt dug to keep out the riff-raff, it divides the property on one side from the real Imperial Palace. If intruders make it across, they'll be rewarded with a lovely Contintental breakfast on the terrace.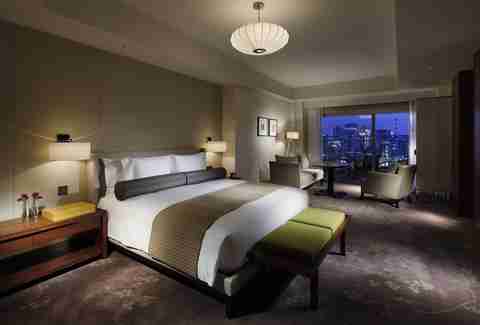 After pressing the desk clerk about why said moat doesn't actually surround the entire property, adjourn to your Grand Deluxe Room, step out on the balcony to survey the cityscape, and say "daaaamn".
There's also a ridiculously awesome tub-side picture window through which to soak in "views of Wadakura Fountain Park and the Imperial Palace Plaza".
Grab a pre-dinner cocktail/ bite -- and more views! -- at the sixth-floor Lounge Bar Privé, which enjoys a private terrace and lineup of French brasserie-inspired vittles.
You know how Tokyo is home to all these great, tiny sushi restaurants, but it's impossible to get a reservation? The concierge'll be able to hook you up at Sushi Kanesaka, the hotel's sushi bar manned by (and named after) celebrated Michelin-starred master Shinji Kanesaka.
Not in the mood for raw fish? No worries, as the property maintains six other restaurants, including signature Japanese spot Wadakura.
It's all business and politics in the stately, leather-and-mahogany-rich Royal Bar, which opened in 1961 and is perfect for après-dinner cigars and martinis.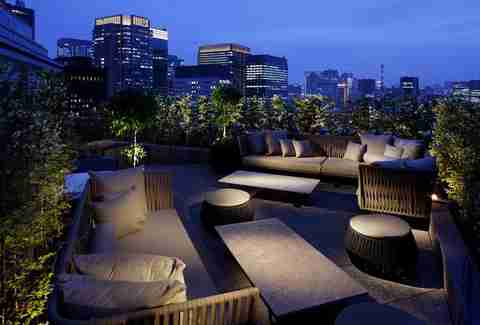 Or perhaps you'd enjoy your stogie and Sazerac on the chic Club Lounge's 19th floor roofdeck terrace. If so, reserve the Club Room, baller.
Finally, assuming you stay up far too late bar-hopping inside the hotel, spend the next morning detoxing relaxing at the in-house spa, which specializes in Evian spa treatments. Drink it in, son -- that's what we call privilege.