Your own private beach house in the Turks and Caicos
Ever found yourself watching "Survivor" and thinking "Ya know, remote tropical island living looks amazing, minus the constantly-eating-bugs and hanging-out-with-Jeff-Probst aspects"? Then we've got the spot for you: welcome to Parrot Cay, a full-service, private island resort in the Turks and Caicos where individual beach homes are plush, room service is at the ready, and Probst is nowhere to be seen.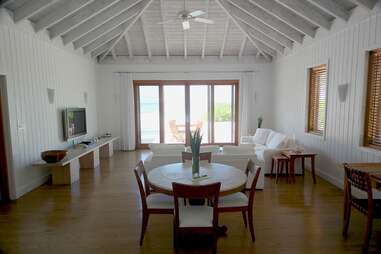 They've got about 50 hotel rooms in addition to one and two-bedroom houses. Opt for a one-bedder, and this'll be your living room. Lounge on the super comfortable couches and watch "Big Bang Theory" reruns, or check the view of the Caribbean and lament your decision to sit inside and watch reruns of "Big Bang Theory".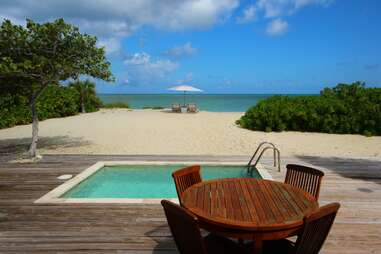 The backyard's your own private beachfront, so rock the Speedos you've held onto since high school swim team in an attempt to out-brown George Hamilton. And if the ocean terrifies you more than the girls' swim team captain, there's a safe little plunge pool on your deck.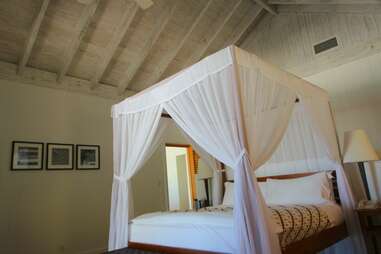 Here's your bedroom: a 4-poster complete with vaulted ceilings and yet more views of the Carribbean, plus all that aged wood to make your beach house feel just like a, um, house on the beach.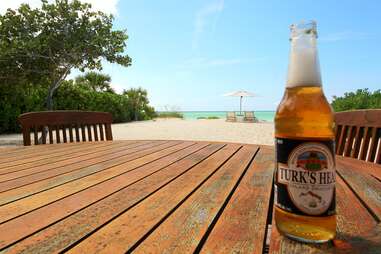 If you never wanna leave the house, that's cool. You can order food from either of Parrot Cay's restaurants, or sample their special Shambhala menu with all kinds of healthy stuff your mom would be proud of you for eating. Then get beer delivered.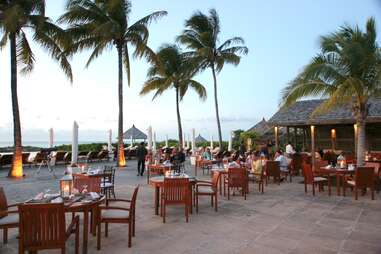 If you feel like being social, wander down to the Lotus Poolside Restaurant. They serve mostly southeast-Asian food, but also host a lobster BBQ on Saturdays.
That 4ft plunge pool in your backyard is great if you enjoy starfishing. For a more expansive swimming experience, jump in the infinity pool by Lotus; convince yourself you're in the ocean, but with the added peace of mind that comes with chlorine.
Just because you're in a private house on a private island, don't think it's time to let yourself go; there's onsite yoga and Pilates, as well as a 5k trail through a banana and coconut plantation.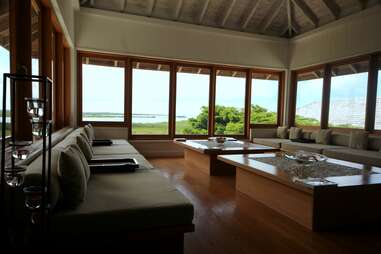 On the way back from your run, you might find yourself thinking "A massage would feel pretty good right now". And then, BAM, the Shambhala Spa appears on your right. It's a sign. Get a massage. But, ya know, shower first.
The spa's got an outdoor Jacuzzi for pre-or-post-massage relaxation with a view over the entire island.
And if you feel the need to get out on all that glorious water, there's catamaran sailing, windsurfing, kayaks, paddleboards, and pretty much every other motor-less mode of transportation you can imagine.
Or, ditch the infinity pool at sunset to catch up on "Survivor". How were you supposed to know how much Jeff Probst adds to island living?