By Sophie-Claire Hoeller @sohostyle Whether they shred black diamonds or tumble down bunny hills, most skiers and snowboarders can agree on one thing: drinking is the best part of a day on the mountain. Sure, fresh powder is great. But bars, clubs, and hot tubs where the only risk of injury is neck strains from checking out "local talent"? Well, those are all better reasons to hit the hills than just sliding down them with boards strapped to your feet. After intense après ski scrutiny, we rounded up the American mountains that'll make you reconsider that day on the slopes as just the precursor to your night at the bars.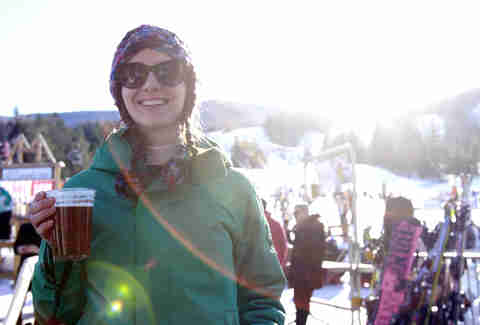 Serious skiers don't go to New York State, but this list is about partying on the slopes, not shredding on the trails. Two hours from Manhattan, Hunter is an easy trek for New Yorkers escaping the city or New Jerseyans who just want to ski in track suits and gold chains. The three local mountains offer 240 acres of skiable terrain and 57 different runs, but while there's not much in the way of expert or backcountry terrain, advanced skiers can save their energy for drinking, which starts early in the day.
 
For those who want to party like they never left the city, Slopes in Tannersville (sometimes referred to as Dublin Slopes of Moguls), calls itself "New York's Infamous Winter Party Destination" and brings in three DJs from the Hamptons and the Jersey Shore – one DJ per floor. Rarely do those two locations mix, but it's all about highbrow/lowbrow. Of course, the house special is Jägerbombs, and it's open until 4am… but you probably won't make it that late.

Continue Reading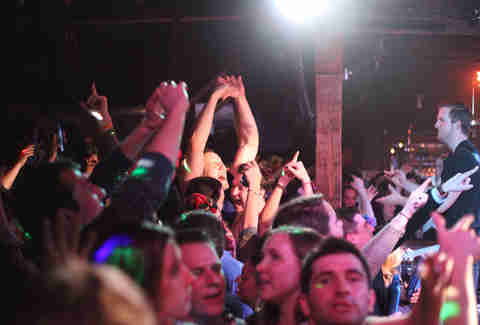 Known as the "Beast of the East", this six-mountain, 1,200-acre ski resort is Vermont's largest. In this case, bigger is better, as confirmed by the numerous massive bars in the area, especially along Killington Road. The party scene heats up once the sun sets, when masses of college kids storm Killington Road like it's a frat party with free Jell-O shots to down local Long Trail Ales. Après ski favorites include the infamous Wobbly Barn, a steakhouse/night club, and the Pickle Barrel, which has four bars on three levels, and two stages, both of which have been around for decades, and attract big-name bands. For a real college throwback, check out $5 all-you-can-eat pizza at Outback Pizza, or free spicy buffalo wings during happy hour at Casey's Caboose.
Home to Sundance and the US Ski Team, this hotspot has a dizzying array of options. Decisions need to be made from the moment you wake -- should you shred at the Park City Mountain Resort, in Deer Valley, or at The Canyons and its 9,326 skiable acres? The tough calls last until last call, too, thanks to loads of nightlife options, despite the fact Utah only lets bars serve 1.5oz of alcohol per drink. Don't worry—those 1.5oz can add up quickly.
 
Surprisingly sophisticated, the bar scene in Park City mixes equal parts John Wayne and Jay Gatsby -- a colorful mix of divey, cheap beer-slinging saloons, and high-end jazz clubs with "mixologists", not bartenders. Check out the only ski-in distillery in the world, the High West Distillery & Saloon, Utah's first distillery since the 1870's, for a (thimbleful) taste of mountain-made whiskeys and vodkas, and the last-call favorite No Name Saloon & Grill.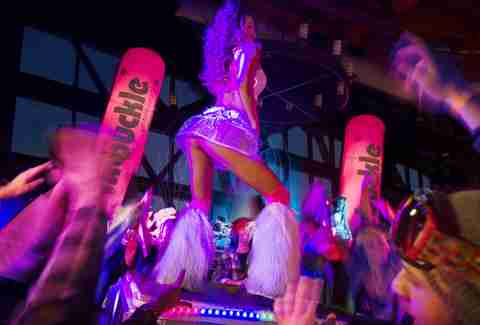 What's better than Las Vegas? Well, plenty of things. But imagine adding skiing to all the partying you'd do in Vegas, and that's Tahoe South, which lives by the motto of "sleep is for the weak". The party scene here takes its cues from Sin City, with five big casinos like Harrah's, party chains like Cabo Wabo and the Hard Rock, big-name shows, and dozens of swanky lounges and clubs with bottle service and GoGo dancers. That said, the days aren't for sleeping either, as you'll need to be alert for the hundreds of lifts and trails spread out between seven surrounding ski resorts, like the famous Heavenly, and Kirkwood. Hit Heavenly, whose 4,800 skiable acres makes it California's largest resort, and head to Unbuckle at Tamarack, an après party on the top of the gondola (at 9,150 feet) that features the Heavenly Angels -- barely clad GoGo dancers.
 


Ahh, Aspen: where the beer flows like wine, where beautiful women instinctively flock like the salmon of Capistrano. Sure, the most glamorous ski spot in the world draws in celebs, gold diggers, and sugar daddies alike with its exorbitant prices, decadent restaurants (like Nobu-run Matsuhisa), and brand new contemporary art museum. But it also hosts the Winter X Games and Bud Light Spring Jam, and is famous for its black-diamond terrain. Obviously that stuff attracts hardcore skiers with all types of bank account balances.
 
More importantly, the city boasts more than 100 bars, restaurants and clubs, from the opulent, velvet-roped lounges to divey local faves. When you're not hitting those famous double blacks, check out Cantina for a shot ski (you know, the best kind of ski with six shots in it), the Aspen Brewing Company for fresh brews, or J-Bar at the Hotel Jerome, which was voted "Sexiest ski lodge in North America" by Playboy.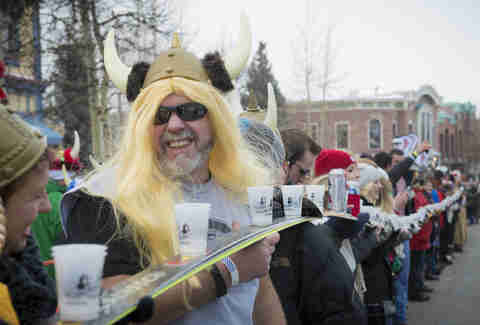 What Daytona Beach means to spring breakers on sand, Breck means to Colorado's college students on snow: one gigantic party. Case in point, last year the town broke the world record for longest shot ski: 192 people lined up on Main Street to simultaneously take a shot off a 313-ft, 60-ski shot ski.
 
If you're into a weeklong party in honor of the Norse god of snow, then Ullr Fest is for you. Who knows why Marvel chose Thor for The Avengers and not Ullr. There's also the Breckenridge Music Festival, and the month-long Spring Fever Festival. With five peaks and 2,908 acres of terrain, Breckenridge is consistently ranked as one of the top ski resorts in the US, and a favorite among the trustafarian ski bum set. The nightlife is all about the bar scene, and there are around 30 of 'em on the historic main street alone, with a free bus that'll shuttle you around town. Don't miss the Gold Pan Saloon, which opened to miners in 1879 (but not to minors), and claims to have the oldest liquor license west of the Mississippi.
 


People here party as hard as they ski. Known for having the biggest vertical rise in the country (4,139ft), and more double black diamonds than you can shake a ski pole at, Jackson offers 2,500 skiable acres of trails and heavy backcountry. A place like that attracts drinkers with a skiing problem. The rugged cowboy culture and the Wild West aesthetic -- think antlers and moose heads -- rules this town, and the nightlife is laid back, not stuck up. Aprés in bars like the Million Dollar Cowboy, where bar stools are made of saddles, and the Mangy Moose, a divey, world-famous favorite that hosts live concerts. April 1st marks Gaper Day, when locals go shredding in the most outrageous outfits the local thrift store has to offer to celebrate the end of tourist season.
 


Bend, OR/Mt. Bachelor The ideal combination of suds and slopes, Bend attracts skiers with almost 3,700 acres of terrain and 30ft of snow annually. But it also beckons beer lovers with 14 breweries. There's even the Bend Ale Trail, which outfits visitors with a beer "passport" that sends drinkers and skiers out to collect stamps from as many breweries as possible. Get 10 stamps and you'll get a special prize -- and it's not just your hangover! Voted one of the top 50 Ski Resorts in North America for 12 consecutive years by Conde Nast Traveler, home to dozens of bars and restaurants, and dubbed Beer Town, USA for having more breweries per capita than any other city in Oregon, Bend is a ski bum's dream come true -- if that dream took place after a long night of drinking.
 


Aprés ski doesn't really apply in Arapahoe Basin -- it's more like before, during, and après. A-Basin attracts skiers so serious about both their slopes and their spirits that it doesn't even need a real resort (lodging is only available at surrounding mountains). In fact, one-day lift tickets to "The Legend", as it is modestly called, even come with a free bacon Bloody Mary. It's like brunch, but with skiing instead of French toast. Oh, and A-Basin has some of the highest skiable terrain in the country -- mostly advanced and expert -- and consequently one of the longest ski seasons. You know, if you ever make it out to the slopes.

Generally though, skiers and boarders don't even wait for the 6th Alley Bar or Black Mountain Lodge Bar, known for their bloodies, to open. Instead, they opt to party it up at the Early Riser parking lot, home to "The Beach", for which you can even book a DJ or band (with management's approval, of course).

Sophie-Claire Hoeller is Thrillist's associate travel editor, has been skiing since she was 5, and cut her aprés teeth not too much later in Telluride and Kitzbühel. Follow her @Sohostyle