Watch This Plane Engine Burst Into Flames in a Terrifying Video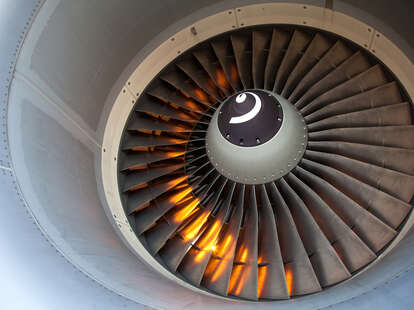 Aside from part of a wing snapping off mid-flight, here's something you never want to see out your airplane window: the engine bursting into flames.
For passengers aboard a Rionegro-bound VivaColombia flight, that nightmare became a reality Wednesday night, when the plane's right engine caught fire shortly after take-off, reportedly setting off a loud bang. One flier filmed the frightening blaze on his phone.
As Flight 8023 returned to Bogota's El Dorado International Airport, a passenger sitting on the starboard side captured the flaming engine. And at this point, fear of your jet engine exploding is the only reasonable excuse for recording a vertical video. Regardless, the sight of flames spurting from the plane engine's terrifying enough to put anyone off flying.
Reports indicate no one was injured. But the mental scars will not likely fade anytime soon... vertical videos are just too much for anyone to handle.