If you haven't been to Argentina, you probably know it for the alleged steak dinner/bottle of wine/tango lesson that guy you know who went there on study abroad got for like $2.99. And that's precisely why Michael Higgins is trying to help you.
In 20 years as the publisher of Flying Adventures magazine, he got to try a lot of great wines -- as he puts it, "I never met a Malbec I didn't like." So once he retired Higgins decided he'd get away to South America and see how, exactly, Argentines make such great wine. In doing, he found there wasn't a single book with any kind of insider info.
Throughout three trips totaling eight weeks, spanning three harvest seasons, he went to Mendoza, Salta, and Patagonia to meet with the people on the forefront of Argentine wine. These included winemakers, chefs, sommeliers, hotel operators, ranchers, and everyone else who truly knows what makes this country so special.
The result is Exploring Wine Regions: Argentina. And in addition to being the most thorough guide to Argentine wine tourism, it also includes contact info for everyone profiled, so you too can have the insider's experience he did. Higgins shared some of his favorite photos and experiences from his journey. And if after getting through them all you don't feel the urge to start searching for flights to Mendoza, you'll at least have a serious craving for malbec.
Recommended Video
Get This Puerto Rican Villa With Private Beach All to Yourself
Cavas Wine Lodge, Lujan de Cuyo, Mendoza
That little building is your room, set in the middle of 55 acres of vineyards. The inside is seriously deluxe with a wood-burning fireplace and outdoor showers. But the rooftop is completely flat, and if you ask they'll set a bed up for you up there, and deliver food, so you can spend the whole night just gazing at the stars.
Alpasion Lodge, Valle de Uco, Mendoza
This lodge is open to the public, but it's actually just the home of a family who absolutely loves wine and are living out here pursuing their dreams. It's only six bedrooms and feels like staying at someone's house, with only two staff members: one to cook your food and another to take care of whatever you need.
Bueyes Winery, Valle de Uco, Mendoza
Bueyes means "the bulls," and the winery is named after the family's grandfather, who used to plow the fields with an ox. The family used to grow grapes for other people until one of the grandkids decided he wanted to start making wine. He was taking me through the vineyards on his truck, and I got out on top of the truck and got this picture. It really lets you see how clean and blue the skies here are.
Rio Atuel, San Rafael, Mendoza
The canyon here -- Canon del Atuel -- is like Argentina's mini-Grand Canyon, and the Rio Atuel flows pretty strong all the way through it. Traveling along here you'll see some incredible wildlife, like these wild horses that stopped to take a drink in the river.
Valle Grande, San Rafael, Mendoza
When you reach the end of Canon de Actuel there's a big dam, and it forms this huge lake at the end near San Rafael. San Rafael is a great place to visit because it's not touristy; it's where the Argentines in this region live. It's a beautiful place with lots of outdoor activities, and the rapids near the dam are big enough to be fun, but not so challenging that you're falling out of the boat all the time.
The Vines, Valle de Uco, Mendoza
The Vines is a 1,500-acre project where you can purchase an acre (or as many acres as you want). They will plant whatever grapes you request, then manage the grapes, take care of the harvest, and even make the wine for you if you want. Or you can come down and do it all yourself -- I saw people from the US down there harvesting their own grapes and winemaking. They've built a resort on the property, and this is the pool.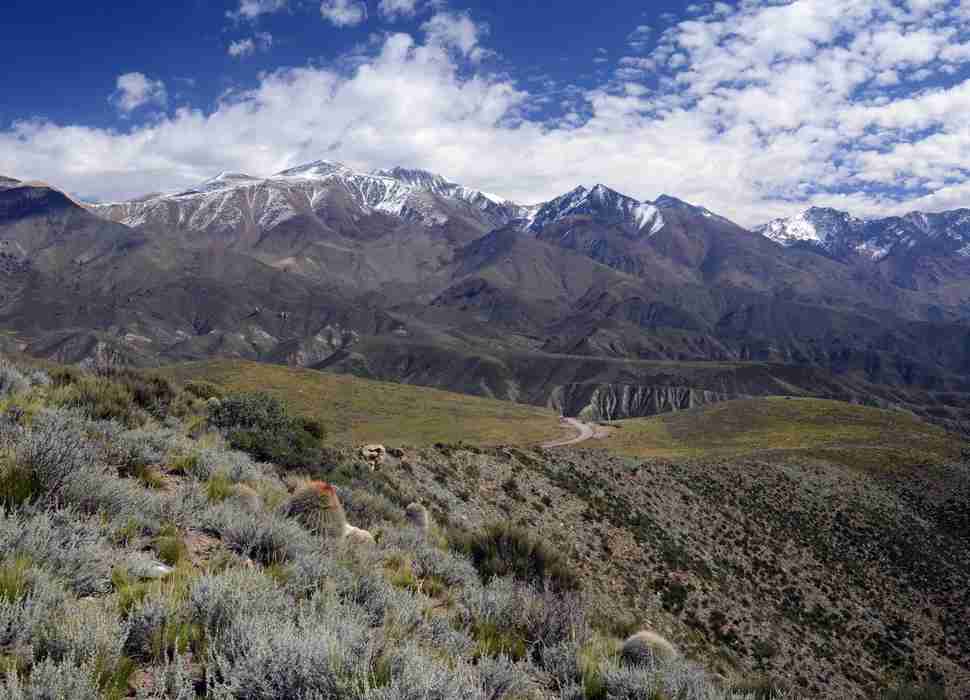 Andes Mountains, Valle de Uco, Mendoza
The main wine regions in Mendoza are in the southern two-thirds, near Tunuyán and San Carlos. When you get up north of the Las Tunas River you start getting into this rugged wilderness, where the land is completely untamed and you'll experience nature at its most intense.
Casa Bianchi, San Rafael, Mendoza
This is a completely circular tasting room where every one of those little crevices is filled with a different, unlabeled bottle of wine. It's all the owner's personal stash, and you can see where the owner has taken bottles out to enjoy with friends. You can also do a formal tasting here of their bottles that do have labels, right under the skylight.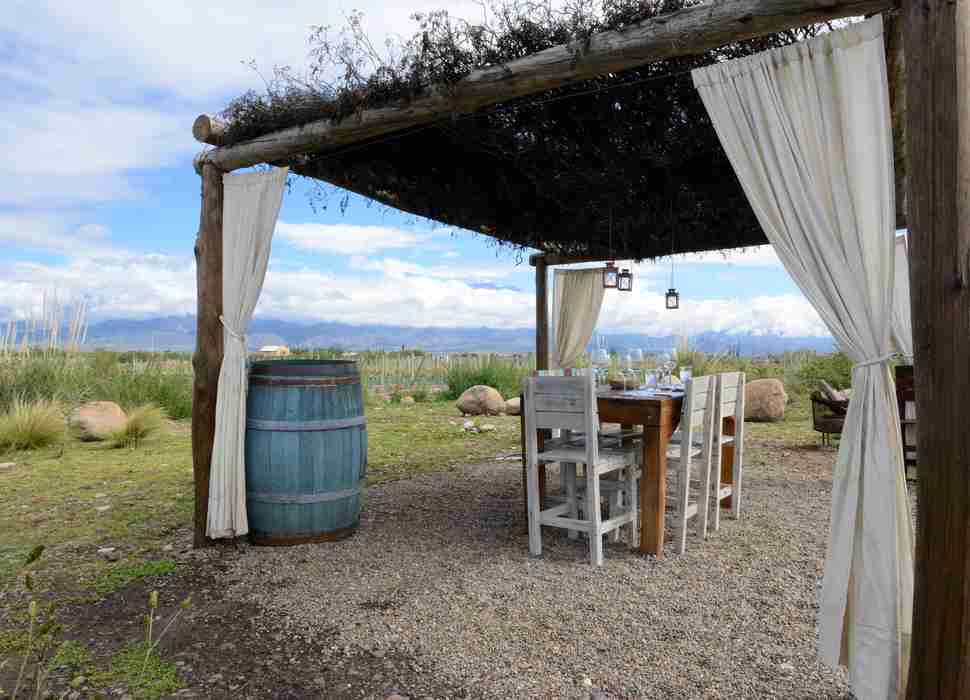 Gimenez Riili Winery, Valle de Uco, Mendoza
The experience here is less about the winery and more about being outdoors. Every afternoon they cook asado on an outdoor barbecue with real wood, and paired with their small-production wines it's a great way to experience Argentine meats. They even made a soup and a dessert on the barbecue, too.
San Rafael, Mendoza
There are just sycamores everywhere in the San Rafael area. They're big, they're beautiful. This is actually a road outside the town with a beautiful tree line, but they have streets in town with restaurants and bars that are like this too.
Estancia Colomé, Molinos, Salta
In the very northwest of Argentina is a state called Salta. The wine region -- Cafe Santé -- is several hours' drive from the city of Salta. You take dirt roads for as much as five hours into the middle of absolutely nowhere, to this little town called Molinos. Colomé is actually owned by Donald Hess, and he created this village of about 500 people, with a church, school, and everything else they'd need to be self-sustaining. The people there all work in the winery or supporting it. This picture is the Estancia Colomé, a hotel with less than a dozen rooms.
Rio Limay, Patagonia
People don't think of Patagonia as a wine region. They think about penguins at the bottom part, but the region is huge -- it takes up almost a third of the country -- and at the northern edge are two wine regions: Neuquen and Rio Negro. Two rivers there feed the vineyards, but they're also absolutely gorgeous to float down on a raft.
Casa de Uco, Valle de Uco, Mendoza
This is actually a water reservoir used to feed the vineyards. But it also provides a beautiful shaded area to sip on a malbec.
Manzano Historico, Mendoza
Manzano Historico is a large, natural historic reserve and an important canyon entrance to the Andes Mountains in Valle de Uco. It was made famous by General Jose de San Martin who used this canyon as his getaway as he worked with Chile to gain its independence from Spain. Today, it offers endless horseback riding, hiking, and other outdoor opportunities.
Sign up here for our daily Thrillist email, and get your fix of the best in food/drink/fun.