Penn & Teller's Penn Jillette Reveals His Favorite Vegas Secrets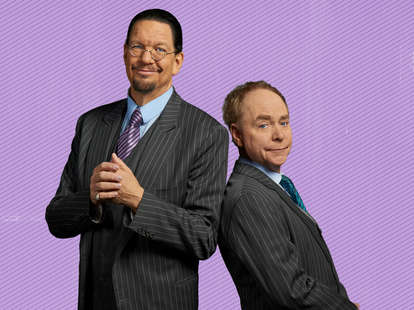 Penn & Teller

| Courtesy of Penn Jillette (Edited)
Penn & Teller

| Courtesy of Penn Jillette (Edited)
If you're even thinking of being in Vegas, check out the rest of our DestiNATION: Vegas guide. It's stacked with expert advice from locals on what to eat, where to drink, and what to do.
"We thought, as we get older, we want to be warmer," Jillette explains, noting the duo is originally from the Northeast. "And we needed to be someplace where we could at least occasionally work and had a good airport. The plan was we'd play Vegas a couple months a year and tour the rest. It turns out, we're playing 46 weeks a year and then touring the rest."
That's because Penn & Teller scored a residency at the Rio All-Suite Hotel & Casino in 2001. With a run of nearly 17 years and counting, the comedy and magic act are now the longest-running headliners to play the same hotel in Vegas history. Along the way, they've toured the world, enjoyed a few runs on Broadway, and starred in their own TV shows, including Showtime's Emmy-nominated Penn & Teller: Bullshit! and the CW's current Penn & Teller: Fool Us. Jillette in 2012 was also a contestant on NBC's Celebrity Apprentice, sharing screen time with some guy who would go on to become the leader of the free world.
But it's always Las Vegas where Penn Jillette does most of his work and spends most of his time. And he has plenty to say about it.
What are the challenges and benefits that come with playing in front of a Las Vegas crowd?
Penn Jillette: George Carlin hated playing Vegas. The big difference is not who the people are, but how they buy tickets. When we play Chicago or London, we're sold out two or three months before we get there. The people are very focused on the show they're about to see. The first laughs are more than they deserve. The first applause is more than it deserves.
In Vegas, three-quarters of the audience has decided to see our show within the last three hours before it begins. They decide to see our show based on, "Listen, honey, do you want to go to a buffet, do you want to fuck, or do you want to see a show? Well, let's see the one at 9. Let's see Penn & Teller."
George Carlin hated coming out in front of an audience like that. I tend to like an understated audience. I like having a chance to win them over. I like them learning who we are that night. But culturally, the United States has become rather homogeneous. I used to think there was a difference between playing New York and playing Ohio. That's no longer true. When we play the Bible Belt, every single atheist in town is at our show.
Are you the best-known atheist in the country? Or the best-known atheist in the country who will publicly admit it?
Jillette: (Laughs) That's a funny way to ask the question. We've always known there are in-the-closet atheists. I happen to know two atheists who are much, much, much, much, much more better-known than me, but I don't out people. I don't out gays and I don't out atheists.
Is Vegas a good place for being an atheist? Are you better off leaving your religion behind when coming to town?
Jillette: Vegas is a heavy Mormon area. My doctor and my dentist are Mormons. We have a lot of that.
After the show, we'll meet anyone in the audience who wants to meet us. Once a night or so, someone comes up and says, "I'm a very strong Christian. You're my favorite atheist. I pray for you and I love your show" -- which to me is the way the world is supposed to work. So yeah, Las Vegas is a really good place to be if you're an atheist.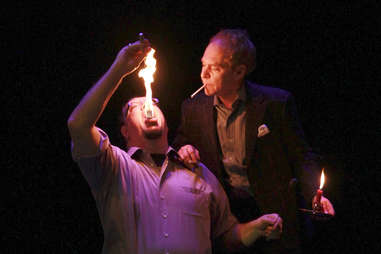 Is there anything about Las Vegas that would have made a good topic for the challenging nature of your show Bullshit?
Jillette: We covered it a bit. Las Vegas is a big problem for people who are bad at math -- for people who think that a 99% return on your investment is a good thing.
"If I send people to strip clubs, I always pick ones that are too dirty for them."
Any further thoughts on casino culture and how it's evolved during your time in Vegas?
Jillette: It's evolved tremendously. It used to be Vegas catered to the whales. They really wanted to get high rollers and give 'em tickets to Sinatra, free meals, and free rooms and make a huge amount of money off them. They used to be really good at destroying lives and taking people's money. Now that Vegas is corporate, it's oddly a little gentler.
It used to be common wisdom that most of the revenue came from gambling -- or as they call it, gaming -- and the rest came from everything else. Hotels, shows, food. Over the time we've been here, that has reversed.
Let me tap into your skeptic side. In the era of resort fees and paid parking, do you think the casinos are really OK with shifting away from gambling revenue?
Jillette: They've gotten more mercenary on parking, shows, and rooms -- and less mercenary on the gambling. That's a little better. For me, paying for parking and paying for internet is fine. It seems a little more honest. Although I may be the only one who sees it that way.
Number one -- you're famous. And number two -- you're very tall. Does that make it hard to go out without being noticed?
Jillette: I don't do nights on the town very often. When I'm sitting reading by my fireplace, very rarely do people come in and bother me. (laughs)
I do have a Starbucks near my house where people know me. I can sit over in a corner and type and wave, wink and smile to my neighbors just like a regular person. The feeling of being known and recognized is more akin to living in a small town. For the most part, people smile and wave at me more than they smile and wave at other people. But I grew up in a small town (in New England) where people did that to everybody anyway.
Las Vegas isn't really known for having neighborhoods -- like Chicago does, for example.
Jillette: There are neighborhoods, and neighborhoods have personalities. The difference between Vegas and a "proper city" like New York, Boston, Chicago, and Seattle is you don't walk. And that makes it more like LA. There is very little walking. I sometimes ride my bike to work, but that's 11 miles.
Did you just say you ride your bike to the Rio?
Jillette: Maybe once a week. I don't ride my bike back from work. It's just too dangerous to be riding at 1am on standard thoroughfares in Vegas. When you're doing a show and have no understudy, people can be a little more careful with you than is called for. I kind of roll my eyes at myself for what I'm saying, but I really do get told, "You're not riding your bike back." I'm respectful to people who say that. My wife comes by and I put the bike on the rack and do it that way.
Have you ever been to a nightclub in Vegas?
Jillette: I've gone to see a few of the big DJs to see what it's all about. I've never had any recreational drugs or alcohol in my life, and a lot of people there are on MDMA or at least drinking. It's a different environment than I'm used to. I'm a big fan of music and wish I understood more about EDM. I haven't been to the Electric Daisy Carnival yet -- but I'd like to. People are very concerned about the drugs they're doing or getting laid. They don't care about me much.
I'm going to try and tap back into the skeptic of Penn Jillette again. When it comes to EDM -- and Vegas is pretty much the capital of it -- is there part of you who appreciates the production and songwriting but sees the live performance as someone who's just pressing a button and pumping their fist?
Jillette: That point of view is just the endless chain of adults finding a way to hate their children. When I was younger, I listened to adults who didn't understand The Who, The Mothers of Invention, and The Velvet Underground -- and made essentially those same arguments. I will not be part of that. The fact that I don't understand something completely doesn't mean it's invalid.
You're almost being a skeptic of the skeptics.
Jillette: Skeptical does not mean cynical. You've got a kind of music that's obviously moving people. What's there to be skeptical of? I'm skeptical of those who are able to dismiss thousands of people enjoying something. You're dismissing that? Fuck you.
"In Vegas, three-quarters of the audience has decided to see our show within the last three hours."
If somebody walked up to you with an aircraft carrier full of cash and wanted to move the Penn & Teller show from Las Vegas to Branson, Missouri -- would you be open to that?
Jillette: Sure. If you're wise and know the market -- and believed we would go over well in Branson, I would do it. Now, if you said here's the aircraft carrier full of money and you've got to change a word of your show, then I'd say take that aircraft carrier to off the shores of North Korea where it belongs and leave me alone.
Do you have any favorite restaurants or things to do in Las Vegas?
Jillette: There's no doubt about it. The best comedy magician in the world is Mac King. He does an afternoon show at Harrah's. A nice cheap show. It's always filled up. I've sent thousands of people to see Mac King and there's never been one that hasn't thanked me.
There's Piff the Magic Dragon, who's a really good buddy of mine. I love Piff. He does a wonderful show at the Flamingo.
The best Thai restaurant in the country is in Las Vegas -- and it's called the Lotus of Siam. It's in an industrial park in a dumpy neighborhood with a sex club (the Green Door) and some rundown Chinese restaurants. In the middle of this place is a fabulous Thai restaurant. That's where I send people. Because if I send them to strip clubs, I always pick ones that are too dirty for them.
If you go to the Lotus of Siam, what's the one thing to order first?
Jillette: You shouldn't order anything. Tell them to bring you food.
The Rio is about 50 floors tall. There's a giant picture of you and Teller covering most of them on the hotel exterior. Did you know it was going up -- or did you just pull into work one day and see it there?
Jillette: This is embarrassing. Not only did I know it was going up, but I paid for it and posed for the picture. Standing with my children on the roof of the parking structure, looking at it as it first went up, was a pretty wonderful moment as they tried to figure out why dad was 300ft tall.
"Vegas is a heavy Mormon area. My doctor and my dentist are Mormons."
Do you feel like your marquee is staring out to the Strip and keeping a watchful eye over the giant skyscraper that has our president's name at the very top?
Jillette: (Laughs) No. I don't have that power. As far as I can tell, there's no watchful eye whatsoever over our president. I've never known a president before. I've had on good authority that Obama watched Bullshit and Clinton watched Bullshit and enjoyed it every now and again. But I've never met a president. It's like, "Penn -- you get your wish. You get to meet a president and know him fairly well -- and oh, by the way, it's Trump."
Do you think there's part of Donald Trump that borrows some elements from the classic Las Vegas con man, shyster, or mobster? Does he fit in this town in a certain way?
Jillette: No. Because with Trump, there's no big plan. Con men are morally wrong. Trump is morally oblivious.
Is there anything else that people from out-of-town should know about Vegas?
Jillette: Twenty years ago, you came here ironically. You came here to make fun of a bad impressionist doing George Burns, you came here to smoke cigars when you're not a smoker, you came here to drink things you don't usually drink, and you came here to go to an awful meal at a steakhouse. Now, you can come to Vegas non-ironically. You can actually see a bunch of really good shows -- the bad ones are still here too -- you can eat a really good meal of many, many kinds, and you can enjoy yourself in a non-ironic way.
EDM is a big part of that. We used to be the Rat Pack -- the hipster place. And now with EDM, we're the hipster place again. There's no irony anymore. People come to Vegas and actually enjoy it for real.
Sign up here for our daily Thrillist email, and get your fix of the best in food/drink/fun.
Rob Kachelriess has been writing about Las Vegas for Thrillist for more than three years. He is also the editor and writer for
Luxury Estates
International'
s seasonal publication and has seen his work appear in
Vegas Seven
,
David Magazine
, and
Vegas Magazine
. He made Penn Jillette laugh out loud three times during this interview. Follow him on Twitter @rkachelriess.