The People and Places Behind Raleigh's Booming Glenwood South Neighborhood
Just a few years ago, Glenwood South was primarily known to people in Raleigh as a warehouse district, but with the construction of almost 1,000 condominiums and apartments in a short span of time, the neighborhood has seen a huge boom in a wide variety of businesses. It doesn't matter whether you're looking for nightclubs, art galleries, restaurants, breweries, or retail, it's all here. While the number of options can be overwhelming, we've compiled a short list of the essential spots, and the local pros behind those emerging businesses, that truly make Glenwood South a neighborhood to check out.
Azurelise Chocolate
Despite downtown Raleigh's continual expansion, Reginald Savage has helped maintain the historic Glenwood South district's small-town charm with his incredible chocolate truffles. Located in a small home on Boylan Ave.,
Azurelise
was given its name by combining the first two names of Savage's daughter, Azure Elise.
Savage was a professor at North Carolina State University who was originally looking to make some extra cash on the side, but by 2004 he had officially opened his business and was selling his decadent truffles to other stores in the area. His natural instincts and deep meditation on chocolate making have served him well, as he eschews the recipes and techniques of others in pursuit of the new and innovative -- leading him to create some of Raleigh's best sweets.
When he first started making truffles in 2002, Savage followed several very basic and fundamental steps to his art. "My goals as a gourmet chocolate truffle maker is to create unique and superior chocolate taste experiences," he says on the Azurelise website, where he also alludes to techniques that he understandably keeps secret. His credo: "Don't copy or imitate other chocolate truffle makers and make chocolate truffles other chocolate truffle makers can't copy or imitate."
Azurelise may have started out with just a few basic flavors, but these days customers have the difficult task of choosing between over 40 variations and styles. Looking for the store's classic Sea Salt Caramel truffle? No problem, they've already got boxes of them loaded up and ready to go. Maybe you're looking for something with a bit of fruit added? Make sure you don't pass up the Cherry Pistachio and Orange Spice flavors. Oh, and did we forget to mention that Azurelise offers truffles infused with over a dozen varieties of spirits?
There's a flavor here to satiate even the most curious of palates, and you don't even have to be in the neighborhood to enjoy them. Customers nationwide can order custom boxes to be delivered right to their door, which is certainly something to consider when giving gifts to loved ones this holiday season.
Looking to round out your day? While life may be short, you don't always have to eat dessert first. Head around the corner on Glenwood Avenue to Sushi Blues for a light, fresh meal while you take in a blues or jazz show, then treat yourself with one of the truffles you've just purchased at Azurelise. If you want to get creative with those 40 flavors, you can sit down at Raleigh Beer Garden and make your own pairings out of a downright delicious menu of amped-up bar staples, charcuterie, and tapas, plus the largest beer selection on earth. What's that? On earth? Yes, really, the whole earth. The notorious RBG has 366 beers on draft -- that's just the tap lines! If you can't find a beer that fits your chocolate here, then it's just proof that Azurelise has developed a product that history has never seen before.
Brad Bunyea of Rove In Between
Emily & Co.
Emily Cochran may have started
Emily & Co.
only four years ago, but she's been a mainstay in Raleigh's interior design scene for well over a decade. Before starting her own business, Cochran was a commercial designer whose projects included schools for Wake County. Since then, she's channeled her talents into customers' personal projects, but she's still dedicated to helping those in the neighborhood find a perfect way to accent their homes.
"My goal starting out was to provide the community with affordable style that combines both vintage and new pieces that can be layered together for something much more eclectic," says Cochran. "Getting to know customers keeps me excited, and so does the thrill of the hunt, never having an idea of what I can find."
You'll never know what Cochran might bring into her store, because she's never exactly sure either. She's always out on the prowl for new and exciting pieces that she can add to her collection for customers, and even occasionally helps others out in finding their own outside of her own business.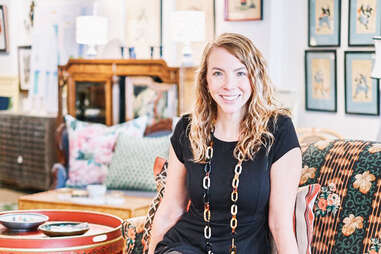 Brad Bunyea of Rove In Between
"I led a 'picking trip' a few weeks ago. Twenty-two ladies and gentlemen all over the Piedmont came and we found all kinds of treasures at various antique stores," she says. "The best thing I found was a bamboo mirror, but by the end of the day every single person there found something that at least one other person admired or was jealous of."
Despite Emily & Co.'s reputation as a trove of rare and unexpected items, customers steadily remark on the affordability of its offerings. Cochran is dedicated to providing style at a price everyone can afford because she strongly believes that elegant and contemporary design enrich a community. So throw on some dandy duds to get yourself in an elegant mood, pick out some vintage pieces that embody the classicism your home deserves, and then celebrate your finds with a drink at nearby 42nd St. Oyster House that would make Don Draper proud. After a platter of fresh half-shells and cool cocktails, stroll south a few blocks to Second Empire for a menu that, like you and your new purchase, updates the old standbys with a modern sensibility... all in the historical Dodd-Hinsdale house.
Elena Caron
Montgomery Violins
While changes have swept across Glenwood South over the past decade,
Montgomery Violins
has been a staple in the community since 1983.
"At that time, the Raleigh-Durham area was rated very highly, though in retrospect, I'll say it was just the beginning of what makes this area good," Proprietor John Montgomery has said. "It was a pretty ripe area to practice violin-making."
Montgomery's knowledge and love of stringed instruments and classical music cannot be challenged. On top of running the repair store, he is also one of the luthiers in charge of helping maintain stringed instruments located in both the Smithsonian and Library of Congress. If you're looking for a world-class restoration of an old family heirloom or you're a local musician who needs a quick repair before a gig, look no further than John Montgomery Violins.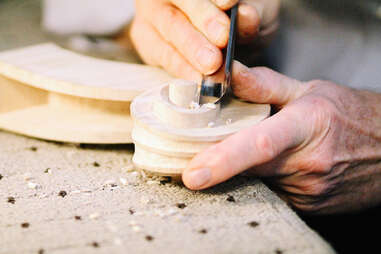 Elena Caron
The store is also an incredible location to visit for those who are looking to get their feet wet in the music world. Montgomery Violins champions each new generation of the local music community by fostering connections to instructors for violin, viola, cello, and upright bass. Montgomery has personally worked with musicians in the National Symphony Orchestra, and knows many of the area's finest musicians in case you're looking for accompaniment, no strings required -- or attached.
Raleigh takes pride in its music scene, and John Montgomery's shop is one of the crown jewels of the area. You can be awestruck by the vast and voluminous musical knowledge behind these doors. Maybe you're not quite able to afford that $30,000 violin that's currently being restored inside, but you can certainly start at your price point and dream of earning that lofty lute in both skill and savings.
For passionate music junkies reeling from these hallowed halls of harmony, the bins at Sound Off Records & Hi-Fi are just around the corner to stave your cravings with a reverent collection of vinyl, vinyl, and more vinyl, as recorded music was meant to be heard. If your tastes run towards later media, a short walk up St. Mary Street will bring you to Record Krate, which is treasured for its broad-reaching collection of (yep!) vinyl, but also curates a respectable range of cassettes and CDs for you '90s kids.
Spring Profusion by Eileen Hendren
Studio R.E.D.
Maintaining a thriving arts scene is crucial to any neighborhood's atmosphere and vitality, and Studio R.E.D. couldn't be a more perfect example. Started by artists Rhonda Gardner, Eileen Hendren, and Debbie Robbins,
Studio R.E.D.
is now one of the leading institutions for local arts in Raleigh.
Since opening their creative space on Glenwood Avenue several years ago, their work has gone on to be featured in numerous local galleries and exhibitions, including a recent affiliation with 311 Gallery in Raleigh. Studio R.E.D.'s hours on Glenwood Avenue are by appointment (and chance) only, so make sure to give this vibrant locale a call before visiting.
The gallery displays paintings primarily, but within this medium there is a vast array of styles and subjects for art lovers. Gardner's still-life and landscape work is breathtaking, much of which gives off a quaint sense of North Carolina charm. Hendren's oil paintings of flowers are stunning and her unique sense of layered depth sends the work jumping out at the viewer, almost making one second guess that there aren't actual flowers flattened onto the canvas. For those looking for something a little more cerebral and unexplained, Robbins' landscapes are uniquely situated halfway between abstraction and impressionism, while her larger portfolio ranges from Fauvist pigs to raw abstract.
All three artists come from varying backgrounds which helps add to the diversity of the Studio's collection. Gardner is a former interior designer who studied at Virginia Commonwealth University, but since relocating to Raleigh, she says, "I have enjoyed experiencing the growth and creative energy that has made Raleigh such a wonderful place to live." Hendren has a Masters in Architecture from North Carolina State University. She draws from the Raleigh art scene's "energy and the sense that something special is emerging and growing." Robbins rounds out the depth of experience by working with the Visual Art Exchange and Raleigh Fine Arts Society, among many endeavors at the intersection of art and community benefit.
Looking to take in a little bit of extra culture? Once you've picked out a painting, pair it with some flora from Kelly Odom Flowers next door to spice up your living room's olfactory landscape along with its visual one. Then stop in at the inviting Stag's Head to sample its varied and eclectic beer selection, in perpetual rotation.