How to Have a Perfect Fall Day in Virginia Beach
Courtesy of Visit Virginia Beach
The air might feel more crisp than it did a month ago, but that doesn't mean you need to hide by the fireplace until April. Instead, escape to Virginia Beach, where the outdoors is still the place to be even as the temperature drops. You see, fall in this coastal town is filled with sunshine, watersports, seafood -- basically all the best parts of summer with way less sweating. So we put together the perfect outdoor itinerary for how to spend an autumn day in Virginia Beach, including where to find a little adventure.
Rise and shine (and stretch)
Before your adventure-filled day begins, take a few moments to relax by combining two of the most calming things ever: crashing waves and yoga. (It's so soothing they make sound machines just to mimic ocean water, but here you can experience it IRL.) Oceanfront Yoga offers 6:30am classes three days a week at its beachside studio (or book a group lesson right in the sand) so you can practice your Sun Salutation while the sun rises -- then lay in Savasana (Corpse Pose) for-freakin'-ever because you deserve it for waking up before the sun did.
Eat breakfast on the boardwalk  
Breakfast is the most important meal of an active day, so stop by local favorite Zeke's Beans and Bowls (open 8am daily), known for its pour-over coffee and made-to-order açai and poke bowls. Grab a PB&J bowl (blended açai and peanut butter topped with granola, banana, strawberry, raisin, coconut, and almond) and a fair-trade brew to go, then take a short walk down Norfolk Avenue to the scenic South Beach Trail, an eight-mile path and boardwalk perfect for sipping coffee and taking in the morning breeze.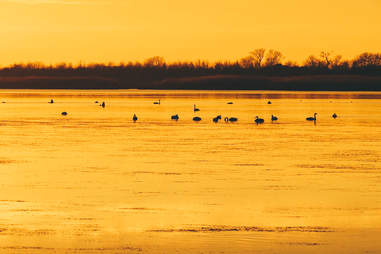 Courtesy of Back Bay National Wildlife Refuge
Try to spot some animals in their natural habitat
We say "try" not because the animals aren't there, but because there are a lot of places for them to hide in this wildlife refuge's 9,250 acres. Established in 1938, Back Bay National Wildlife Refuge nearly doubled in size in the 1980s and now, it's a whopping 30 times bigger than Disney World's Epcot theme park. (But don't worry: there are no height requirements here.) During the fall, you'll find thousands of tundra swans, snow & Canada geese, and a variety of ducks migrating through the area. If you're lucky, you may even spot some of the endangered species that call this Virginia Beach sanctuary home: loggerhead sea turtles, piping plovers, brown pelicans, and bald eagles. Though some trails close for the winter (and tours ended for the season in October), guests are encouraged to explore the refuge on their own. (Bonus: no entrance fees November through March).
Courtesy of Visit Virginia Beach
Paddle through history at First Landing State Park
As its name implies, First Landing State Park is where the Virginia Company colonists first made landfall in 1607 before establishing Jamestown, the first permanent English settlement in North America. The park includes 1.5 miles of beachfront, 20 miles of trails, and more than 2,700 acres of protected salt marsh, tidal marsh, freshwater ponds, and swampland. The diversity of habitats can even be explored by paddleboard or kayak; book with Tula Adventure Sports ($65 per person) for an experienced guide who will teach you both how to paddle and about the area wildlife. Afterwards, head to the park's picnic area for a relaxing meal. It's equipped with the basics like charcoal grills, tables, and electricity, so pack a cooler for lunch and get there early to stake your claim.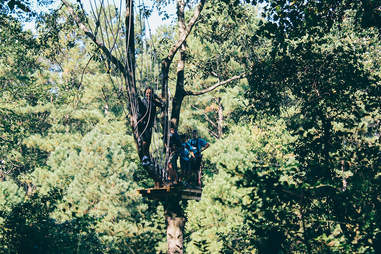 The Adventure Park/Outdoor Ventures
Fly through the air with the greatest of ease
If it's a little excitement you seek, look no further than the epic Adventure Park at Virginia Aquarium. With multiple zip lines stretching 150 feet above the ground, platforms nestled in the trees, and bridges made out of wood and rope, you'll feel like you're on American Ninja Warrior as you swing and leap about. Tickets are offered by the hour (two hours of climbing will run adults $41 and three hours is $55, though prices are lower for kids) and include an additional 40-minute orientation followed by free climb. You might need to start off easy, but we bet you'll be giving off serious Tarzan vibes by the end of your visit.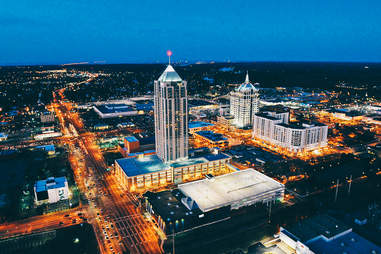 Courtesy of Visit Virginia Beach
Stroll around the Town Center
If you're a visiting city dweller in need of some urban landscape to break up your outdoor adventuring, spend an hour hopping among the shops (Anthropologie, Brooks Brothers, Paper Source) at the open-air Virginia Beach Town Center. When your feet need a break, pop into Sonoma Wine Bar & Bistro, which boasts a 40-bottle wine list and outdoor patio perfect for people-watching. Wrap your Town Center stroll at the two-story sugar oasis Just Cupcakes for one of their 10 flavors of confectionary goodness (triple chocolate, funfetti), then head two blocks over to Central Park on Columbus Street. Sure, it's not that Central Park, but does it have beautiful seasonal foliage? Check. A serene pond? Check. Benches on which you can enjoy your cupcake or capture it perfectly in the autumn light for Instagram? Uh, check.
Courtesy of Visit Virginia Beach
Ride off into the sunset
There's no better way to catch that gorgeous beach sunset than on horseback. (Well, maybe via SpaceX rocket, but we hear Elon Musk's still working out the kinks.) Virginia Beach Horseback offers 60-minute tours ($80 per person) starting at 26th Street and heading south to the pier and back. The best part? They're timed precisely around that magic hour (5pm in November) so you can feel like you're starring in a rom-com as you trot through the sand. Any ideas for your leading man? Because we think you and Chris Pratt would make a good match.
Courtesy of Visit Virginia Beach
Dine al fresco (with a view)
Don't let your time by the water end just yet -- instead, head over to the Pier House at Long Bay Pointe Marina for an outdoor feast at One Fish-Two Fish. Grab a table on its wrap-around patio boasting impressive waterfront views and dine on a menu of fresh seafood including sautéed jumbo lump crab cakes, crispy fried flounder, and sesame seared ahi tuna (though no red fish or blue fish, sorry). Before you call it quits for the night, stop by Commonwealth Brewing Company's outdoor beer garden for a late-night beverage. Located in the former Chesapeake Beach Fire & Rescue station, this craft brewery (est. 2015) offers nearly 40, cheekily-named beers on tap, like the Dystophic (a black saison) and the Hümblebräg (a double India Pale Lager).
Ditch the hotel and set up camp
Listen, you can stay in a hotel in any city. When you have the opportunity to doze among nature, well...you should. (Plus, you can opt for glamping options if roughing it's not your thing.) In the far southeast corner of Virginia Beach, False Cape State Park offers six miles of unspoiled beaches and 12 campsites ($11-$13 per night). Your own equipment is required and reservations can be made online; beach camping is subject to high tide, but the facility is open year-round. If you'd prefer something a little less DIY, the Holiday Trav-L Park ($25-$47 per night) provides a place to camp with water, electricity, swimming pools, volleyball & basketball courts, and cabins -- all in a location a block away from the beach. We'll see ya on the sand.