The next time you're lined up at the LAX Chili's To Go, contemplating the merits of the Loaded Potato Skins vs the Texas Cheese Fries (always go Cheese Fries), take a minute to think about the life you could've had. Because there's a guy across the concourse picking up an in-flight meal for $1,581.50.
Petrossian's Champagne and Caviar Bar -- the joint from which you usually purchase $48 peaches (really) -- has opened up shop in the International Terminal, and is offering a picnic pack called "caviar in the air".  Say goodbye to pretzel packets for good, and feast instead upon top-shelf Tsar Imperial Kaluga caviar, crème fraiche, blinis, and smoked salmon from an insulated carry-on. You'll risk becoming one of the most hated people on the plane, but who cares!?! You're rich as crap!! Champagne all around!
Some Petrossian specialties to (really not ever) consider before your next flight: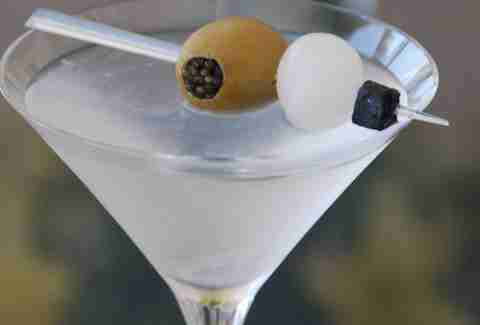 The $18 signature Petrossian vodka caviar martini is actually not that bad of a deal! Considering airport prices, the caviar-stuffed olive and caviar cube basically costs -$4.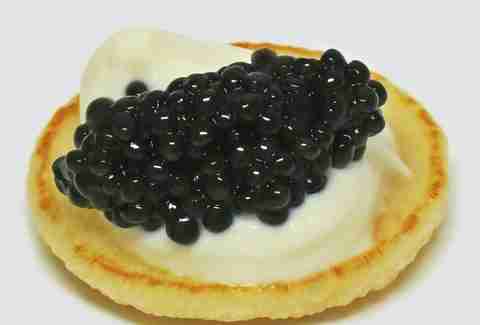 This teeny-weeny blini topped with caviar and crème fraiche'll only set you back $19.
Indulge in this triple threat trio of Tsar Imperial fish eggs for $725.
Hot chocolate on a stick goes for $24... and no, the cup and milk are not included.
Finally, the Gold Leaf Honey sachet's filled with 23 karats of edible gold leaf, and sells for $65. Because you deserve it.
Sophie-Claire Hoeller is Thrillist's über-efficient German travel writer. She's had frequent flyer status ever since her mother gave birth to her at a Lufthansa terminal. Follow her adventures via Twitter at @Sohostyle.