The battle of the world's tallest skyscrapers is officially on
No sooner does Saudi Arabia break ground on what's been billed as the world's tallest skyscraper (twice the size of NYC's Freedom Tower) than the Chinese say, not so fast. 
Although still awaiting final approval from the mayor, the city of Wuhan (in China's Hubei Province) has proposed building not one, but two towers that -- at 3,280ft (exactly 1km) each -- would be the highest pair of structures on Earth. Even cooler, they'll be built smack dab on an island, in the middle of a lake, in the middle of the city. Suck it, Saudi Arabia.
According to a press release from the firm that designed them, London-based Chetwood Architects, the eco-friendly Phoenix Towers will cost over $2 billion to build, draw their inspiration from "the traditional Chinese Phoenix symbol of two birds", and are modeled upon the "Yin/Yang form to represent perfectly balanced union."
In-keeping with the towers' zen theme, not only will they feature "suspended air gardens", but one of the towers will boast the world's highest "living wall"  (or, indoor garden that flourishes skywards) while the other houses the world's tallest kaleidoscope. Although how you're suppose to spin it is anybody's guess.
And if that's not enough to have you calling your travel agent, the new attraction aims to draw international visitors with global flair like a mock French boulevard, Turkish bazaar, and a Japan-themed section packed with sushi restaurants and cherry blossoms. Interestingly, there'll also be an assortment of suspended restaurants housed inside three planet-shaped domes accessible only by walkways between the two towers.
Assuming the mayor doesn't do anything stupid like veto the plan, construction is scheduled to start next year with the towers being completed by 2018 -- one year before the Saudis, naturally. If they pull it off, here's what the Phoenix Towers will look like...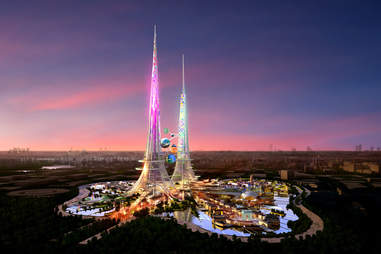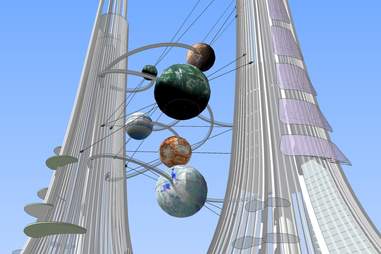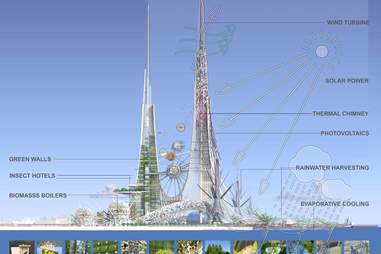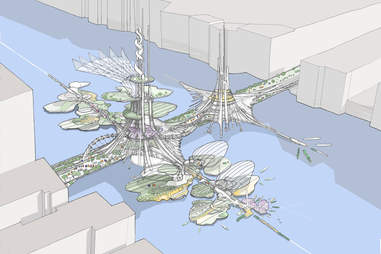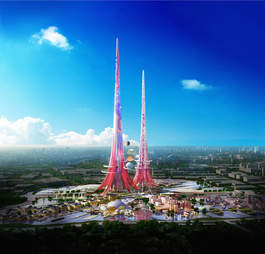 Chloe Pantazi is an editorial assistant on Thrillist's travel team. Yes, that's a British accent. No, she doesn't watch Doctor Who. Follow her on Twitter at @ChloePantazi.