Photos from the worst in-flight meal ever
During a recent trip to London, Singapore airlines decided to serve breakfast in bed... and chair, and ceiling, and aisle, all thanks to a little mid-meal Clean Air Turbulence (where the sky is crystal clear, and the pilots can't see the nightmarish vortex ahead of them). Thankfully music blogger & Instagram user Alan Cross was there to witness & record the nutritious devastation.
See that little dent in the flight path? No, the pilot doesn't just randomly hate that little piece of ocean -- that was the "accident".
This is a clean aisle for comparison, in case you fly Spirit. All is calm. Breakfast service starts.
Then the plane abruptly drops 65ft, and everything, "including some people" hit the ceiling. 11 passengers & a crewmember were injured (thankfully not seriously).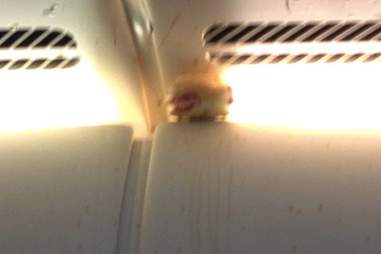 This was a very blurry bowl of cornflakes wedged into the ceiling.
Alan Cross describes it as "like being in an elevator with a cut cable", which makes you wonder what kind of accident-prone life this man has led.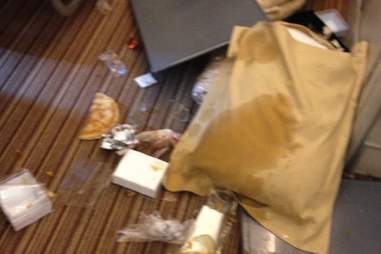 The remnants of th -- wow, is that a pancake?! Singapore Airlines breakfast kind of kicks ass.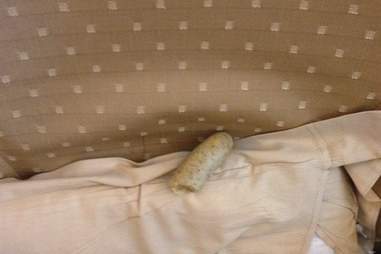 Our dogged photographer was thankfully strapped in at the time, and only suffered some "sausage in his shirt".
Apparently the cabin crew cleaned up super-quickly, and everyone got a box of chocolates as soon as they landed -- sweet!