This is no ordinary festival. For nine moderately-uncomfortable days, religious devotees flood the streets of Phuket, Thailand in order to thrust metal spears through their face holes, self-mutilating to pay homage to their gods and honor their ancestors spiritual tradition. The experts over at Fest300 are all-too-familiar with the party, and kindly shared some insight with us... Each participant, or "mah song", as they're known, is said to enter a spiritual trance where they're incapable of feeling any pain, even when there's a bunch of seemingly painful swords going through them...
"Mah song" refers to an act where ancient spirits enter the body of the observer, and use said body as a vehicle. In the above instance, this mah song took the literal route and is using his body to carry a piece of a vehicle while being used as a vehicle. If this guy was actually driving a car, he would be hands-down the most self-referential person to ever inadvertently be the most self-referential person. Mind = blown.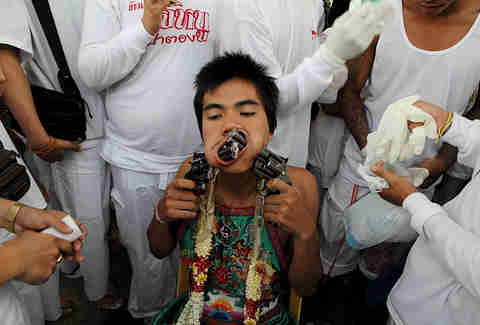 Dudes are under constant supervision by a crew of medical professionals and other revelers. Although unlikely, if they happen to exit their trance, they can experience extreme pain and require immediate medical attention. How quickly medics respond isn't directly correlated to what's protruding from ones face, but this guy might be waiting a little bit longer than the others.
In addition to self-mutilation, participants spend nine days abstaining from sex, eating a strict vegetarian diet, fire-walking, doing a ridiculously painful-sounding activity known as "blade-ladder climbing", oh, and lighting off a ton of fireworks right next to their faces. This fest is really not for the faint of heart.
Many observers choose not to self-mutilate, and instead carry incense, candles, and bells whilst walking through the carnival-like festival.
Aaaaand we've reached the "vegetarian" aspect of our fest coverage... the streets are brimming with food vendors and pop-up stalls which'll be serving up a mix of dim sums, buns, and dumplings. Take note that not all vendors will be meat-free, so be sure to keep an eye out for the yellow flags with red Thai scribblings, as those are veggie-specific tents.

The party's on this week -- for more info, head over to Fest300 where you can find pics, rankings, and terrifying videos from the devotional bloodfest.