Europe's 10 Worst Countries for Tourist Scams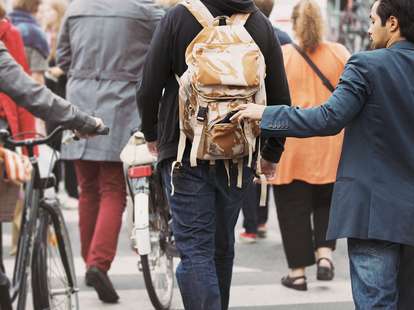 Shutterstock
Shutterstock
By definition, a vacation's the time for you to kick back, relax, and forget about all the nonsense waiting for you back home -- which makes you the perfect target for scam artists looking to make a quick buck. Yes, your odds of being hoodwinked are usually pretty low, but it does happen, and a recent study has provided a glimpse into which countries (in Europe, specifically) put you at the highest risk of being scammed.
Finanical comparison site money.co.uk surveyed 2,000 British holidaymakers who had traveled to Europe in the past 12 months, asking if they'd fallen victim to a scam in their travels. Scams reported include pickpocketing, being overcharged by taxi drivers, street crime, and hidden tourist taxes, and while the results are hardly universal (since UK travelers /= US travelers), they do give a good idea of where the risks lie when visiting the continent.
Spain was the worst country by far, with 21.5% of UK tourists surveyed falling victim to scams there, while France came in second with 14.8%, and Italy rounded third with 10.2%. Overpriced taxi rides were the most commonly reported scam (37%), while 22.6% of travelers reported having been hit by a pickpocket on their journey.
Ultimately, though, while some countries might be hotspots for shady deals and sleight-of-hand pickpocketing, you should really just keep your guard up regardless of where you're visiting. Mind-blowing stuff, right?
Check out the full top 10 below:
9. Cyprus (4.4%)
9. Armenia (4.4%)
8. United Kingdom (5.4%)
7. Belgium (7%)
6. Greece (7.5%)
5. Austria (8.1%)
4. Turkey (8.4%)
3. Italy (10.2%)
2. France (14.8%)
1. Spain (21.5%)

Gianni Jaccoma is a staff writer for Thrillist, and he's never been pickpocketed before. Follow him sneakily on Twitter @gjaccoma, and send your news tips to news@thrillist.com