We're the first to admit that our minds sometimes stroll unwittingly into the gutter -- like when someone innocently uses the word "duty". Or when Zaha Hadid unveiled her design for Qatar's new World Cup stadium, and we couldn't help but think of a… Georgia O'Keeffe painting, of course. Why? What'd you think it looked like? In that vein, we've rounded up some other things around the world that resemble O'Keeffe paintings (and fleshed out the list with some phallic offerings as well).

Talk about a cum to Jesus moment; this church in Dixon, IL kinda speaks for itself. Although, seriously, you can't tell us the architect who designed it didn't know -- aren't blueprints drawn from an aerial view? In any case, please hold all hate comments until the end.
Aussies are so convinced that Tasmania looks like a muff, "map of Tassie" has become a common colloquialism. As in "show us your map of Tassie, Sheila!"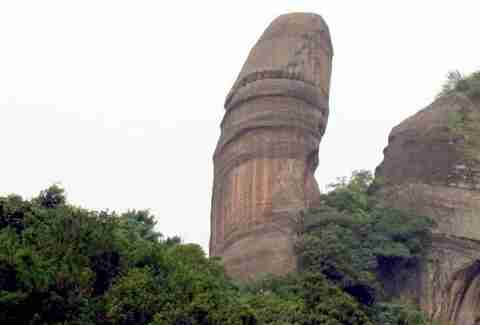 No one to blame for this one but naughty Mother Nature. Behold, China's Mount Danxiashan.
Sorry, we probably should have tagged this one NSFW.
Perhaps more abstract than the above-pictured cave vagina, Oakland's Cathedral of Christ the Light's got its own thing going on. Maybe? If you tilt your head sideways and squint?
If they've told the Ypsilanti Water Tower in Michigan once, they've told it a thousand times: "No glove, no love."
As it is the beach, it's only natural (and not at all surgically enhanced) that California's San Onofre Nuclear power station would resemble a large pair of supple, perfectly shaped… sorry. Let's just move along.
While this could have been a picture of any number of phallic monuments the world over, Paris' Vendome column just has a certain "je ne sais quoi". And the French are totally more into the sex, so there's that too.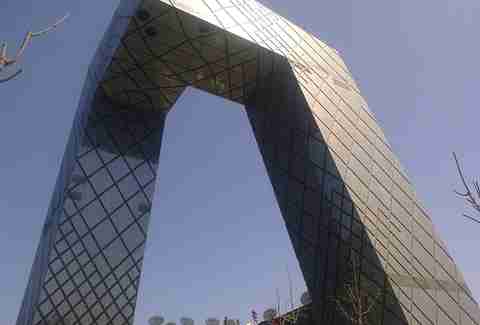 The CCTV Tower in Beijing is locally known as "the big underpants", although some creatively undersexed souls say it also resembles a woman leaning over. Hmmm. You make the call.