Museum of Tomorrow in Rio de Janeiro, Brazil

| R.M. Nunes / Shutterstock.com
Museum of Tomorrow in Rio de Janeiro, Brazil

| R.M. Nunes / Shutterstock.com
Brazil and I are in a fight, and it's all my fault, really. My whole extended family lives there, and I haven't visited in years. Like four, long, grueling years where -- instead of living it up at beach parties or eating churrasco -- I've elected to live "responsibly" and focus on things of dubious importance like developing a career and saving money.
I am, obviously, a moron. Not just for failing to visit my family but also reducing the Brazilian experience, as so many do, to its surf and seared meat. No, if there's one aspect to living in Brazilian cities like São Paulo, Rio, Curitiba, or Salvador, it's that sweeping architecture and beautiful design surround Brazilians every day, often serving as a unifying force in a country that might otherwise focus on impeaching its president. If you have the pleasure of pulling the trigger on a trip to Brazil, here are the country's man-made visual showstoppers you won't be able to ignore.
The Amazon Theatre, Manaus
This massive opera house nestled in the jungly state of Amazonas was built 120 years ago to match the natural splendor of the Amazon itself. The ceiling was painted with a sweeping Renaissance-style fresco depicting angels in heaven, and its building materials were imported from far and wide across Europe -- marble from Italy, roofing tiles from France, steel walls from Scotland. Remarkably, after the wealth of the rubber industry abandoned the region in the early 1900s, the opera house's doors were shuttered until a little-known German filmmaker shot his 1982 movie Fitzcarraldo there. Brazil has Werner Herzog to thank for reviving interest in the theater.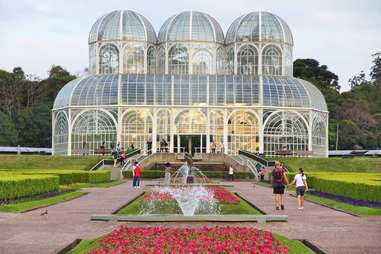 The Botanical Garden, Curitiba
Inspired in equal parts by France's royal gardens and the local flora of southern Brazil, this garden is one of Curitiba's most calming attractions, as well as its most striking, thanks to its ornate, art nouveau-inspired, triple-domed greenhouse. Though the greenhouse itself may be small -- just under 5,000 square feet -- it and the surrounding park have been hailed as among the most impressive of their kind in Latin America since opening in 1991.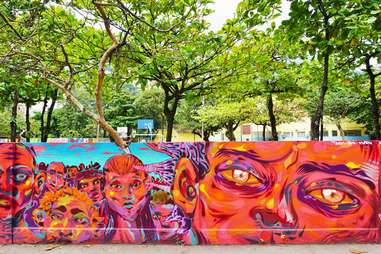 The Street Art of Rio de Janeiro and São Paulo
​​​​​​Street art in Brazil has a long and complicated history, one inextricable from the country's political and social movements. One artist referred to its decriminalization in Rio in 2009 as an "agreement between the population and the city." You can hardly walk five steps through parts of Rio without running into splashes of form and color, be that in tags or in full-scale murals. Instagram has only made it easier to look at, and over the years, several artists have been known to deploy their talents to jumpstart Rio's favelas and other communities. You can even take Jeep tours, for better or worse.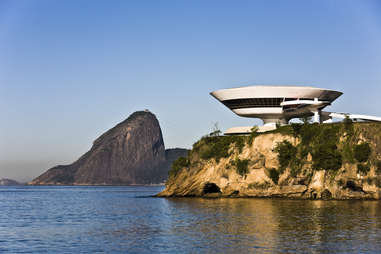 The Museum of Contemporary Art, Niterói
​​​​​​We can't talk about architecture or design in Brazil without talking about Oscar Niemeyer, by far the country's most famous architect and civic planner. The city of Niterói, located just across the water from Rio, sports one of his most interesting designs in its Museum of Contemporary Art, the MAC. In Niemeyer's own words, the "architecture occurred spontaneously as a flower" jutting out from the edge of the rock to overlook the water. After you walk up a winding ramp into the building you can choose to look at the pretty panoramic vista across the bay, or enjoy some of Brazil's finest contemporary art within.
The Metropolitan Cathedral of Saint Sebastian, Rio de Janeiro
Found in the center of the city, Rio's religious jewel is a Mayan-pyramid-inspired, Modernist homage to St. Sebastian, the city's patron. Completed in 1979, it was built to be nearly 250 feet tall and houses four floor-to-ceiling stained-glass windows that join at the roof to form a cross-shaped skylight. It's got a museum in its basement and can pack 20,000 bodies inside shoulder-to-shoulder.
The Cathedral of Brasília
​​​​​​Another Niemeyer creation, this stunning, hyperboloid, hyperbolically cool structure was completed in 1970. It's held up by 16 curved concrete columns arranged in a circular pattern, its gaps filled with stained glass. Inside, angelic sculptures hang from the ceiling to greet the faithful in prayer.
Octávio Frias de Oliveira Bridge, São Paulo
OK, not everyone loves São Paulo's iconic, defiantly weird, cable-stayed bridge, and the criticism surrounding its 2008 completion was legitimate. To critics, in building a bridge that was inaccessible to pedestrians and bikers, São Paulo's elite connected the city's highways -- not its neighborhoods or its citizens -- to build an arresting, postcard-worthy selling point. All true! And yet it does make one helluva statement, especially when lit up at night.
Rio-Niterói Bridge
If that bridge feels cold or inaccessible, this one at least made an appearance in Fast Five with Vin Diesel saving Michelle Rodriguez's life -- by jumping across the middle of it and catching her in midair after an intense chase scene. It's fitting because the President Costa e Silva Bridge (as it's officially known) spans Guanabara Bay between Rio and the municipality of Niterói and is nothing if not a workhorse. When locals talk about "going over the bridge," odds are this is the bridge they mean. The 8.25-mile-long bridge was the world's second-longest for more than 10 years, and is still the longest in Latin America.
Lacerda Elevator, Salvador
​​​​​​Going from Rio to the state of Bahia is kind of like going from New York City to New Orleans. The city of Salvador's European-influenced historical district, known as O Pelourinho has streets filled with cobblestones and centuries-old architecture. One of its more notable structures, though, is the Lacerda Elevator, a 236-foot lift that links Salvador's Upper City (on higher ground) with its Lower City (on the beach). Tourists and locals alike take it every day.
Luz Train Station, São Paulo
It was designed by Henry Driver, an English architect, and was built in its entirety in Glasgow, Scotland, before being shipped and reassembled in São Paulo. But ever since this station was completed in 1901, it has remained among the most important buildings in São Paulo and Brazil's history. For decades its clocktower ruled over the city's skyline to give its residents a reference point to set their clocks, and today the station houses the Museum of the Portuguese Language, a huge repository of and tribute to Portuguese art, language, and literature from around the world. By comparison, New York's Penn Station looks like a toss-off.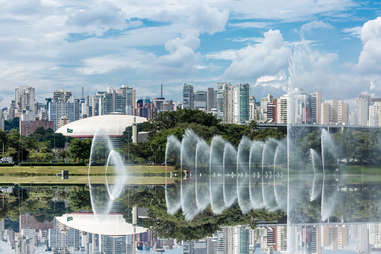 Ibirapuera Park, São Paulo
Every major city in every major country has its great park, and its formal design and layout -- spearheaded by Oscar Niemeyer on the architecture front and landscaped by Otávio Augusto de Teixeira Mendes -- were effectively São Paulo's answer to Central Park. It began with a city employee, Manuel Lopes de Oliveira, planting trees along the swampy floodplain, until the city invested money into developing the park. Its name may mean "rotted tree" in the indigenous Tupi-Guarani language, but ignore that. It's an absolutely stunning marriage of modern design and native vegetation.
Itamaraty Palace, Brasília​
​​​​​​One of the prettiest buildings in the nation's capital city, Itamaraty Palace houses Brazil's Ministry of Foreign Affairs, and has entertained the likes of Indira Gandhi, Barack Obama, and Queen Elizabeth II. It sports a large reflection pool, giant glass windows, and stately arches -- designed in Niemeyer's characteristic modernist style -- as well as a large sculpture in front called "Meteora," by the Brazilian artist Bruno Giorgi.
"Meteora" is an empty sphere made of five pieces of Carrara marble from Italy symbolizing harmony and communication between the five continents. Celebrating the building's 50th anniversary earlier this year, a reporter for Folha de São Paulo, one of Brazil's biggest daily newspapers, was effusive in his praise, calling it Brasília's architectural masterpiece. "It defies all clichés about the architecture of Oscar Niemeyer and public buildings in Brazil," Raul Juste Lores wrote. "It is functional, majestic and avoided wastage or renovation due to lack of planning."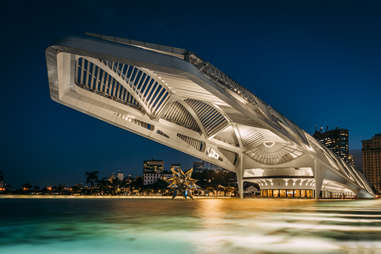 The Museum of Tomorrow, Rio de Janeiro
There's an old joke that Brazil is the country of the future, and that it always will be. Rio's science-minded Museum of Tomorrow, the newest entry on this list, was built to challenge that notion ahead of the 2016 Olympics. "The essential concept of the museum is that tomorrow is not ready," the museum's curator told The Washington Post when the building opened in late 2015. The climate- and science-focused museum juts out over the Pier Mauá with hallmarks of architect Santiago Calatrava's signature style: an organic fin-like design, support beams that allow for a textured dappling of sunlight on the passers-by below, and an imposing addition to a quickly redeveloping part of Rio. The Spanish architect, tooting his own horn, said "the building feels ethereal, almost floating on the sea, like a ship, a bird, or a plant." It's hard to argue.
Sign up here for our daily Thrillist email and subscribe here for our YouTube channel to get your fix of the best in food/drink/fun.