Cool-As-Hell Louisiana Towns You Need to Visit (Besides New Orleans)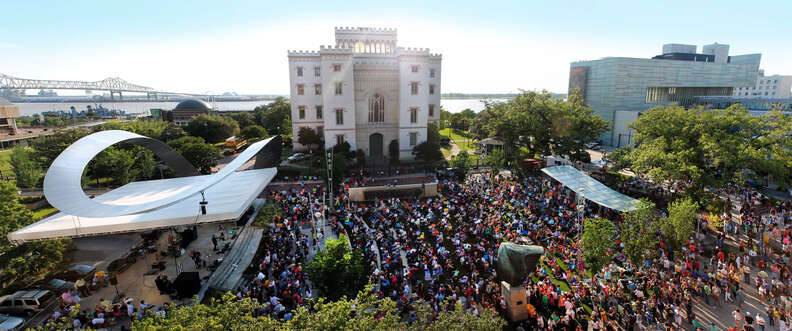 On Fridays in Baton Rouge, local crowds descend on Live After 5 to sway and groove to music.

| Visit Baton Rouge
On Fridays in Baton Rouge, local crowds descend on Live After 5 to sway and groove to music.

| Visit Baton Rouge
As you leave New Orleans and head west, the changes start out subtle: The Crystal Hot Sauce is replaced by the hyper-local Tabasco, the bright colors of Mardi Gras beads and Spanish-influenced houses are replaced by the rich green of Spanish moss. With the 24-hour-a-day touristy chaos of Bourbon Street and the French Quarter behind you, you'll find only friendly locals ahead. Speeding west on I-10 toward Baton Rouge and Lafayette means shedding the tourist trappings and easing into one of the country's most singular and exciting food and music scenes.
To many tourists, a trip to Louisiana means Bourbon Street and sweet drinks in novelty plastic cups, Mardi Gras parades and near-daily second lines marching their music through the streets. But outside of New Orleans is another side of the state -- one where the tomatoes disappear from dishes as the food transitions from Creole to Cajun, and the music becomes more accessible. The swamps of Bayou country are but a stone's throw away, and suddenly, instead of a city where you could go a week without having a real conversation with a local, you end up in a place where you'll get their life story before you've even ordered your oysters.
Baton Rouge is about an hour and a half from New Orleans, and Lafayette another hour beyond that, making them a good change of pace to package in with a trip to NOLA, or -- depending on where you're coming from -- fly into directly. On the surface, the things you'll do in Louisiana's less-famous cities don't differ from what you'd do in New Orleans -- listen to music, eat incredible food, and soak up the local culture -- but how you enjoy them is entirely different.
Rock out to local bands and a vibrant community
Gus Rezende, founder of Social Entertainment, a hospitality company, uses the music scene in Lafayette to frame the difference: "New Orleans created a musician-driven culture," he explains, which means that cover charges are high and you'll pay for what you watch. "Lafayette is more community-driven," he says, with a lot of free concerts. "Friday night we go to Downtown Alive and have to only pay for beer -- it's easy to access." The shows give a taste of not just the music scene here, but also the culture. "There's something about community events that's different from New York, Colorado, Georgia, there's a community vibrancy."
At Baton Rouge's Live After 5 (also held on Friday nights), huge swaths of people sway to the music, couples create a dance floor in front, and children zoom about, learning the local rhythms. "It's probably the biggest recurring event that a large portion of the population partakes in," says Sydney Harkins, of catering company BouillaBabes. As singers belt out Southern rock, "Swamp pop," and Zydeco in the center of town and the Mississippi River lazes its way by, it immediately sets you into a Baton Rouge mindset: You slow down and open up to whatever might come rolling down the river (or street) next.
Other nights of the week, the music is still everywhere. Baton Rouge's historic Third Street offers quiet glimpses of old buildings during the day, and a party scene in the evening. In Lafayette, you can drive around to visit the historic houses and old mansions during the day, but at night, you'll look for the music: "You'll find it in every corner of a club, even old school music halls, of which there are still a few," Rezende says.
When's the best time to visit?
If you are planning to hit one of the outdoor concerts, be warned. "If there's one thing that's bad about Lafayette," Rezende says, "it's how hot it gets." He suggests sticking to visiting in spring and fall. Spring is festival season, and in March and April, "any given weekend you can wake up and have a po' boy festival, and drive and have a crawfish festival." Meanwhile, Festival International de Louisiane -- Lafayette's biggest festival and one of the largest in the country -- kicks off in April, celebrating the connection of this part of the US to the Francophone world. But for Baton Rouge, the best time to visit is the fall, aka tailgate season.
Baton Rouge loves its sports teams like 'whoa'
The Louisiana State University Tigers are a sports powerhouse: The baseball team has won the national championship six times and the basketball team has made the Sweet 16 nine times, so any game is a chance to see future pro players in action. But the real star is the football team: Come on a fall weekend and you won't make 10 feet without someone asking if you're here for the game. The town and everyone in it drapes themselves in purple and gold for the days leading up to it, and the campus comes to life in the predawn hours on game day as fans begin to cook the country's best tailgate party, welcoming all comers with gumbo, fresh-shucked oysters, whole-roasted suckling pig, and fried soft-shell crab.
The truth behind Cajun versus Creole food
"New Orleans is Creole city food," says Jay Ducote, an LSU alum, The Next Food Network Star runner-up, and chef of Government Taco in Baton Rouge. "That's not what Cajun food is."
Cajun food, he explains, was the food of the French people who settled in the swamps and had to live off the land, without the port access and resources of New Orleans. On the surface, an easy guide to the difference is if there are tomatoes, it's Creole. And you won't find real Cajun flavors -- the kind eaten by people whose parents and grandparents grew up speaking French -- in New Orleans.
For that, you come to Baton Rouge, where Elsie's Plate & Pie puts a modern spin on Cajun with crawfish queso scooped up with pork rinds, and poulet pot pie with smoked chicken in a tasso cream sauce, or to Lafayette, where Johnson's Boucanière smokes boudin and bakes biscuits just like they have since 1937. Whether you're wandering through a tailgate or taking to the road, the food in this part of Louisiana can make New Orleans look like Applebee's: This is the global headquarters of gas stations serving unbelievable fried chicken and po' boys that spill over with seafood.
Just add hot sauce
Here, almost every table in town holds this area's most famous culinary export: Tabasco sauce. Head south out of Lafayette and you'll hit Avery Island, where every single bottle of the famous hot sauce is made. (On the way down, stop in at Bon Creole for lunch, a barebones counter that serves fried seafood and does a booming business in local bowfin caviar on the side.) Visitors can tour the factory and fields to see how the sauce is made.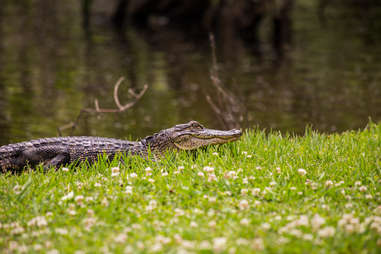 Don't miss out on the bonkers wildlife
After indulging your hot sauce kick, relish in the chance to see one of the best benefits of getting the heck out of New Orleans: the wildlife. Snowy egrets, black bears, armadillos, and, of course, alligators roam the semi-tropical Jungle Gardens, a public garden that welcomes tourists, birders and hobbyist naturalists to explore the grounds.
But even that is barely bite-sized nature compared to the opportunities throughout the Atchafalaya Basin, the giant swamplands that encompasses this part of Louisiana. Birdwatchers, fishermen, and hunters head to the 15,000-acre Atchafalaya National Wildlife Refuge, nestled halfway between Baton Rouge and Lafayette and filled with wildlife. Swamp tours leave daily from both cities, exploring various parts of the giant river basin (Atchafalaya literally means "long river"), taking alligator oglers out on the water and bringing bird-watchers to their personal paradise. Even without a tour, you can wander the Levee trail at the Cypress Island Preserve outside Lafayette.
Whether you're looking for gators, crawdads, or characters, getting out of New Orleans and heading to Baton Rouge and Lafayette brings you face-to-face with the local culture. Unlike in New Orleans, you're not watching a parade go by -- you're participating in the wild rumpus, walking by the river otters and chatting up the fiddle players. It's impossible to get anywhere without a seatmate on the bus, Uber driver, or bartender checking in to make sure you're having fun in their hometown. And wherever you go, you'll meet the locals and learn why they -- like Ducote, Harkins, and Rezende -- ended up in this part of the world: "There's something in how people talk and wave to people on the street -- it's bizarre, but it's cool," says Rezende. "The people are what makes it a town."