Frenchmen Art Market

| Flickr/Kent Kanouse
Frenchmen Art Market

| Flickr/Kent Kanouse
10 Spots Outside of the French Quarter Every New Orleans Visitor Should Hit
If you're even thinking of being in New Orleans, check out the rest of our DestiNATION: New Orleans guide. It's stacked with expert advice from locals on what to eat, where to drink, and what to do.
Marigny
Live performances galore: When you land in town, full of vim but without a plan, just head for Dragon's Den. At any point in a given evening, something special/nuts will be happening on its two stories: comedy, burlesque, punk, reggae, jazz, Latin nights, variety. The cozy backyard, amazing bartenders, and relaxed crowds will ease you into the Big Easy. You might find teen rockers playing their first gigs, or stumble on a brass ensemble you can overhear while sipping beers in the high-walled, ivy-covered back patio. Or post up on the balcony with a $5 grilled cheese and enjoy the breezy river view. It's a great spot to mingle, dance, drink, and celebrate your arrival in the city, and its location right on the outskirts of the French Quarter makes it a great quick escape when you need a breather from the city center.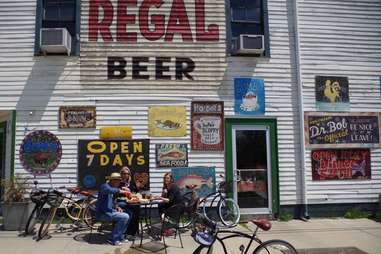 Marigny
Cruise on two wheels: New Orleans' convoluted layout plops a classic American city grid onto the wandering folds of the Mississippi River. The bad news: You will get lost. The good news: You'll be amid romantically beautiful homes and gorgeous oaks and an ethereal atmosphere. To get the lay of the land without totally losing your way, find one of the city's bike tours. The recommendation here is Confederacy of Cruisers, your next-level option with themed outings -- culinary, cocktails, cemeteries, even a tour of the Ninth Ward, still reviving after Katrina made the neighborhood a household word. The tour staff will direct you to the best option depending on your interests and athletic ability, and they lead the rides in a friendly, unscripted fashion. You'll finish with an understanding of the city's layout and lesser-known neighborhoods where, assuredly, fantastic things are afoot. If you're looking for an adventure without the apparent danger, this is the way to do it.
Irish Channel
Meet four-legged locals: Bulldog is your chill, convenient choice for a watering hole on Magazine Street, one of the city's finest drags for shopping, dining, and drinking. Per the name, Bulldog's patio is blissfully dog-friendly -- by definition, a place where neighborhood locals will come to chat, knock back a brew, and maybe even engage you, the inquisitive dog lover. Regulars love its insanely long beer list (48 on draft, and even more bottled) and its renown as a spot to watch sports adds to the attraction, especially during weekends in football season. Even if you're not wild about sports, the gorgeous patio is worth the visit alone. Especially at the Magazine Street location, you can relax on the brick-walled patio and people-watch on one of the most popular thoroughfares in the city.
Uptown/Carrollton
Get your indie vinyl fix: This is where to feel the new wave of musical taste and selection of the younger New Orleans generation, beyond jazz and laissez les bon temps rouler. Connected to Mae's Guitars and Rank & File Books, Sisters in Christ is one of the finest underground record shops in the South, a repository for newer indie, punk, and metal vinyl, cassettes, zines, and memorabilia. Wander in to browse rare vinyl or discover a new favorite artist, and check out its calendar for intimate in-store performances by emerging and established artists. Its friendly staff makes it a surprisingly inviting, intimate place to ask questions and explore.
Central City
Play in a jam session: Simply put, this is one of the most artistically gratifying nights you can spend in the city. Originally hosted at Verret's Bar and Lounge, the Jazz Market, established by local trumpetist/composer Irvin Mayfield, hosts a live Wednesday jazz jam in which the audience may join in and sing, play an instrument, or just sip on specialty cocktails and listen. Even if you're not a jazz aficionado, witnessing such a collaborative, spontaneous event will explain New Orleans to you as nothing else can -- a truly signature event, set in a gorgeously modern performance space. The Jazz Market hosts other events frequently as well: concerts, DJ sets, fundraisers. Even if you can't make a Wednesday, chances are something amazing is happening here.
Slidell
Get unnaturally close to wildlife: Do a couple of big nights in the city on your visit, but don't neglect the day trip into the honest-to-God wilderness just outside town. Louisiana is less a state per se and more of a swamp that supports a couple of occasionally good football teams, so it'd be a travesty not to meet some egrets and gators while you're here. Honey Island, one of the best excursions around, offers shuttle pickup and is less than an hour's drive from the city center. Unlike an airboat tour (also abundant in these parts), a swamp tour lets you slink through the wetlands stealthily enough to actually see animals rather than just scare the hell out of 'em. Plus the licensed guides here know their cypress from their cottonmouths. You'll want to make a reservation before going, but chances are if you plan ahead you'll find a nice balance to the sensory overload of the city.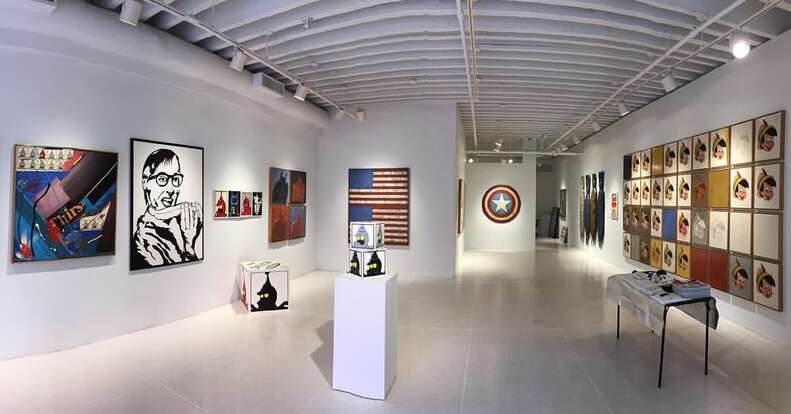 CBD
Explore the art scene: Every first Saturday of the month, the arts district around Julia Street features gallery openings complete with complimentary drinks and top local artists. Even if you can't (or decline, due to weather sanity) make it for the annual midsummer parade, the White Linen Night, the monthly art walk will quickly ensconce you in the New Orleans art scene. The galleries range through avant-garde, abstract, and modern pop; many artists are self-taught while some are more traditional. It all adds up to a New Orleans arts district more local, organic, and approachable than most big-city art scenes.
Treme-Lafitte
Cool off in the dark: In true New Orleans fashion, this theater is open year-round except for Mardi Gras. Locals know it as a favorite place to slow down (or to stop sweating, on summer days) and catch mainstream movies... or, more likely, the experimental, classic, foreign, or cult films that too rarely find their way to theaters in the South. You don't have to buy a ticket to enjoy the fully stocked bar, complete with a happy hour and film-themed cocktails. (A pre-2016 election screening of Idiocracy, for instance, featured Brawndo-flavored Jell-O shots.) Keep an eye out for film festivals and restaurant pop-ups at this warm, modern venue.
Seventh Ward
Curated (and cheap) global tunes: Bottom line, this is where you go to browse a huge selection of music you'd have a hard time finding anywhere else. Cash-only, it sports volumes of vinyl and cassettes across blues, jazz, punk, world, and indie, all for a reasonable price -- $50 or under, priced, as owner Matt Knowles says, so that people will go home and listen to it. He scours record shops in Jamaica and New York, seeking the best stock for this treasure-filled spot. Whether a new release, an obscure discovery, or a classic album, your next favorite record is here somewhere.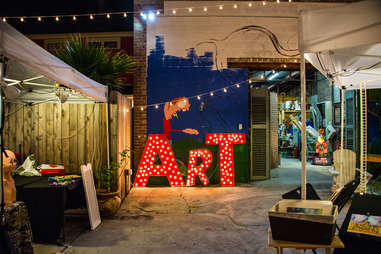 Central Business District
Comb the local crafts: This outdoor art market attracts local artists who sell beautiful prints, jewelry, apparel, and buttons -- an all-ages crowds know to come here for mementos instead of falling into the bead-and-novelty-T shops on Bourbon. Or simply browse the wares and take a respite during your stroll through Frenchmen. Especially on nice-weather nights, its open-air pavilion is worth seeking out for its mellow string lighting, benches for resting your weary feet, and chalk to scratch out some art of your own.
Sign up here for our daily New Orleans email and be the first to get all the food/drink/fun in the Big Easy.
Dinah Bakeer, a New Orleans native, is a writer and programmer living in Queens. She can usually be found playing '90s JRPGs and drinking gallons of soda. You can find her on Twitter @mondeparfait.