The Black-Sheep Oddball Place in Each State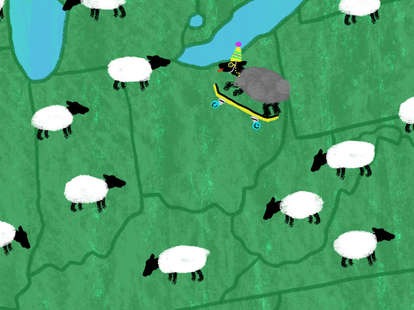 Daniel Fishel/Thrillist
Daniel Fishel/Thrillist
The United States epitomizes flux. As the salad bowl of the world, it's constantly absorbing new people, cultures, and ideas from around the planet. Over centuries, that has made a nonsense game of many state lines. At least five states could legitimately be split in half, they're so different within their own borders. California could be about nine states. Texas could be at least two countries, both rushing to build a wall between them. Florida could be another planet.
In every state, there's that one spot that seems to have wandered in from somewhere else. Sometimes the politics make the outcast. Sometimes, the ideology. Sometimes it's because it just looks different, and whenever visitors arrive their first words are "I can't believe THIS is Iowa!" So as a shout-out to all the weirdos, oddballs, and outliers who just don't jive, here are the places that have every state considering a paternity test.
Alabama
Huntsville
Because the state is mostly full of Alabama natives who worship college football, Alabama is known as a place where grown men weep over late-game penalties on YouTube videos. That, and the Redneck Riviera. Meanwhile in Huntsville, the aerospace industry has enlisted engineers, scientists, and ex-military geeks from around the country to work for Lockheed Martin, NASA, Northrop Grumman, and others. So while Huntsville might still be in Alabama, don't be surprised if you meet a transplant here who isn't referring to 'Bama when he says he's a defensive specialist.
Alaska
Southeast
It's hard to pick a part of a state that makes up 17.5% of America's landmass that's different from the rest. It's just so vast. But while most of this state is known for brutal cold, endless nights (and days), and Jack London-esque inaccessibility, Southeast Alaska is more Pacific Northwest than northern tundra. Sure, you'll still see glaciers here, but snowfall amounts only to about 37in per year (compared to 75in in Anchorage) and the sun actually sets in June. Temperatures are tolerable, not much below freezing in the winter and not much above 70 in the summer. And rather than everlasting frontier, most of the region is made up of green, towering islands.
Arizona
Arcosanti
Arizona is thoroughly desert, from the hot and low variety in Tucson to the crisp, clear elevations of Flagstaff. So even an artsy little place like Sedona is still distinctly Arizonan. If you want someplace unique, try this "experimental town" built atop a hill 70 miles north of Phoenix, an exercise in what planners call "arcology," or the mix of architecture and ecology. More than 7,000 volunteers have contributed to build the city since the project began in 1970 (to live or work there you must also build part of the town). The economy here is based more on barter than purchases, an experience you won't find much of anywhere in America, much less Arizona.
Arkansas
Eureka Springs
Somehow the hermit-ish, religiously conservative Ozarks also boast a tie-dyed resort enclave that keeps passing the state's most progressive LGBTQ protections. Nestled into steep, forested crags, the town is full of Victorian homes, touristy hotels, and shops -- and despite sitting an hour's drive from the world headquarters of Walmart, no chain stores. The architect E. Fay Jones selected a hill right outside town for his Thorncrown Chapel, one of the most architecturally significant American churches of the 20th century. This place isn't just cats and dogs living together; it's hippies, bikers, and bougie tourists all drinking at the town's haunted Crescent Hotel, looking out on a 66ft-tall statue of Jesus a couple of hills over. Because, yeah, you're still in Arkansas. -- Sam Eifling, Thrillist Travel editor
California
Orange County
Finding an outlier part of California is about as hard as putting your finger anywhere on the map -- it's all distinct, guys. But Orange County might be the most openly conservative part of this eclectic state. OC, especially south of the 55 freeway, is made up of rich folks and business owners who aren't big on the taxes and regulation that have become California's trademark. So you end up with the state's Republican stronghold, where conservatism is respected and listened to, and not shrugged off as talk-radio rambling. And even though the county is still ripe with surfers and artists, it's the rare part of California that doesn't cling to a single ideology.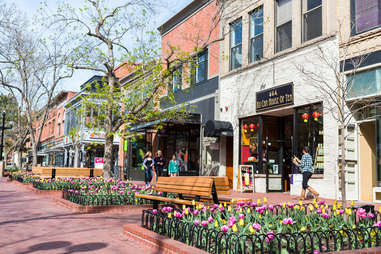 Colorado
Boulder
One of the best breakfast spots in the country is Boulder's Village Coffee Shop, the type of greasy spoon serving pancakes the size of the entire plate. It's been around for 40+ years, and this is its motto: "890 square feet of reality, surrounded by Boulder." Yes, this town is paradise for anyone who hikes or bikes, but there's something else distinct here. It can be boiled down to this: money mixed with consciousness. In Boulder, you're eco-conscious, and ultra self-conscious, too. There are multiple shops to buy yoga pants, but hell if you'll find 'em under $90. You will definitely see a Tesla or two. And unlike rich ski towns like Aspen, Boulder is a place where (wealthy) people live and work year-round. The median home price is currently at $705,000 and the constantly remodeled Whole Foods is the nicest you'll ever visit. It might not be reality, but that's what makes it uniquely Boulder. -- Lee Breslouer, Thrillist staff writer
Connecticut
Stamford
The word "Connecticut" is often used as a synonym for "waspy and uptight." Or, when referring to certain parts of the state, "carjacking." Either way, what people don't picture are low-rise office buildings and a series of TV production studios that double as America's trash-TV incubator. Even if you ignore that the WWE (the company whose CEO was once choke-slammed by Donald Trump on pay-per-view) is headquartered here, it's also where America's finest citizens go to find out on national television if they have illegitimate children on the Maury Show. Or Springer. Or Steve Wilkos. Because they're all filmed in one building here that dumbs down America one hour at a time.
Delaware
Delmar
Delaware is just big enough to be known for a handful of great beach towns and your credit card bills. This town breaks the tiny mold because it's not even entirely IN Delaware. As the name implies, "the little town too big for one state" straddles the border with Maryland. Its seal includes both states' flags, and appropriately it has a mayor and a town council for each side. In many other major respects, Delmar is one town with one government. There is one central administration, one police department, one public works department, one town website, a shared school district, and jointly owned and operated sewer/water facilities. And yet it might be the weirdest place in the state.
Florida
Hialeah
Finding the biggest oddball in Florida is kind of like pinning down the smartest guy at Harvard. That is, if Harvard offered a major in meth production. Still, while Floridians joke that Miami is really a separate banana republic, the most bananas part of that republic is Hialeah. This industrial city in Northwest Dade is a place where you're equally likely to do your produce shopping while stopped at a red light or get a truckload of flip-flops toppling onto your car. The mayor once punched a guy out on a freeway during rush hour... then was almost elected to Congress. All services, be it hair, makeup, or passport forgery are done by "my guy" who comes to your house and markets only by word of mouth. And if the absolutely mind-boggling street grid doesn't have you thinking you've somehow gotten lost and ended up in another hemisphere, a day of shopping at a department store called Nooo! ¡Que Barato! (Dang! That cheap!) absolutely will.
Georgia
Helen
The temptation here might have been to go with one of America's great college town in Athens or Savannah. But Savannah, while beautiful, is decidedly Southern. And Athens is, well, full of people from Georgia. Helen? It looks like someone dropped Bavaria on the Chattahoochee. While German theme towns are nothing new in America (we see you, Solvang) the alpine forests here seem like Germany adopted a hospitable Southern drawl. The city is full of bed & breakfasts and charming little shops, and a short jaunt out of town has you in full-on Georgia wine county. Or German. After a couple of days you might forget the difference.
Hawaii
Mauna Kea
Unlike other states, Hawaii comprises a series of islands that, because they were born millions of years apart, really have distinct personalities. But they all have warm weather, palm trees, and spectacular beaches, right? Well, yes, snow skiing in Hawaii sounds as silly as a surfer's paradise in Alaska. But the Big Island has eight climate zones, including persistent snow at the summit of this 13,796ft peak known as White Mountain. On occasion it will get enough that people can actually take their boards or skis to the top and slide on down. There's no lifts, ski patrol, or lodges with hot cocoa, and every winter some underprepared hiker seems to spend the worst night of his life lost after dark. But if you want to find snow in a tropical paradise, you'll find it here.
Idaho
Boise
Though one of the most underrated beautiful places in America, Idaho has a reputation for being home to reclusive weirdos in the north and Mormons in the south. Boise (pronounced "BOY-see"), however, is like a little slice of Portland right in the middle of the state, a spot hipsters have transformed with stuff like the Freak Alley outdoor mural gallery, 11 breweries, and restaurants like Bittercreek, which has the largest on-site composting program of any restaurant anywhere. While much of the state feels rural and remote, Boise is decidedly urban with a ballet, philharmonic, zoo, and even a horse track.
Illinois
Chicago
Since most of what people know about Illinois IS Chicago (quick, name three other cities, Chicago suburbs don't count) you could just call all of downstate the oddball. But we should celebrate the profound outlier that is Chicago. Once one gets outside the city, Illinois is decidedly rural, with miles between cities and nothing but rolling hills and flatlands in between. It's a country environment that feels more akin to the South than to the urban Midwest. All of that is forgotten once you drive to within view of the Chicago skyline. Ten million people, five major pro sports teams, a world-class arts and museum scene, and two completely fusterclucked airports -- sweet home Chicago, they call it for a reason.
Indiana
Broad Ripple
The name is almost as hilarious as the place itself, a bastion of stuffy trendiness in a blue-collar state. As one proud Hoosier puts it, Broad Ripple is "the buffer zone between Indianapolis and Carmel, a kind of T.J.Maxx version of a hipster neighborhood with equal parts hipster, Phish fans, and Carmel moms getting the partying out of their system since they got married immediately after leaving IU or Purdue." Put it that way, actually, and it doesn't sound half bad.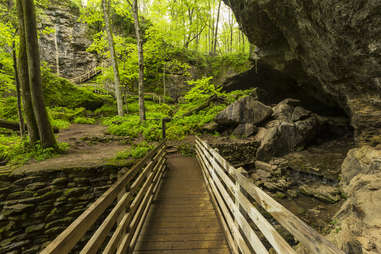 Iowa
Maquoketa Caves State Park
People who think Iowa's merely the cradle of high-fructose corn syrup have probably only seen it from the window of an airplane. The state has A LOT more to offer than just cornfields, like this park in the "Driftless" region. Turns out, glaciers didn't wipe everything out during the last ice age, and these limestone caves (and the green wilderness around them) remain. So while the rest of Iowa might be as flat and corn-strewn as you learned in fifth grade, this section looks more like it wandered in from Northwest Oregon.
Kansas
Lawrence
The only time many Americans think about Kansas is during that last two weeks of March, when the unofficial state slogan becomes "Rock chalk, Jayhawk!" No city represents the state more often, and yet it is a state apart. Kansas the Giant Rectangle is full of plains and wheat and lawmakers who disagree that evolution is, like, a fact. Lawrence, home to Kansas the U, stands as a place weirder, artsier, more cosmopolitan, and more permissive than the rest of the state. Perhaps nowhere in America are red-on-blue basketball uniforms more fitting.
Kentucky
Covington
It's not surprising that the city that's the coolest suburb of a city in Ohio is also the place most unlike the rest of Kentucky. Oh, sure, it's got its share of bourbon, with two of the nation's best bourbon bars in Wiseguy and the Old Kentucky Bourbon Bar. But the feel here is part hipster, part historic Southern, with 16 nationally registered historic districts and the Kentucky side of the Roebling Suspension Bridge, alongside the MainStrasse Village with its galleries and artists spaces. Though the history here feels Kentuckian, walking around the streets of Covington is more like being in a college town or trendy northern suburb than anything Bluegrass.
Louisiana
New Orleans/Southeast Louisiana
Though Louisiana is as Southern as states come, locals joke that its southeast portion should be an entirely different state. Why? Cajun culture. When most people hear those words they immediately think New Orleans, but the culture is more intricate than that. It embodies the bayou, the French influence, and some Southern, Saints-loving, Creole/Cajun food-embracing, laissez-faire attitude. The rest of Louisiana, come to think of it, might be the entirely different state.
Maine
Aroostook County
Aside from maybe some exterior shots from Murder, She Wrote the images that come to mind when one things of Maine involve lobster and lighthouses. Acadian French architecture, maypoles, and Amish country? Not so much. But that's commonplace in the area known simply as "the county," home to large populations of Acadian, Amish, and Swedish descendants. Sixteen Acadian French families settled here instead of in Quebec or Louisiana, and at the Acadian historic museum in Van Buren you'll find 16 reconstructed buildings dating from 1785 to the early 20th century. It's also home to the towns of New Sweden and Stockholm, where each June descendants of the original Swedish settlers celebrate Midsommer complete with a maypole. The country also boasts the only Amish communities in all of New England.
Maryland
Capital Region
Maryland prides itself as a great nautical destination. Annapolis is the recreational sailing capital of the world! Ocean City is one of America's best beach towns! They put something called "Old Bay" on literally everything! So an area full of government workers' families who tell people they're from DC when they go anywhere outside the state is not Maryland's idea of identity. That's not to disparage Frederick, Montgomery, and Prince George's Counties. They are lovely places with fine residents and sport funny city names such as Chevy Chase. But they are effectively part of the greater DC area, cousins to Fairfax and Louden Counties in Virginia, and more northeastern-urban than Mid-Atlantic. Though they probably still put Old Bay on everything.
Massachusetts
Provincetown
Sitting on the far end of Cape Cod can make a place feel pretty isolated from anywhere, but when you're as isolated from the rest of the Cape as Provincetown is, you really do feel like you're in a different world. Gay vacationers know it as a destination city; you might know it as the town that gave Anthony Bourdain his first cooking job (and also introduced him to heroin). For its residents, it's just a small town of fisherman and salty old New Englanders. And while the economy in the rest of the state has become varied with education, technology, and other fields, the ups and downs of this town depend largely on how much fish they catch.
Michigan
The Upper Peninsula
Yoopers will be the first to admit they're an odd set of folks, by any measure. It takes a special type to live in such wild, primal isolation. And to deal with all that cold and snow, which they don't even seem to mind. What they do mind? When the summer temps have the temerity to crest 80. "I came up here to be where it's cool," one Yooper grumbled to me a few years back on what, to anyone else, was a perfectly nice summer day. But the biggest thing that sets the Upper Peninsula apart from the rest of Michigan? Well, probably the strange dialect of Canadian English they speak. And the second-biggest thing? Up there, they are Packers fans. And in Michigan, so loyal to its home-state teams, choosing the Cheeseheads over the Lions is treason -- even if Green Bay is about a thousand miles closer to the UP, both culturally and geographically, than Detroit. -- Bison Messink, Thrillist deputy editor
Minnesota
North Shore Scenic Drive
Hey Chris Cornell, you're not the only one who can say he's looking California, but feeling Minnesota. So can pretty much anyone who's taken this drive along the north shore of Lake Superior. The folks here are every bit the Scandinavian nice you'd expect in Minnesota, but the views of the twisting road along the shoreline are more reminiscent of Big Sur and the PCH than the Land of 10,000 Lakes. The view here could easily be mistaken for ocean, and the towns that dot the road are full of small waterside bistros serving fresh fish to those who drive through.
Mississippi
Mississippi Gulf Coast
The Gulf Coast is much more like New Orleans than it is like the rest of Mississippi. Once you get south of I-10 the state turns into an artsy, creative coastal community with towns like Bay St. Louis -- a sort of Sausalito-on-the-Bayou -- and Ocean Springs, one of the best beach towns anywhere. Throw in the towering casinos of Biloxi and an overwhelmingly diverse and accepting population, and the Gulf Coast is not at all what people associate with a state with the Confederate emblem on its state flag. You can learn more about why right here.
Missouri
The Bootheel
This area in Southeast Missouri was originally supposed to be part of Arkansas when Missouri first applied for statehood. And not much has changed since then. Also, the area includes Cape Girardeau, better known as the birthplace of Rush Limbaugh. I think we're done here.
Montana
Missoula
Missoula carries a well-known slogan you can see on the beer cap above. The home to the University of Montana is, as one Montanan told us, "filled with hippies, brooding artist, poets, microbrewers, bike commuters, river surfers, and so much more. All around town, you'll see 'Keep Missoula Weird' stickers. Though it's a blatant rip-off of Austin's slogan, it still rings true."
Nebraska
Monowi
We could have gone the easy route here and told you Omaha is the only urban center in the state, and is home to the College World Series AND Warren Buffett. But you want oddball? Try this little town that gets as close to Peter Griffin's utopian Petoria as any place in the world. Monowi, once a thriving metropolis of 150, now has a population of exactly one person, making it the smallest town in America. Elsie Eiler not only serves as proprietor of the friendly Monowi Tavern, she's also the mayor, town librarian, and civic liquor control board. And if being an entire city run by one person doesn't make you different than the rest of the state, we're not sure what does.
Nevada
Lake Tahoe
Anyone who's driven through Nevada can safely tell you there's no need to drive through Nevada. The place makes Mars look lush. The only respite is the occasional small town anchored by a sad little casino and a gas station with slot machines. And then there's Lake Tahoe, nestled right on the California border and filled with emerald-green trees and crystal-clear blue water. It's like the reward at the end of the long, dusty Nevada trail and has much more in common with the Sierra Mountains than anywhere else in the state. But when you combine the scenery, outdoor recreation, and fantastic food with the Nevada-required casinos, it makes for one of the best places in America to have a bachelor party.
New Hampshire
Hanover
If there were a metro area anywhere near Hanover, it would have found itself squarely on this list. While most of New Hampshire is full of isolationist "Live Free or Die" types, who lives in a far-flung New England state to escape urban bullshit, Hanover is more like "I'm rich, leave me alone." The area is literally an hour from ANYTHING, yet somehow boasts some of the most expensive real estate and highest cost of living in the state. Meaning that there's either some serious collusion going on in the real estate market, or rich people are willing to grossly overpay to never have to deal with the common folk.
New Jersey
Newark
While most of the state is either NYC/Philadelphia suburbia or coastal beach towns, Newark is a distinctly urban place with its own skyline and character. Newark has its own miserable airport, its own professional hockey team, and its own rapper who reps the city hard every chance she gets (Queen Latifah, in case you missed it). And sure, Jersey City might also have a big-city ambience in suburb-and-beach-filled Jersey, but it feels more like an extension of New York than its own Jersey pride-filled metropolis. Plenty of New Yorkers make the commute into the city from Newark, but once you set foot there something feels decidedly different.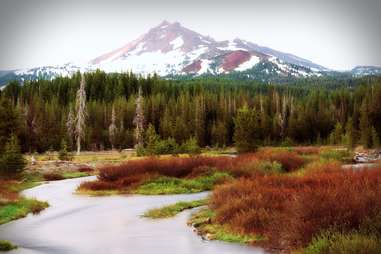 New Mexico
Taos
Albuquerque might not be as bad as everyone who's ever watched Breaking Bad assumes, but the desert around it leaves no doubt it's definitely in New Mexico. America's fourth-largest state is primarily arid desertscapes, right until you get to the mountains of Taos, home to a 79in snow base and white-capped peaks. Even if you visit in the summer, the experiences are, well, odd. Wanna stay in something called an "Earthship" and go off the grid and grow you own food? Or go on a llama trek? You can do it in Taos. All the while listening to its notorious hum, a mysterious underlying low-frequency buzz that only some people can hear.
New York
New York City
It's different than the rest of the state. By a lot. Like someone dropped London or Paris onto the edge of West Virginia. And we've all heard enough about New York from, literally, every New Yorker ever. So on we move.
North Carolina
Yadkin Valley
No state's character has changed more over the past 20+ years than North Carolina. Once a staunchly Southern state known for bass fishing, hog farms, and military bases, North Carolina has been inundated with academics, bankers, tech folks, and hipsters. Set apart from all of that is this wine region just west of Winston-Salem that was once the state's largest tobacco-growing area. Choosing to focus on a different vice, winemakers here adapted European grapes to the climate, soil, and pests of the 1.4 million-acre valley. The, er, fruits of those efforts resulted in Yadkin Valley becoming the state's first American Viticultural Area, and an unexpectedly charming wine region in a state not known for wine.
North Dakota
Medora
When you think about North Dakota you picture, what, Fargo? Which took place in Minnesota. Wide-open prairies? Fracking? Sure, but what you sure as hell DON'T think about are renowned outdoor restaurants and musical theater. Which are the trademarks of Medora, an Old West town in the heart of the Badlands, on the edge of Theodore Roosevelt National Park. Its claim to fame is the Medora Musical, an annual summer production by the townspeople to celebrate the legacy of Teddy Roosevelt. It's a perfect prelude to dinner at Pitchfork Steak Fondue, possibly the most self-explanatory restaurant on the planet, with a sweeping patio view of the Badlands.
Ohio
Lake Erie Shore
"Ohio, Island Paradise" was just BARELY passed over for the state tourism slogan in favor of "Ohio, find it here." But had it been adopted, people would know about this coastal region near Lake Erie: 200 miles of coastline from Toledo to Conneaut with beaches that get people blurting, "THAT'S in Ohio?" The islands between Toledo and Cleveland -- Kelleys Island, South Bass/Put-in-Bay, and Middle Bass -- are accessible only by ferry, but host some of the wildest beach parties of the summer, most notably on South Bass. A far cry from the Midwestern rolling hills and prairies of the rest of the state, this region feels more like Michigan's coastal areas or even the Northeast. And is one of the more underrated summer destinations in America.
Oklahoma
Tulsa
Even in NBA-crazy Oklahoma City, cowboy culture defines Oklahoma. Yet in Tulsa -- the smallest US city with its own ballet, opera, and symphony -- country-Western radio, megachurches, and old oil money coexist with world-class museums (the Philbrook and the Gilcrease), Art Deco architecture, and a trendy Downtown. Tulsa has diversified from hydrocarbons to aerospace and finance, and its cornerstone event is oddly international for this landlocked state: an Oktoberfest that ranks among the best anywhere. But true to its roots it has doubled down on local culture with its weekend-worthy Brady Arts District and an urban garden and performance park called Guthrie Green, named for Woody. Even cowboys need their poets.
Oregon
Burns
Even if you pay no attention to its university's zany football uniforms, everyone associates Oregon with the color green. Maybe because of the abundance of evergreen trees, maybe because of the legalized marijuana. But what they don't think of is hard-living high desert, the dominant topography of Southern Oregon. This city known as "the gateway to the Steens Mountains" isn't hippie or hipster, there's one brewery (the state's smallest, in Steens Mountains Brewing), and it looks more like a small town in the Southwest than any parts north.
Pennsylvania
Philadelphia
When your high school sports teams decide to take their balls and go home, you've pretty much clinched the honor of differentiating yourself from the rest of the state. So even though Philadelphia-area schools have finally given in and participated in PIAA statewide championships over the last decade, for years Philly schools literally played in a league of their own. Prep sports aside, Philadelphia is every bit a Northeastern city complete with colonial historic sites. Much of the rest of the state is rural, and Pittsburgh feels more Midwest than Northeast, as do much of the other smaller cities like Harrisburg and Jamestown. Philly, meanwhile, is the de facto capital of South Jersey.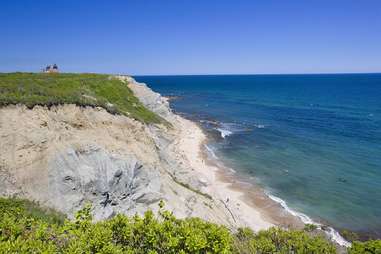 Rhode Island
Block Island
Thirteen miles off the coast of non-island Rhode Island sits this actual island. Assumed by many boaters to be part of New York or Connecticut, the island is full of clay cliffs and bluffs, and the beaches here are free and open to the public (a rarity in the state). It's also so remote that light pollution is minimal, so unlike on the densely populated mainland, stargazing here is pretty spectacular.
South Carolina
Myrtle Beach
South Carolina has an air of genteel Southernness about it, whether you're along the coast in Charleston, the capital in Columbia, or transplant-laden Greenville. Myrtle Beach, however? Well, yes, it's one of America's best beach towns, but it's still shaggy around the edges. It's made strides, with the new Downtown boardwalk and creative restaurants, but it's still home to Bike Week and weekend blowouts for people all over the region. And whatever inhibitions Southern culture might bestow on the rest of the state are pretty much nonexistent here.
South Dakota
Spearfish
Part of what makes South Dakota so incredible is its transformation as you travel east to west, across prairies, badlands, and mountain peaks. It's remote, beautiful, and quirky all at once, but the strangest part of the state is this town of hipsters just a quick jog away from Belle Fourche, the epitome of the Dakotas. One South Dakotan reports:
"Spearfish has a beautiful restored opera house and is surrounded by amazing hiking potential. The Downtown looks like the place where you could always buy a Hacky Sack. Crow Peak Brewing (the first SD brewer to distribute its beer in what has probably been a very long time) shares a driveway with Black Hills Milk, a sort of permanent farmers market where customers can find fresh veggies and cheese samples waiting for them
"Drive 13 miles away and find an entirely different world. Belle Fourche is the land of ranchers and boots where the best greasy-spoon restaurant in town has a sign reminding you to scrape the shit off of your boots before entering. Go for a drink in Spearfish and you'll probably find nice beer/wine options. In Belle Fourche, you're going to find wood, denim, and, if you ask about the craft beer selection, probably a funny look from a bartender in boots."
Tennessee
Gatlinburg
Gatlinburg feels like somebody was carrying a tacky Northeastern beach town to Florida for the winter, got lost in the Great Smoky Mountains, and just said, "aw, heck, this'll do." It's got all the trappings of a tasteless boardwalk -- Ripley's museum, Trumpianly offensive three-for-$10 T-shirts, endless mini-golf -- without the benefit of any actual beach. It does border on the Smokies, which are lovely, but the town is nothing about Tennessee, and everything about entertaining the 9 million people who flock to the park every year. If the world ever suffers a shortage of Old West photo shops, Gatlinburg will be there to save the day.
Texas
Austin
Liberals from the West Coast and Northeast who dream of moving to the Southern utopia of Austin always justify it by saying something like, "At least it's not REALLY Texas." Like somehow that's a good thing. And whenever an oddball of any state gets brought up, it's inevitably called "The Austin of Wherever." Sure, the influx of tourists who decided to move there has homogenized some of the city's abject weirdness. But as home to the University of Texas, the city will always have its share of Berkeley-ready characters. Even with great barbecue and obsessive football fans, Austin still feels like an island in a big strange state. You could say it's the Austin of Texas.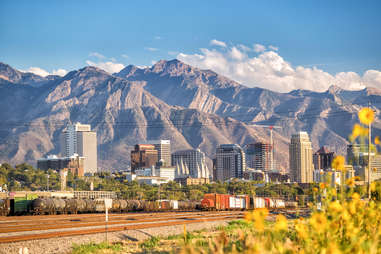 Utah
Salt Lake City
Most of Utah leans hard Mormon and, for better or for worse, remains fairly homogenous. The exception is Salt Lake City, a place anyone who's seen Book of Mormon says with a Ugandan accent and the one city in Utah you could begin to call diverse. While many counties in Utah top 80% LDS inhabitants, Salt Lake County comes in at just over 50%, with a sizable Hispanic population as well. Since the 2002 Olympics introduced laws that allow for actual bars, the city has developed a nightlife scene, and as home to the University of Utah and other small colleges, Salt Lake has a noticeable counterculture. It's still not what most people would consider "oddball." But you know the rules here -- we're grading on a curve.
Vermont
Duxbury
Vermonters are in the business of keeping it weird. No other state could create cookie dough ice cream, forge the modern jam band, or efficiently abide by the archaic voting procedures of Town Meeting Day for the past 200 years. Picking the weirdest of the weird was tough -- honorable mentions to the owners of the dog chapel in St. Johnsbury and to everyone who's claimed to see Nessie, the lake monster. Duxbury wins, for its subtly odd tradition of publicly electing a town dog catcher. The reigning catcher is local boy Zebulon Towne, who, brace yourself, also makes maple syrup. It's still Vermont, you guys. -- Sean Cooley, Thrillist senior editor
Virginia
Fairfax County
To much of Virginia, Fairfax County is that older brother who went away to a nice college and came home for summer vacation acting like he knew everything. A state that is predominantly rural and military has somehow turned into a blue state, due mostly to the influx of transplants who've moved to this DC suburb and the influence they have. Because million-resident Fairfax is a bastion of Northeastern liberalness in a Southern state, it's not exactly embraced by Virginians outside the beltway.
Washington
The Palouse
If you dropped someone from a helicopter in the middle of the Palouse and told them they were in something called "The Evergreen State," they'd either think you were being ironic or that they'd somehow been rendered colorblind. This windswept desert in Eastern Washington might be in the running for America's most miserable place, a wasteland painfully hot in the summer and savagely cold in the winter. While ultra-liberal Western Washington can get marijuana legalized, the people of the Palouse don't exactly see eye-to-eye with what goes on in Olympia. Which is why many of them would like to see the state split right down the Cascade Mountains.
West Virginia
The Greenbrier
Most Americans can't say the words "West Virginia" without immediately following it with an unoriginal joke about marrying cousins or couch burning. So it's not exactly the first place one would expect to find a grand hotel that dates back to 1778, with 10 lobbies, 96 guest houses, nine restaurants, eight bars, a 100,000sqft casino, and a golf course that hosts an annual PGA event. But the coolest hotel in West Virginia showcases the state's natural beauty in an atmosphere of sophistication, as one of America's greatest resorts and a historic tribute to opulence. It's also the home of Prime 44 West, the best steakhouse in the state.
Wisconsin
Madison
Yeah, we know. College towns are easy picks and there's also the ice caves of the Apostle Islands, a complete contrast from America's Dairyland. But Madison is the only place you'll find New Yorkers. Or, more generally, "coasties," the kids who've heard about what a great place Madison is to spend the weekend and decided to go to school here. Much like Austin, it's home to the state's major university and is therefore the hotbed of creativity, technology, and general liberal-leaning politics. And underrated as Milwaukee is, when it comes to a good time, nowhere in the state tops Madison.
Wyoming
Jackson Hole
Though the college town of Laramie is a far more bohemian and liberal town than the rest of the state, it still feels very much like Wyoming. The Jackson Hole area, on the other hand, is a bastion of vacationers and yuppie transplants from other states. Jackson resembles the rest of the Cowboy State in exactly zero ways -- except for its natural, mountainous beauty. If Jackson Hole is the only part of Wyoming you've ever been to, you still haven't been to Wyoming. -- B.M.
Sign up here for our daily Thrillist email, and get your fix of the best in food/drink/fun.
Matt Meltzer is a staff writer with Thrillist who loves a good oddball. Follow him on Instagram: @meltrez1
.