There totally is sex in this Champagne Room
When Chris Rock said there's no sex in the Champagne Room, he couldn't have been referring to the Sweet Suite that is Cove Haven Resort's Champagne Tower: a red & gold, glammed out, four-level love station that was designed with a specific kind of pole dancing in mind.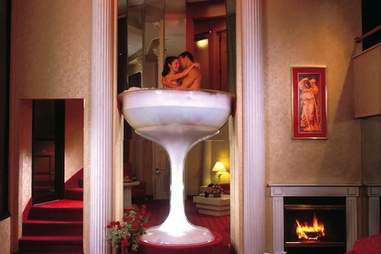 The main attraction: a 7ft Champagne glass whirlpool accessed by the top floor. Nakedly embrace like no one's... er, taking pictures.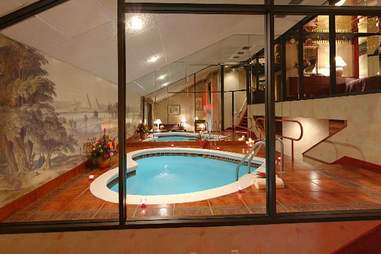 Lovebirds looking for something less bubbly can dip into the in-suite, heated, heart-shaped swimming pool.
The round king-size bedroom has something called a "celestial ceiling", which properly translates to a "watch-yourself-do-it ceiling".