Presented By
Why Right Now Is the Perfect Time to Fall in Love With Portland, Maine
Get to THIS Portland before it becomes THAT Portland.
Presented By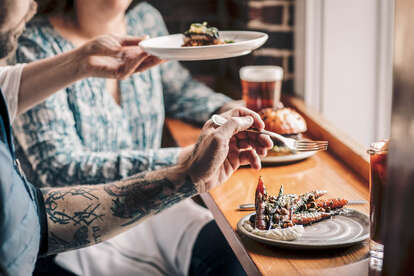 Central Provisions is one of Portland's many, many must-try restaurants

| Kari Herer
Central Provisions is one of Portland's many, many must-try restaurants

| Kari Herer
Note: For the latest information on Maine's response to COVID-19, click here. Keep in mind that many businesses and public lands across Portland may be closed or limited, and events may be cancelled or postponed. For updates on temporary closures and travel restrictions in Portland, click here. For now, use this guide as inspiration to satisfy your wanderlust safely from home.
Portland has always had a special place in people's hearts, even if they haven't actually been there. In the minds of many, it epitomizes the deep-Northeastern experience, conjuring visions of fishermen walking streets straight out of an L.L. Bean catalog.
That Portland's still here -- lighthouses, lobster rolls, and plenty of opportunities to use the word "quaint" -- but things are changing. These days, bearded brewmasters seem to outnumber actual fishermen. The food scene has morphed into world-class, destination dining that doesn't start and stop with lobster. Artists and creatives are flocking to the city's shores. And word is spreading so fast, it won't be long before the vibe starts to feel on par with the next, well, Portland. Or Asheville. Or Denver.
Go now to catch this town in transition. New and old are still in near perfect harmony, and there's never been a better time to fall in love with the city. That's why we've selected Portland as one of our 20 Places We're Dreaming About in 2020. What follows is a handy, five-day itinerary for your consideration -- packed with tips for places to visit, things to do, and seafaring creatures to eat.
Know before you go
If you like cozying up with scarves, a toasty fireplace, and a lot of snow, Portland certainly delivers in the fall and winter -- and spring, honestly -- when you'll also be tempted to leave the city for skiing. If you're coming to Portland to experience its rich maritime culture -- the Tall Ships Festival shows up in Portland in July -- you're going to want to stick to the warmer months. Portland summers, though short and sweet, are sunny, warm, and come with lots of activity on the water -- aim for July or August.
Day 1: Getting to know Portland
Arrive at Portland's International Jetport, just 2 miles from downtown Portland, then head downtown. Staying in the heart of the city is key, given its smaller scale and easy walkability. For quick access to the sheer volume of restaurants, galleries, shopping, and 'grammable #content, you're going to want Old Port. This is the heart of Portland's history, from the brick facades and cobblestone streets, to the working waterfront, along with a range of quality hotels and nearby Airbnb options that will keep you tapped into the main vein.
Grab a decadent lunch at James Beard-nominated Central Provisions -- don't skip the bone-marrow toast -- then wander around Old Port and downtown to get a feel for the colonial coolness (it's a thing) of the city. In the evening you'll want to visit The North Point, which has fantastic cocktails and globe-spanning meat and cheese boards in a brick-laden, cozy atmosphere.
MORE: The best restaurants in Portland
Day 2: Go island hopping in Casco Bay
Did you come in summer or winter? Either is great. But if you want to maximize your outdoor time then summer and fall are best. After breakfast, head over to the waterfront to take a trip out onto Casco Bay to explore the many Calendar Islands that scatter across it. (Fun fact: The Calendar Islands got their name from Captain John Smith -- yeah, that John Smith -- because he thought there was an island for every day of the year. Truthfully, there are only 220.) One of Portland residents' most beloved is Peaks Island, just an 18-minute ferry ride from the city. Cycle through the country lanes to look at the colorful cottages, sprawl on the pebbled beaches, or eat fantastic lobster rolls at The Inn on Peaks Island.
When you head back to the mainland, pop by the iconic Holy Donut for one of their classics (these are potato donuts made with all-natural ingredients, if that somehow makes you feel less guilty).
Traveling may be on pause, but that doesn't mean your dreaming and planning has to be. With The Marriott Bonvoy Boundless™ Card, earn 6X Points at 7,000+ hotels participating in Marriott Bonvoy™ and 2X Points on all other purchases, including future flights. For the journey ahead, carry a card that's here for you now.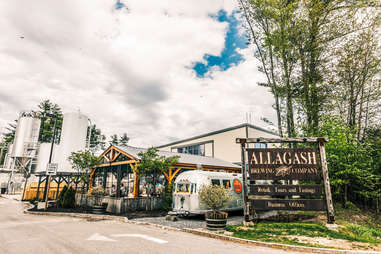 Day 3: Enjoy a good old-fashioned Portland beer crawl
Brewery day! Portland's brewery scene is one of the fastest growing in the country. We're not going to tell you how to do a beer crawl, but we will say you're doing it wrong if you don't take advantage of food trucks and pale ales at Rising Tide Brewing; farmhouse ales at Oxbow Brewing Company; ever-changing canned New England IPAs and crisp pilsners at the white-hot Bissell Brothers; and legendary Belgian-style beers from Portland OG Allagash (which was passionately discussed among America's best breweries to visit on a recent Thrillist podcast).
Most of the breweries are walkable and have good food options, but this is also a good day to stop in at Duckfat: A stalwart of the chef-driven sandwich movement and a can't-miss bite in the city. They serve up sandwiches like the next-level Overnight Duck Confit with duck fat-fried frites and donuts. Which is to say, it's good, rich beer-crawl food.
Day 4: Take in some history and modern art
If you like history and culture, you will probably want to snap a picture of the Portland Head Light. It's the oldest lighthouse in Maine, and one of the most photographed. Grab an Uber out to Fort Williams Park to check it out up close, along with the namesake fort, a historic mansion, and more. It's not an entire day's worth of an activity, but it is a cool photo op. Back in the city, there are plenty of museums and galleries to check out, like the Portland Museum of Art, which has its fair share of Warhols and Monets.
In the evening make your way over to lovely West End, which is known for its quiet waterfront park promenade, as well as its explosive sunset views. Come dinner time, head over to Washington Avenue, an emerging neighborhood that is being highly praised for its burgeoning restaurant scene. Here is where you'll find everything from a fresh raw bar at The Shop by Island Creek Oysters to El Salvadorian cuisine at Tu Casa.
After dinner, dip into some speakeasy culture at Blyth & Burrows for a strong, mixology-driven cocktail, plus more oysters and a toast to a city that has now become one of your favorites.
Keep it going: Road trip!!
Now that Portland's out of the way, use the city as the gateway to a deep dive into Maine, which is best explored by road trip. Rent a car and tack on three extra days, then just pick a direction. Head south and you'll be inundated with quaint-to-the-max beach towns, unexpected nightlife options, and enough lobster rolls to feed an army of longshoremen. Head north and you'll find dense woods inside the state's national park, welcoming villages flanking the scenic rocky coast, and, um, also enough lobster rolls to feed an army of longshoremen! East and west is... we're not sure. Tommyknockers or something? For a closer look, we tapped our resident Maine-ah for an extra itinerary for the ultimate quick-and-easy Maine road trip. Get it right here.
MORE:This century-old general store is a must-stop on your Portland road trip
MEET THE WRITER
Since 2009, Meagan Drillinger has been traveling the world and writing about it. But her love of travel stems from childhood when her family would take bizarre, off-the-beaten-path trips that have shaped her own style of travel today. Her writing has appeared in Lonely Planet, Travel + Leisure, InsideHook, Men's Health, and more. Plus, she is the Mexico reporter for Travel Weekly magazine.
When was the last time you visited Portland? What drew you there?
I last visited Portland in September 2019, but initially what drew me to Portland were the rumors that have been churning about it for the last couple of years: I had heard that friends of friends had been making the journey up there and were delighted by what they found in terms of restaurants, bars, a laid-back vibe, plenty of nature, and a waterfront scene that centered around eating and drinking. As I started making my own trips, what kept me returning was the constant rotation of new things to try.
What was the most surprising or impressive thing about Portland you didn't expect?
The diversity. I had always thought of Maine as a very homogenous state. Turns out Portland defies that, with dozens of international restaurants helmed by people who are actually from the destinations these restaurants represent.
What's the thing about Portland that sticks out most in your mind?
The waterfront. The city lives and thrives around the sea and it's evident in nearly everything, from the fantastically fresh seafood, to boating activities, the islands you can explore, and more. I love sailing around Casco Bay with a bottle of something cold and endless views out to the Calendar Islands.
Number one can't-miss recommendation for a visitor?
Eat seafood. Whether it's oysters, a lobster roll, or fresh fish, you can't go wrong with what's coming out fresh from the bay. The Portland Head Lighthouse is also pretty cool for a quick photo op, but you're not going to be there with any locals. Still, it's worth the picture.
What's your top tip for someone going for the first time?
Stay downtown or in Old Port. You can walk nearly anywhere on the peninsula. You won't need to rent a car, and you can explore pretty much everything that makes a quintessential Portland trip complete.
Next big trip you have planned in 2020?
Each year I go down to Mexico for the winter, so I'm continuing that tradition. But I have never really explored much of the Baja Peninsula. I am hoping in April to do a road trip from Tijuana down to La Paz.
Ultimate bucket list destination you've always wanted to visit?
Last year I crossed two major ones off my list: Indonesia and the Philippines. Now I'm chasing Bolivia and New Zealand.