The 10 Cheapest Big Cities in America
The harsh reality of big cities: there's lots of cool stuff, but they're also crazy expensive. Anywhere you can find a way to enjoy all the perks without spending all your money -- well, that's a great place to live. And as it turns out, Portland, OR, is the best place for that in the US.
Finance site GOBankingRates crunched data for sales tax, gas prices, unemployment rates, median monthly rent and annual income for the 100 most populous US cities to rank the cheapest big cities in the nation. Portland, as mentioned, came out tops. Average rent is $905 for Portlanders, who also pay zero sales tax and $2.53 per gallon of gas. Folks in Anchorage, AK, are living in the second cheapest metropole, earning a high average income of $72,575 without having to pay sales tax on anything. Lincoln, NE, is the third best value city, where residents shell out an average of $683 in rent each month, while unemployment's at a low 3.2%.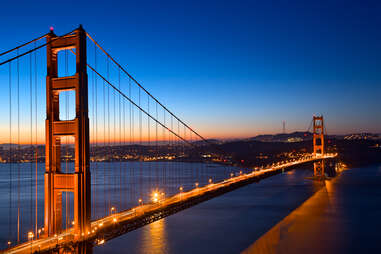 As for the most expensive urban centers: steer clear of large cities in California. Especially San Francisco, where the average rent is a ridiculous $1,512 -- more than double the rent in Lincoln -- paired with a sales tax of 8.75%. Los Angeles is next worst, with 9.1% of the unemployed (lots of struggling actors, probably), while Irvine -- where it costs $1,849 to rent an apartment -- is the third hardest place to save cash. New York City is the only city in the bottom 10 that isn't part of the Golden State. Maybe it should be renamed Fool's Golden State. Or not.
Before you move to Portland's coolest 'hood to open up an organic coffee shop and ride a Fixie around, check out the best and worst places for your wallet around the US.
The 10 cheapest big cities:
10. Corpus Christi, TX
9. Arlington, TX
8. Fort Wayne, IN
7. Wichita, KS
6. Omaha, NE
5. Madison, WI
4. Boise, ID
3. Lincoln, NE
2. Anchorage, AK
1. Portland, OR
The 10 most expensive big cities:
10. Santa Ana, CA
9. Stockton, CA
8. Fremont, CA
7. Long Beach, CA
6. San Jose, CA
5. Oakland, CA
4. New York, NY
3. Irvine, CA
2. Los Angeles, CA
1. San Francisco, CA