Between the world's kinkiest festivals and the release of Fifty Shades next month, a lot of people are talking about getting their kink on these days. And if you've ever found yourself asking, wait, where do all these kinky people live, the answer is almost always... Kansas. Maybe.
Actually, it's Portland, OR, at least according to a ranking of the kinkiest US cities by Kink University (not a joke), a site that provides "higher education for erotic exploration." Yes, Kink U (apply today!) pulled data from Kink.com to determine the number (per capita) of kink-aware professionals, active users of the site Fetlife, and people who identify as "kinky" in 50 cities across the country. 
It would seem the land of "put a bird on it" is also the land of "put handcuffs on it" as 4% of the city's population is apparently into tying each other up. San Francisco, which hosts the annual Folsom Street Fair, came in second. And third place goes to New York, which is home to crazy sex dungeons and 82,584 active Fetlifers. Honestly, do any of those cities really surprise you?
Of course not. But you know what is surprising? Boston at number 8!?!? Hahahahaa, riiiiiiight. And Las Vegas, with all its topless pool parties and "what happens there stays there" mumbo jumbo, came in 10th. What? Who knows.
Anyway, we'll stop tickling you now. Here's the full rundown:
10. Las Vegas
9. Philadelphia
8. Boston
7. Seattle
6. Los Angeles
5. Washington, D.C.
4. Chicago
3. New York
2. San Francisco
1. Portland
And here's the "Kink State of the Union" everyone in Washington's been waiting for...
Recommended Video
Rent This Mexican Estate for as Little as $24/Person a Night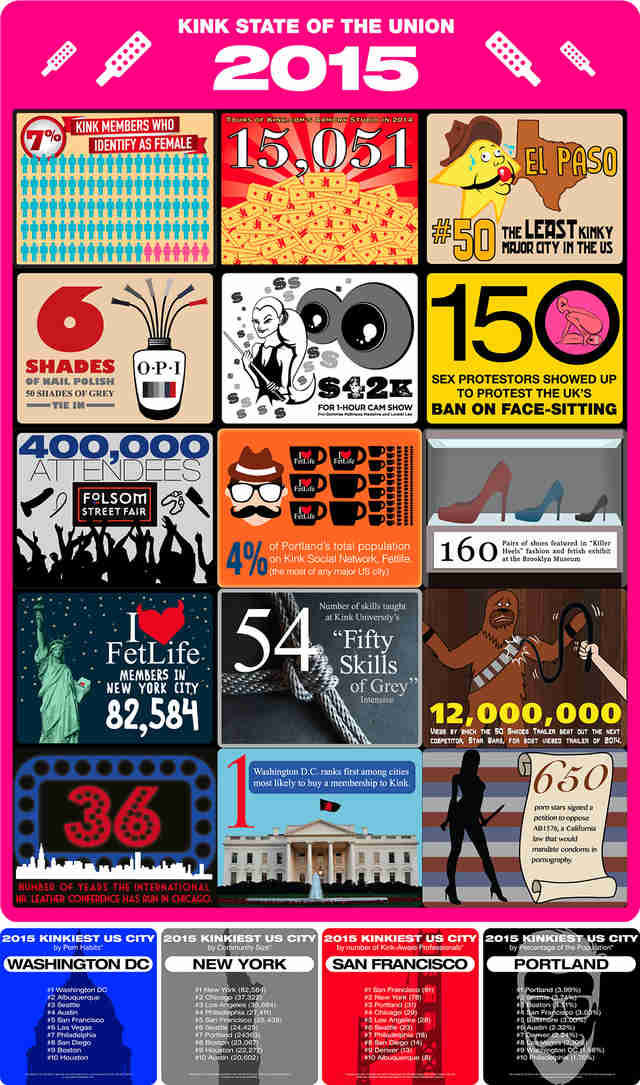 Chloe Pantazi is an editorial assistant on Thrillist's travel team, and read about five pages of Fifty Shades of Grey before losing interest. Follow her on Twitter @ChloePantazi.