Thanks to this year's obsession with all things European Summer, it's safe to assume that there's probably just one degree (or less) of separation between you and someone who's recently been to Portugal. Europe's southwestern-most country is definitely having a moment. You've probably heard rave reviews about Porto's surprising affordability, spectacular parks, unique cuisine, and delicious wine—including its namesake fortified version, which can be enjoyed at port houses and tasting rooms throughout the region. (If you're interested, Taylor Fladgate is one of the oldest, tastiest, and most intriguing.) And you're also likely well aware of Lisbon's coastal metropolis, with its pastel-colored architecture, windswept beaches, and world-renowned museums. And don't even get us started on Madeira's summertime wonders...
But those high-profile destinations—and summer, for that matter—represent just a fraction of Portugal's many gifts. In fact, autumn is arguably the most beautiful time to visit the country's northern region, as crowds have dissipated and the fall colors are at their most spectacular, providing plenty of reasons to venture out of the city and into the captivating countryside. And when it comes to exploring the Silver Coast of Portugal—a.k.a. Costa de Prata, a stretch of shoreline that stretches south from the mouth of the Douro River all the way to the seafront city of Figueira da Foz and the bustling university town of Coimbra—there's no better way to fully appreciate the changing foliage and sweeping views than from the seat of a bicycle.
Here's everything you need to know to plan a fall cycling adventure of a lifetime through Portugal's coastal towns.
Link up with one of Portugal's bike ride companies
Do a quick Google search for self-guided bike trips from Porto to Coimbra, and nearly all the results will point you to Filipe Taborda's Porto-based SportTours. Taborda himself takes care of all the handling—and handing off—of the bikes in addition to organizing hotel bookings and luggage transfers for guests. He'll also hook you up with an e-bike or touring bike designed for long-distance rides and GPS-informed maps you can download to your phone, along with spare tubes, a lock, and basic bike maintenance tools.
From there, you and your cycling companion(s) will be free to hit the scenic streets, following the route via GPS and pedaling at your own speed from town to town. And when you're ready to call it a night, your bags will be waiting for you at the pre-booked hotel en route. There, the staff will direct you to the right spot to stow your bike as well as instruct you on where to leave your luggage in the morning so it can be picked up and transported to the next stop.
Kick off your fall cycling from Porto to Furadouro
In the summer, you'd be hard-pressed to navigate the throngs of tourists spilling out of restaurants, bars, and markets lining Porto's popping Ribeira district. But come autumn, there are far fewer moving obstacles. Following the path along the river below the city's robust collection of port houses, you'll have a unique vantage point for viewing the Crystal Palace's rose gardens and the Parque das Virtudes' historic flower-strewn terraces, each brimming with the lime green, day-glow yellow, orange, and deep red hues of fall. Soon, you'll arrive at the coast and turn south, reveling in the sea breeze and salt mist splashing off the rocky shore.
The mostly flat, 26-mile route takes you along a spacious promenade above an open stretch of Atlantic coastline to Espinho, a small waterfront town built as a fishing village in the 18th century—and, in the summer, the closest and most popular beach for Porto's day-trippers. Here, a boardwalk and a handful of small restaurants look out over a broad expanse of sandy beach. It's a welcome place to pause for a snack and pint of local beer (Super Bock Stout hits the spot this time of year).
From Espinho, you'll travel slightly inland, meandering around the small village of Esmoriz and Ovar's military aerodrome before re-emerging onto Furadouro's wide open, sandy beach. Another former fishing village, this friendly stop-over sports a quaint downtown with tiled streets and a few shops and cafes. Taking great pride in its fresh seafood, Restaurante O Tasco is a choice place to indulge in a simply prepared sea bass, salmon filet, or the pride of northern Portugal, cod, each served with boiled potatoes and cabbage salad. While taking in the town, don't miss the opportunity to stroll the boardwalk and dip your toes in the still-warm Atlantic Ocean.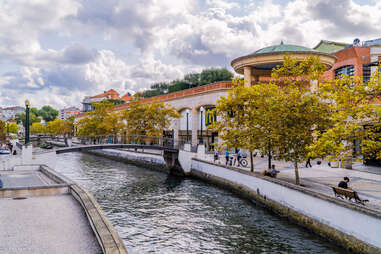 Bike ride past charming canals in Aveiro
Known as Portugal's answer to Venice, your next destination is a maze of canals and cute pastel buildings. The 34-mile journey to Aveiro is again mostly flat, and diverts riders away from the coast via protected paths and unfrequented roads through a massive lagoon and marshland, the grasses and bushes of which feature a spectrum of warm autumnal colors. At the halfway point, you'll pass through the industrial town of Estarreja before following a raised wooden pathway suspended above the swamps into the city.
As you approach, you'll notice neat piles of sea salt harvested from area lagoons. Evidence of the salt production industry in place since the Middle Ages, the snowy white mounds are the first sign of civilization you're likely to lay eyes on after a couple of hours spent navigating the countryside. You'll then merge onto a cycling path along the canals, which are spotted with colorfully patterned Moliceiro boats offering charter cruises—it's not quite as complex as the network of waterways crisscrossing Venice, but it's still a romantic way to take in the city's picturesque Art Nouveau-style architecture.
An Italian-style pizza and sangria will hit the spot for lunch, or opt for an espresso with an ovos mole, a sugary egg-based pastry that's a specialty of the region. Later, relax canalside or in one of Aveiro's vibrant squares with a glass of Vinho Verde and some tapas for dinner (the mussels at Maré Cheia are particularly flavorful). You'll find many hotel options in Aveiro, including the charming Hotel das Salinas, a friendly, spacious property that pairs freshly squeezed orange juice with its ample breakfast buffet. And before you leave, consider indulging in a little shopping, as the locally made gifts and jewelry here are both unique and super affordable.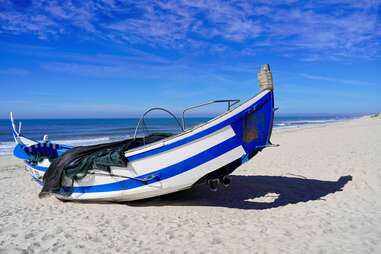 Soak up the sights as you cycle to Praia de Mira
The next day, you'll be heading back to the open coast on what is probably the trip's most scenic route. The 28.5-mile expanse begins with a jaunt through the farm country bordering Aveiro (be prepared to ask a cow or two to step off the path), where you're sure to enjoy the rainbow of changing foliage cascading around you, including tunnels of olive trees lining the lanes of nearby villages. After about an hour of peddling, you'll come upon a stately white building—Vista Alegre—one of Portugal's most acclaimed porcelain manufacturers and museums. Although porcelain isn't exactly the safest souvenir for bike travel, a quick tour of the facility will help you appreciate the beloved export.
Continuing on, you'll be met once again with salty air as you cross into Costa Nova, a cheery spread of striped holiday homes perched on a spit of land separated from the coast by a wide canal. The final few miles to Praia de Mira take you along wooden pathways surrounded by rolling sand dunes. Although it features a broad beach promenade, the seaside town of Praia de Mira feels relatively remote and sparsely outfitted. That said, the sprawling sandy beach is its key feature and you'll find the sunset here nothing short of spectacular.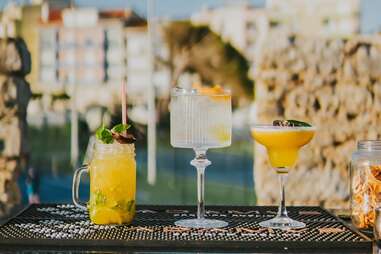 Treat yourself to some nightlife in Figueira da Foz
After departing from serene Praia de Mira, the next ride terminates in a very different kind of beach town—the lively city of Figueira da Foz, full of fortresses, theaters, and casinos. On the way there, you'll travel through a lush forest where you'll feel like a kid again, delighting in rolling over crunchy fallen leaves, before combing large swaths of farmland where it's not uncommon to see a shepherd leading goats to gurgling streams. You'll pass through several villages lined with a contrasting combination of bright cottages with perfectly manicured lawns and faded, dilapidated wooden barns. Once you reach Quiaios' vibrant square, it's a good idea to hop off the saddle and fuel up, as the next 45 minutes or so will have you traversing a series of winding switchbacks up a 600-foot mountain road. Don't worry, though—a very rewarding panorama of the entire Silver Coast is waiting to greet you at the top.
After snapping a few selfies, you'll embark on the high-speed cruise down into Figueira da Foz. The exhilarating downhill expedition calls for a rewarding gelato, and that's exactly what'll be in store as soon as you hit this expansive seafront city's first line of cafes. The shore itself makes for a relaxing, post-ride stroll, but the city's many narrow cobblestone streets are also worth exploring. Follow the locals to the ancient stone fortress that serves as the city's shining hood ornament, complete with a popular rooftop beer and burger bar.
Cycle through fall foliage to Coimbra
The final ride of the trip, this 34-mile journey follows the mighty Mondego River. Turning in from the coast, you'll alternate between smooth pathways and pot-holed roads as you pedal through storybook medieval towns, over a few hills, and into the bustling city of Coimbra, home of the oldest continually operating university in Europe dating back to the 12th century. Along the way, be sure to stop at the castle looming atop the hill in Montemor-o-Velho, a town founded by Arab settlers in the 8th century. Grab an espresso in the village's sprawling square, where it's easy to envision the soot-blackened cobblestone streets filled with revelers partaking in royal medieval celebrations.
Once you reconnect with the paved riverfront path, you'll see the majestic city of Coimbra in the distance. The route leads riders into its vicinity via several breathtaking wooden bridges engulfed in thriving woodland—the spectacular colors enriching the trees surrounding this hilly historic city are quite possibly one of Portugal's most hidden autumnal gems. Fall is also when the university is in full-swing, the small city thumping with renewed energy. Be sure to make the trek up the hill to tour the campus to see library Biblioteca Joanina, which served as inspiration for Harry Potter's Hogwarts. Later, hang out among the students at a café and dig into a Pastel de Nata, a tiny custard pie that will likely become your favorite baked good. And if you've worked up a thirst, make your way across the river to Praxis Brewery. Located in a less-traveled corner of town, the creative local suds and hearty menu (go for the sea bass) are well worth the effort.
After your hired tour company meets you here to load you and your two-wheeled steed into a van for the trip back to Porto, you'll likely have your eyes set on next fall, eagerly looking forward to embarking on another European cycling adventure.