Denver Airport Bans Weed-Themed Souvenirs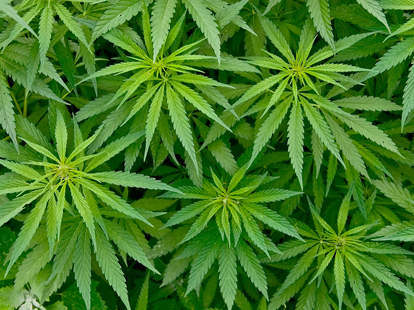 Colorado has a reputation for gorgeous scenery, party mountains, and of course, legal weed. But the executives at Denver Airport don't love the budding pot tourism industry, and, as a result, are banning airport vendors from selling marijuana-themed souvenirs. 
The pot prohibition stems from retailer High-ly Legal Colorado (so clever!), which sells weed-themed goods at several Denver music stores, trying to set up an airport kiosk to peddle marijuana-themed boxers, "pot flops," and other stoner souvenirs.
"Why is everybody so riled up about the picture of a plant?" owner Ann Jordan asked. As Jordan told the Associated Press, the airport's currently promoting craft brews in a dedicated exhibit, but banning pot, which, like alcohol, is legal to anyone in Colorado over 21. Airport execs "just haven't come to grips that this is a whole new world and they need to adapt," she added.
Denver Airport had already banned pot and pot advertisements, so this isn't a complete surprise. "We don't want marijuana to be the first thing our visitors experience when they arrive," spokesman Heath Montgomery said. "Frankly there's a lot more to Colorado than pot." Which is definitely true. There are edibles, too.
Jordan is considering filing a lawsuit, though the claim probably wouldn't hold up in court. Airports are legally authorized to control who sells what on their premises. Marijuana-themed merch isn't unheard of in airports, however: a number of smaller hubs in Colorado deal the stuff (not actual pot, mind you), as does Washington's Seattle-Tacoma International Airport, where you're even allowed to have weed on you.
Stick that in your pipe and smoke it, Denver.

Chloe Pantazi is an editorial assistant on Thrillist's travel team. Yes, that's a British accent. No, she doesn't watch Doctor Who. Follow her on Twitter at @ChloePantazi.