Shootin', fishin', and huntin' in rural Virginia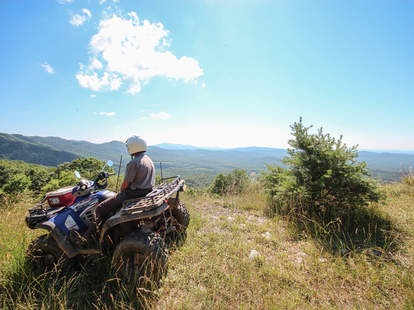 Deep in Southwestern Virginia sits Primland: an exclusive resort on a Blue Ridge plateau with over 12,000 heavily-wooded mountain acres, so wonderfully remote that even while you're blasting down an ATV trail or fly fishing for wild trout, you'll be able to cut off your obnoxious philosophical uncle immediately and say, "Yes. Yes, it does make a sound".
The "Apex" of the property is a cedar and stone 26-room lodge, where you'll dine on French/American cuisine in the Elements restaurant, or drop off the less adventurous of your group to relax in the 1800sqft spa and swimming pool.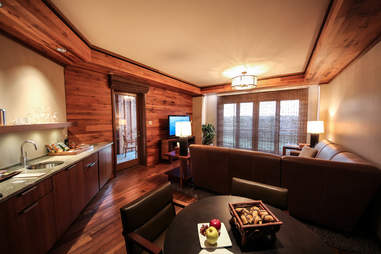 Should you choose to stay in the Lodge, we suggest the Blue Ridge Suites w/ kitchen/living room accommodations and button-operated shades (in case you despise sunsets over a mountain range).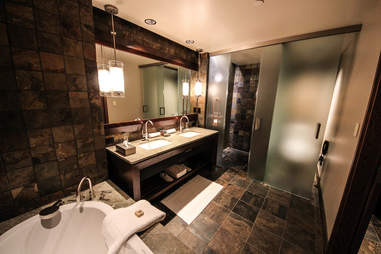 In addition to that large living room, there's this exquisite bathroom w/ dual shower heads. And, if you hate looking at yourself in the morning, there's a TV in the mirror.
Summertime fire pit porch-lounging and wintertime twin fireplace-sitting take place here at the good, grand, Great Hall.
The silo on the lodge actually holds rooms as well, and, as you would expect, Southwest Virginia's very own Batmobile roars out of that secret garage door.
Looking out from an elevation of nearly 2,700ft, the property's tree houses peer down on the Dan River [NB: this is different from the Dan Snyder River, which is viewable from other sections of accommodation].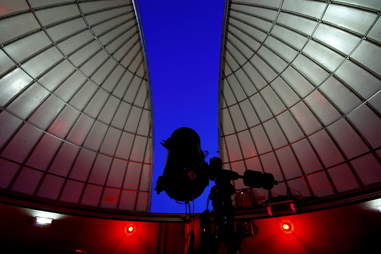 Stargaze like they do in Hollywood, except instead of staring from a Coffee Bean, you'll be looking from the Celestron CGE Pro 1400 series telescope in their Observatory Dome.
Grab their supplied Orvis gear and head down to catch wild brown, brook, and rainbow trout in the clear waters of the Dan (Snyder??) River.
4x4 up and around dirt paths in the Blue Ridge Range w/ a personal guide for two and a half hours, catching 20mi views and sick wheelies.
With loaner guns and plenty of ammunition available, hit the 5-stand spots w/ the best of skeet, trap, and sporting clays, where the only thing you'll find falling will be the remnants of the disc you just slugged. That's how ya hunt, shoot and fish, son (there's also opps to spa, golf, ride, kayak, and more).