They're the ultimate status symbol of billionaires, reclusive celebrities, and evil nemeses the world over. But you don't need a nefarious plan to destroy the earth a ton of cash to call one your own. Ok, actually you do, but you don't need to be rich to at least try one out for the night. Here are eight seriously self-contained private isles you can rent today.
Dry Island -- Upper Saranac Lake, NY
This luxurious island in the Adirondacks comes equipped with a full staff, 14 boats (including a runabout from the 1920s), and an unlimited supply of wine and liquor!!! It's a classic 1800s-style "great camp" aimed at guests who like their wilderness with two fingers of Scotch and a private chef.
The stats: 12 acres. Boats. Sleeps 10-plus. From $4,000/nt.
Little Palm Island -- Little Torch Key, FL
Little Palm is everything you'd expect from a luxurious Caribbean isle, except in Florida: lush palm trees, thatched bungalows, Jacuzzis, spa treatments, and hilarious/ terrifying local headlines. Follow in the sandy footsteps of A-list celebrities, presidents, and only-children who never learned to share by securing this secluded spot all for yourself.
The stats: 5.5 acres. Sleeps up to 60. Full island buyouts start at $175,000.
Eagle Island -- Darien, GA
If your idea of island life has been shaped by the nefarious underground lairs of James Bond's many villians (Skyfall's Hashima, Dr. No's Crab Key, Scaramanga's digs, we can go all day…), you're going to love this place. Rocking a state-of-the-art chef's kitchen, Five-Moon (!!) outdoor shower, and "hot tub in front of a burning fireplace", it offers many of the luxurious amenities of said lairs, only without the retractable roof volcano, shark tank, or emotional wear and tear that comes with carrying out evil plans.
The stats: 10 acres. 2 kayaks. 1 six-person hot tub. 1 fancy outdoor kitchen with smoker, oyster steamer, low country boil station, and prep table. Sleeps 12. From $2,900 a week.
Charlie's Island -- Marathon, FL
One of an entire archipelago of affordable (as in, you don't have to give up your first born to stay the night) private islands, Charlie's is a tiny 1/3-acre reef island off the Florida Keys that comes equipped with a two-bedroom/ two-bath houseboat, private dock, and stunning views of the Gulf of Mexico. Assuming you enjoy your stay, the place is yours permanently for a cool $995,000.
The stats: 1 houseboat. 1 private island. Sleeps 6-8. From $2,795/wk.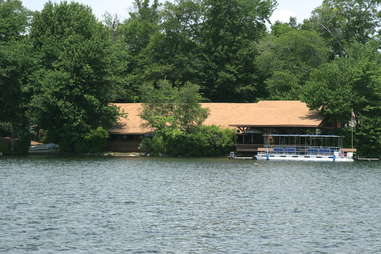 Laurel Island -- East Hampton, CT
Laurel Island in Lake Pocotopaug is the quintessential playboy playground, assuming your idea of play includes canoes, inner tubes, ping pong, and not frolicking around the pool with half-naked bunnies. The main lodge also boasts a majestic 80ft-long Great Room with cathedral ceilings, in case you need a proper venue for the ping pong championship award ceremony.
The stats: 7 docks. 6 row boats. 5 cabins, 4 kayaks/ canoes. 1 main lodge. Time spent with your loved ones, priceless. Ok, actually $350pp/wk, minimum 20 people.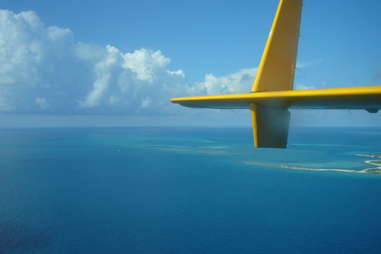 East Sister Rock -- Marathon, FL
When you're not chilling in the luxed-out house or on the dazzling white sand of East Sister Rock, off Sombrero Beach, you can fish, kayak, or swim in the breakwater-protected moat. Yes… moat! Definitely better than other, more famous rocks (i.e. Alcatraz, Stonehenge, Dwayne Johnston), this islet offers its long-term guests satellite TV and regular turtle sightings.
The stats: 3 bedrooms, 2 bathrooms. Many kayaks. Sleeps 8. From $6,295/wk.
Spruce Island -- Deer Isle/Stonington, ME
Ideal for recreating your favorite scenes from Lost that aren't set in a lush tropical rainforest, this vast 80-acre island off Maine's rocky seaboard offers the perfect getaway for outdoor enthusiasts eager to hike, fish, and kayak. It also maintains its own offshore lobster trap, so dinner is on the house.
The stats: 80 acres. 4 kayaks, 2 row boats, 1 golf cart, optional ATVs and powerboats. One 7-bedroom, 7-bathroom, 3600sqft Stone House. 1 Bunkhouse. From $375/nt.
Sea Shell Key -- Marathon, FL
This restricted tropical retreat is the quintessential Keys hideout. At only 5000sqft (for the entire island, not just the house!), this tiny speck of sand packs it in with a cottage (that includes a master suite w/ sunken Jacuzzi tub and two-sided ocean view shower), landscaped boardwalks, and a "vineyard" of sea grapes and pitch apples.
The stats: 100 yards offshore. 2 bedrooms, 2 bathrooms. Sleeps 4. From $3,795/wk.