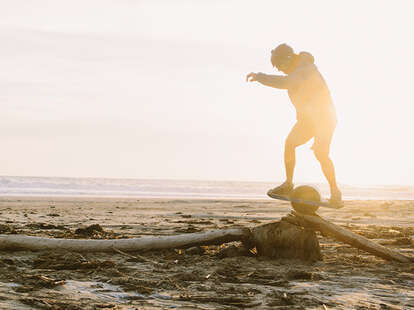 This Neighborhood Proves Santa Cruz Is Way More Than a Surf Town
Santa Cruz may be known as a sleepy surf town filled with ex-hippies, banana slugs, and throngs of tourists reveling in its stunning beaches and historic boardwalk, but it's also a haven for passionate doers and dreamers. Nowhere is that spirit more alive than the Westside neighborhood, located on the northern edge of the city, bordering where industrial buildings and residential homes give way to coastal farmland.
This side of town has always been a working-class neighborhood, but warehouses that once held agricultural products on their way north to San Francisco now house creative new businesses focused on food, craft beer, wine, and tech (to name a few). In 2003, the neighborhood began to develop in earnest when the beloved Kelly's French Bakery re-opened in the Swift Street Plaza and began drawing its dedicated clientele to the Westside. Local wineries, including the eclectic Bonny Doon Winery, were already processing their grapes nearby, and soon after coffee roasters, artists, and yoga instructors established themselves in previously vacant industrial spaces.
Meet some of the hard-working, passionate innovators who have led the Westside to become a tight-knit but welcoming community dedicated to creativity and collaboration.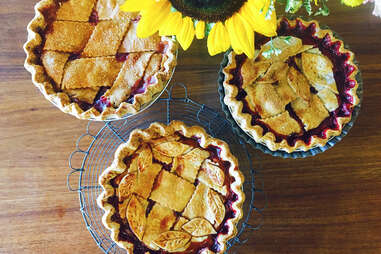 Theo Dolarian
Companion Bakeshop
"Something about the lifestyle really drew me to want to bake," Erin Lampel says of creating her Westside business,
Companion Bakeshop
. "I wanted to own my own place because I love bringing community together in a cozy place over bread, pastries, and coffee. For me, it's not just the baking part -- it's the whole package."
A self-taught baker, Lampel began selling her sourdough loaves through a CSA (Community Supported Agriculture) program in 2005. In the early days, Lampel juggled bread-making out of her kitchen with working for the University of California at Santa Cruz's Farm and Garden and for a garden education program at Bay View Elementary School.
"I would mix, shape, bake, and load up for market all in one long, crazy day," Lampel says of the time before the shop opened. "I had one or two people helping, but I was the main baker and organizer. We also mostly did sourdough breads and very limited pastry at that time."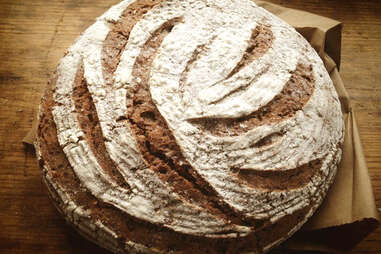 Erin Lampel
Companion found a permanent home in 2010, on the Westside, where Lampel lived with her husband Jeremy, who co-manages the shop. "The Westside… had been our home for a while and all of our friends and family lived [there] at the time," she says. "We really wanted to find a place close to home where we felt like we knew the neighborhood we would be working with."
She describes the shop's location at that time as "pretty bleak," with few other businesses in the area. But Companion persevered, and the community began to gather around the bakery like a hearth, with loyal customers lining up every day for fragrant, naturally-leavened loaves, crusty baguettes, flakey sweet & savory pastries, and seasonal pies.
While there are other bakeries in town -- the aforementioned Kelly's French Bakery is a couple blocks away -- Companion's products stand out. Unlike most commercial bakers, Lampel eschews leavening her loaves with dehydrated yeast in favor of sourdough starter whenever possible. This traditional baking method preserves the nutritive qualities of the organic grain and gives the bread a complex flavor and texture.
Lampel also learned the value of supporting local farms through acquiring her degree in agriculture & fruit sciences from California Polytechnic State University and her experience working as a farmer and baker at farms in California and Hawaii. She incorporates small farmers' products into her baked goods to create seasonal treats such as peach galettes, dry-farmed tomato & caramelized onion tarts, and feta & fennel sourdough croissants. Since opening shop seven years ago, the business has grown from two people to 20 employees.
"A characteristic that Companion has taught us over the years has been to work really hard at what we are good at and to stay focused, realizing that our goals as a team are going to happen when we do what we do best," Lampel says. "The more we focus in on baking and community, the healthier our bakeshop seems to be."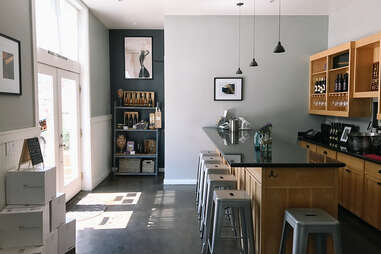 Courtesy of Equinox
Equinox
It's crush, and
Equinox
winemaker Barry Jackson is exhausted. The window to harvest grapes at exactly the right moment as summer gives way to autumn is very narrow, and when the time comes, it's followed by days of frenetic activity. With more than three decades of winemaking under his belt, Jackson is no stranger to the long days. In fact, as he adds bentonite clay to help clarify the freshly-pressed grapes on a late evening, he explains, "You have to work your a** off, never give up, and be willing to put in the time when you really don't want to."
These grapes, harvested from the Santa Cruz Mountains and other hand-selected locations in California, will become stunning, effervescent creations heady with funk or invigoratingly crisp with white fruit and citrus, depending on how long they're aged. Jackson is one of a few dozen winemakers in the state of California using the traditional French methode champenoise, a laborious and time-consuming process. Unlike still wine, which is aged in barrels for a few years before bottling, sparkling wine goes through a primary fermentation in the barrel, then a secondary fermentation in the bottle, undergoing a more thorough transformation. "Once it's aged, you have all the finishing steps," Jackson says, which involve manipulating the bottles to remove the sediments that collect in the neck, ultimately delivering tiny, consistent bubbles.
Courtesy of Equinox
Jackson fell into winemaking when, on a whim, he enrolled in a few oenology classes at California State University in Fresno in the 1970s. To his surprise, the lessons ignited a passion for the subject. After graduating college with a degree in geology, he worked at large production wineries in California (including the famed Paul Masson facility in Madera) before deciding he preferred to work with smaller producers. In 1989, Jackson began making sparkling wines under his Equinox label and for other wineries, and in 2006, he opened his tasting room in the Westside's Swift Street Plaza. (At that time, he also expanded production to include fine still wines under his Bartolo label.)
While Jackson was originally drawn to the neighborhood because it had the large warehouse space he needed to produce and store his wine, he soon found himself enveloped in a like-minded community of winemakers. There are now a dozen micro-boutique wineries (including building neighbors Santa Cruz Mountain Vineyard, Sones Cellars, and MJA Vineyards) spread over three streets on the Westside, a collective known as Surf City Vintners.
"The Westside has a small-town feel within a larger community," Jackson says. "It's open, cooperative, creative, hardworking, innovative, and enthusiastic." Known to be generous with his time, equipment, and knowledge, he recently partnered with nearby Santa Cruz Cider Company to produce a methode champenoise hard apple cider. The limited-edition sparkling is crisp, dry, fruity -- and a perfect example of the Westside's professionally collaborative spirit.
Kari Rowe
Future Motion
The unbelievably scenic West Cliff Drive, which winds along the Westside's coastline from Natural Bridges State Beach to the boardwalk, offers four miles of uninterrupted ocean vistas. Among the joggers, pedestrians, and cyclists, visitors may also see someone zooming by them on an unfamiliar craft: An electric skateboard, but with just one large wheel.
This unusual but undeniably fun-looking board is Onewheel. The all-terrain electric vehicle that rides like a snowboard and can go up to 19 miles per hour was created by Westside-based tech company Future Motion. CEO and inventor Kyle Doerksen, who had eight years' experience designing consumer and technical products (and multiple engineering degrees from Stanford University), came up with the idea for Onewheel on his mile-long walk to work at IDEO in Palo Alto. As an avid snowboarder, he wanted to create a board that mimicked gliding through fresh powder.
Inspired, Doerksen set out to make his vision a reality. Concerned that traditional investors wouldn't agree to fund such a novel invention, he launched his first product to the public on Kickstarter in 2014, enticing backers to donate to "the revolutionary electric boardsport that gives you the feeling of flying." In 21 days, Onewheel blew past its initial goal of $100,000 and raised more than $630,000 in funding.
Embry Rucker
"With a disruptive product like Onewheel, we had to prove that customers wanted it before we could raise investment from other sources," Doerksen says. "You have to have a point of view and you have to keep moving forward. Stick with it. Build your market. Nobody knew they needed Onewheel until we told them they did."
And while Onewheel, whose boards cost $1,499, may still be unfamiliar to most consumers, its steady rise in popularity across the country (it's now available at over 100 dealers) suggests it may be the next big thing in sports. Its new, updated Onewheel+ (with a more powerful motor that tops out at 19mph) was released earlier this year, and since 2013, the company has grown from two to 26 employees.
Santa Cruz's reputation as a playground for surfers, mountain bikers, and skateboarders -- plus its proximity to Silicon Valley and San Francisco -- made it the ideal place to incubate Onewheel. On the Westside in particular, Doerksen has found "an intersection of creativity, action sports, and people who value getting outside in the real world." Since its startup days, the company has made its home in the Wrigley Building, the former gum factory that has become a multi-use space for artists, fellow creators (including Santa Cruz Bicycles, which manufactures mountain bikes), and even aerial dancers.
"It's filled with industrious people doing creative things," Doerksen says, "and it has big, wide hallways -- perfect for Onewheeling around in."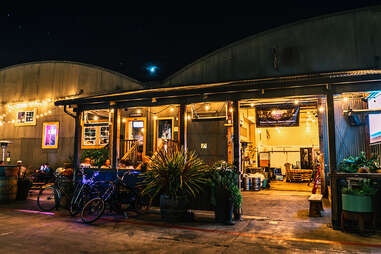 Jake Thomas
Santa Cruz Mountain Brewing
In 2005, Emily Thomas was working as an engineer for Qualcomm in San Diego when she decided to make her home-brewing hobby, which she picked up as a college student in Portland, into a business. At the time, the Westside was still predominantly industrial mixed-use and residential buildings, with just a handful of restaurants and places to hang out in the neighborhood. Anchoring the up-and-coming Swift Street Courtyard was Kelly's French Bakery in one building and Bonny Doon Winery's packaging plant in the other. To Thomas, now owner and brewer at
Santa Cruz Mountain Brewing
, that meant there was yeast in the air.
"The Courtyard and the surrounding neighborhood reminded us of spaces in Portland and San Diego that housed breweries and where we felt comfortable hanging out with our kids and dogs, enjoying a pint," says Thomas, who grew up in nearby San Lorenzo Valley and co-owns the business with her now ex-husband Chad Brill. "Part nostalgia and part business sense, the Westside seemed like the perfect neighborhood for us to start a brewery."
Thomas, a proponent of organic living, chose to apply that ethos when sourcing ingredients for her beer -- despite the limitations -- and Santa Cruz Mountain Brewing is one of the few certified organic breweries in the world. All of its beers are brewed with only organic ingredients and processing aids (i.e., no chemicals or pesticides). The result: A delicious beer that's good for customers and the environment.
Jake Thomas
"A lot of breweries that once offered organic beers have surrendered their certification, stating that their customers -- even the organic-conscience customers -- don't care anymore. We have found the opposite to be true," Thomas says. "Our business continues to grow and people all over the Bay Area continue to enjoy organic beer."
In addition to being a trailblazer in organic craft beer, when Santa Cruz Mountain Brewing opened, Thomas was one of perhaps a dozen female brewery owners nationwide. Over the years, she has prioritized making the traditionally male-dominated brewing industry more welcoming to other women; she markets craft beer to females through her 'Strong Women Drink Strong Beer' campaign and women-only, female-led 'Strong Women Brew Strong Beer' homebrewing classes. When managing other parts of the business necessitated her stepping away from brewing, she's made sure that another female brewer is always on staff.
Thomas says she wants to pay forward the gift that her uncles, avid homebrewers who taught her the skill, gave her: "To give women the ability to drink beer, to be brewers and homebrewers without being intimidated."
Now, Seabright Brewery, open across town since 1988, has its own female brewmaster, Cat Wiest. Overall, craft beer is booming in Santa Cruz; the county now counts 15 local breweries. The newest addition to the scene, Humble Sea Brewery, opened its taproom in March on Swift Street -- a stone's throw from Santa Cruz Mountain Brewing.