If you've ever fancied spending a night in jail (without tainting your criminal record), dancing in the music video for Justin Timberlake's "Mirrors", or sleeping in an upside-down bedroom, you might consider staying at the Propeller Island City Lodge in Berlin, where each room slices off a different sliver of weird.
More experience than accommodation, the 30-room hotel -- which describes itself as "a habitable work of art" -- is custom-designed according to outlandish, individual themes where "whoever desires freedom can find perennial inspiration". Yep, if the mood so strikes you, you can sleep in a lion's den, a log cabin, a padded cell, a mental patient's quarters, at your grandma's (which is probably the most disturbing choice)... and even inside a coffin.
German artist Lars Stroschen, the oddball visionary at the helm of this fantastical project, created everything in the lodge to allow for "the unfolding mental universe of [its] guests", or something vague that doesn't quite explain why this place is so weird.
Indeed, nothing in the hotel is fake or purchased; everything's authentically crafted, down to the sound sculptures dotted around the place that really set the mood.
Take a look at the rooms below, and if you're committed enough to stay there, book your reservation here.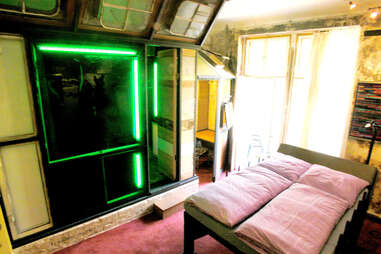 Chloe Pantazi is an editorial assistant on Thrillist's travel team. Yes, that's a British accent. No, she doesn't watch Doctor Who. Follow her on Twitter at @ChloePantazi.