With 900 prostitutes working in Amsterdam today, it's no surprise tourists have more than a passing interest in the world's oldest profession. But for those who don't want to shell out for a little one-on-one time with a pro, a museum called Red Light Secrets opened today in its namesake District, and promises to give visitors a glimpse behind the fluorescent glass display window.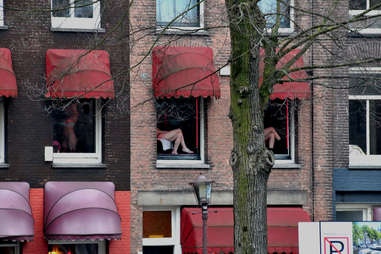 Visit the museum's walk-in "peeskamer" -- the small boudoir a prostitute pays about $200 to rent by the half-day -- and other questionably-named rooms like the "Confrontation Room" and a "Lost and Found" room (where condom wrappers wind up, presumably). And go behind the scenes to listen to the stories of the undie-clad ladies themselves. In the name of education.
You'll also get to learn about the other side of the culturally-rich De Wallen neighborhood that's home to the Red Light District (surprise -- there's more than just legal prostitution to be found here).

Of course, there's plenty of sex education to be had at a museum about prostitution. You'll learn all about the different types of sex being had in the RLD, from electro sex (yes, it's a thing) to BDSM, and everything in-between. There's also a bevy of things you didn't know about Amsterdam's RLD. Here's a couple: there are 290 Red Light windows in the city, and a visit to a RLD prostitute usually takes around 10mins.

We're so glad to learn Amsterdam finally has a world-renowned, historically and culturally important museum! Time to book flights, son. In pursuit of knowledge.

Chloe Pantazi is an editorial assistant on Thrillist's travel team. She once spent an idle Saturday afternoon at New York's Museum of Sex, and got weird looks for giggling in the gift shop. Follow her on Twitter at @ChloePantazi.