There's nothing worse than being in a strange city and finding yourself in dire need of the bathroom. With no Starbucks in sight, what's a hapless tourist to do?
Download Flushd, that's what. Like a toilet-seeking superhero to the rescue, this ambitious new iPhone/iPad app locates nearby public restrooms across the globe.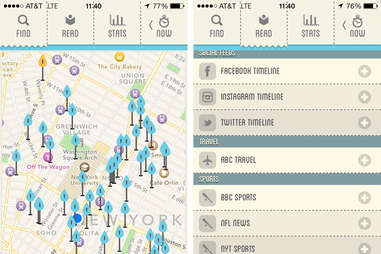 What does it do?
In addition to locating the closest toilets:

Flushd functions kind of like Yelp, allowing you to add your own bathrooms and review/rate facilities. There's even an emergency button, which'll map you to the absolute closest public bathroom in the area.
Keep track of your bowel movements in painstaking detail, and with personalized stats -- from how often you go, to how long it takes you to go, to what time of day you usually need a restroom, to what kind of bathroom you prefer to frequent, etc. Seriously, it goes on and on.
Helps make your toilet experience extra productive by streaming personalized reading material, or adding your social media accounts to the "Read" section.
And, speaking of social media, for those who enjoy oversharing their daily bowel movements, Flushd is building a social network around that most private of experiences, complete with badges. In fact, many of apps 1,200 users have reportedly already uploaded bathroom selfies. Oh, goodie.
What's on the way?
Eventually, Flushd will set up a reward system where you can earn prizes and discounts. Yes, you read that correctly -- prizes for taking a piss.
The upcoming version will also fine-tune the bathroom locating search, allowing users to filter restrooms by personal preferences like quality, cleanliness, distance, etc

.