Presented By
What to Do in Puerto Escondido, Mexico's Chillest Surf Town
Feel free to lose your shoes upon arrival.
Presented By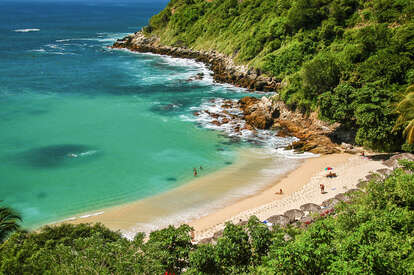 Note: The US State Department has issued a Level 4 travel advisory to avoid travel to Mexico. For more information about travel restrictions to Mexico, click here. For now, use this guide as inspiration to satisfy your wanderlust safely from home.
As far as Mexican beach destinations go, Puerto Escondido hits a sweet spot: moderately developed, laid back, well-touristed but still blissfully free of the sterile resorts and hordes of spring breakers in Cancún and other hotspots.
Instead, you'll encounter a mix of affable locals, surfboard-wielding Aussies, party-hard backpackers, and juice-wielding wellness types, all commingling in a laid-back state of shirtless- and/or shoelessness on the southern-Pacific coast.
By day, there's world-class surfing, scuba diving, fishing, yoga, and anything else you can think of doing in or around the sand. By night, there are incredible sunsets, cheap mezcal, DJs, and impromptu dance parties on the beach.
A bevy of newly constructed restaurants and hostels are making landfall here, and planes arriving at the tiny airport are growing suspiciously larger. Now's the time to experience Puerto Escondido, one of our 20 Places We're Dreaming About in 2020.
Know before you go
The high and dry season spans December to April, when the weather is pretttyyyy perfect. This is also peak party season, especially around Christmas and New Year's. The beachside bars of Zicatela are full, and after-hours dance parties often erupt on the beach. Said parties attain peak revelry when they correspond with the full moon.
If you're in it for the waves, the biggest are mid- to late-summer, but the surf is renowned year round. Late spring is rainy season (and I mean dumping, pouring tropical storms) when Puerto Escondido becomes a ghost town, with one exception: the end of May, when the annual Surf Open Puerto Escondido draws top surfers from around the world. Exact dates tend to shift with the surf swell.
You won't want to leave -- it's one of those never-never land places where folks "accidentally" miss their return flight and stick around for a while -- but you can likely enjoy your fill of Puerto in about four days. Here are some of the best things to do and areas to explore.
MORE:First time in Mexico? No worries -- here's a full primer
Traveling may be on pause, but that doesn't mean your dreaming and planning has to be. With The Marriott Bonvoy Boundless™ Card, earn 6X Points at 7,000+ hotels participating in Marriott Bonvoy™ and 2X Points on all other purchases, including future flights. For the journey ahead, carry a card that's here for you now.
Day 1: Party and people-watch at Zicatela
Part of what kept PE off the radar so long is its remote location. To reach its tiny, barely existent airport, you'll almost certainly be flying in via Mexico City. Once you've disembarked, you can either hop on the shuttle -- which grabs up as many passengers as possible, then splits the cost accordingly (about 50 or 60 pesos) -- or take a taxi for anywhere from 200 to 500 pesos.
Start off with a bang (so like, a drink or five) at Zicatela, the main tourist drag with the wildest parties. This is a great place to stay if you want to be in the center of the action. Grab some fancy tacos at La Olita, go beachside at Sativa Terraza, or snag a mess of shrimp on the beach at a place that seems to have no name -- on Google Maps it is labeled simply as Restaurante.
Come nightfall, check out lively beach spots like Palapita Bar or Playa Kabbalah. On the other side of the street you can find live music and a heavy vagabond vibe at Casa Babylon. And if you're looking to cut loose, dance, hook-up, and take shots, there is the infamous Bar Fly.
Day 2: Go surfing, or just chill, in La Punta
Soothe your hangover and mingle with the wellness crowd in La Punta, a laid-back area with cheap hostels, camping, mostly good restaurants, and pleasant sandy streets. The beach here is one of the best in town for swimming and sunsets, and no one wears shoes.
For surfing, your best place to start is at the crook of La Punta, where you'll find new surfers practicing and experienced surfers teaching. You'll often secure a good instructor simply by waiting around long enough for one to approach you and offer their services, or Oasis Surf is a reputable surf school if you want to go that route.
Check out the tasty eats, healthy juices, and substantial cocktails at Piyoli. The Thai-Mexican spot Lychee offers one of the best atmospheres in town, always dim and romantic. After dinner, wander the streets to find some action. Everyone loves the swing seats at Bikini cocktail bar and the bar games at SOS.
Day 3: Eat seafood in Adoquín
At the heart of Puerto Escondido is the main beach of Playa Principal, which runs alongside the Adoquín neighborhood. This area leans more Mexican than gringo, offering a slew of cheap restaurants, trinket shops, a night market, and a few of the town's loudest clubs. The beach is the main hangout for locals, and it's where you'll find fishermen working while their families watch and play.
For fishing and wildlife boat tours, head over to the marina at the north end of the Adoquín and ask around until you find a good price (somewhere between 1,800-2,500 pesos for five hours or so). There are charters offered by small organizations all over town, but you can get the best rate by going directly to the fishermen themselves. Depending on the season, time of day, and how lucky you happen to be, you'll often spot sea turtles, stingrays, dolphins, and even humpback whales.
Swing by Restaurante el Dorado and they'll happily connect you with a fisherman, then they'll cook whatever you happen to catch. Costa Hermosa is another great place to watch the sunset with an amazing seafood platter, while Restaurante Alicia has beach service, a solid menu, and a balcony view.
Day 4: Explore el Centro and go swimming in Rinconada
While I don't recommend staying in el Centro (there are no beaches there), there is delicious food to be had. Without equal, my favorite is La Parrilla Mixteca -- a traditional Mexican cafeteria where you'll find real, delectable Mexican food. Be sure to check the Benito Juarez Market, where your senses will be inundated with color, scent, sound, and of course, flavor.
After the market, wander into Rinconada, a quiet, charming residential area that offers access to the stunning beach coves of playas Coral, Carrizalillo, and Puerto Angelito. Thanks to their protection from the big waves, these coves offer some of the best swimming in town, meaning they can be a bit crowded. Here you can also rent everything you need to paddleboard, snorkel, or surf.
To see some baby turtles, contact the Baby Turtle Release Centre (the name says it all). They'll arrange a time for you to van out to one of the remote beaches where you'll watch the tiny turtle tykes make their way to the ocean.
Keep it going: Explore the Oaxacan coast
If extra time and a sense of adventure spur you toward further exploration, a little over an hour down the Oaxacan coast is Mazunte and its nearby nude beach of Zipolite, which can be reached by bus (200-500 pesos depending on which service you use) or car.
In the past, the only car rental service in Puerto Escondido was dubious to the point of scam, but recently a new company called Los Tres Reyes opened and quickly established a positive reputation. There are also a few new scooter rental companies -- Kooks on Wheels is the most popular.
Mazunte is considerably smaller and less developed than Puerto Escondido, and it's a good choice if you're looking for total peace and quiet.
MORE:A closer look at five ultra-chill surf towns along the Oaxacan coast
If, on the other hand, you're hankering for city life, you can always head inland to Oaxaca City. Located in the mountains, Oaxaca City is renowned for its stunning architecture and historic churches, its delicious food, and its abundance of mezcal.
But it's not the easiest place to reach from Puerto Escondido. Without a car you're forced to take a notoriously terrible bus ride that careens around vomit-inducing mountain curves for more than 10 hours. It's an endeavor best undertaken by those with strong stomachs.
MEET THE WRITER
Travel, arts, and fitness writer Nick Hilden has spent 10-plus years writing for publications including the Los Angeles Times, Men's Health, Vice, and more.
When was the last time you visited Puerto Escondido? What drew you there?
When I first spent a few months there, I quickly fell for its serene remoteness and friendly locals -- not to mention the sun and sand. From then on it became my annual winter retreat. Prices were cheap and the pace was super easy-going. With each return, however, I've seen the costs creep up, the crowds roll in, and tempo of daily life build. Regardless of how much it changes I'll keep going back, as it's come to feel like my home away from home.
What's your average day like?
I spend my mornings working, my days swimming in abandoned beach coves, my evenings playing the guitar for a handful of sunset watchers, and my nights either arguing about fishing with old-man-expats over a pile of shrimp, or dancing at the beachside fiestas.
Number one can't-miss recommendation?
When I'm in town I have my regular bar where I perform music now and again (Piyoli), my preferred hostels and Airbnbs (Casa Daikiri, Casa Aloe), and my favorite hidden beach cove that I speak of to no one.
Next big trip you have planned in 2020?
I'm about to head out on a year of big travels that should take me through Southeast Asia, Mediterranean Europe, North Africa, and Southeast Africa. My starting point for the year will be in Bangkok, where I'll spend a month editing my first novel and starting on my second. From there my itinerary gets rather hectic, but I would not be surprised if I end up back in Puerto Escondido when winter comes around. In fact, I would bet on it.