From stretching the boundaries of ice cream, to starting boy bands, to spying on aliens, Puerto Rico is amazing at a lot of things outsiders don't know a whole lot about. Well, outsiders, read this rundown, and consider yourself educated.
Playing dominoes
All day, all night, all over the island – wherever four or more are gathered, there's bound to be bones flying.
Tropical foresting
Of all the 150+ wooded and bushy eco-fun areas included in the US Forest Service, only one, Puerto Rico's El Yunque National Forest, is a tropical rainforest.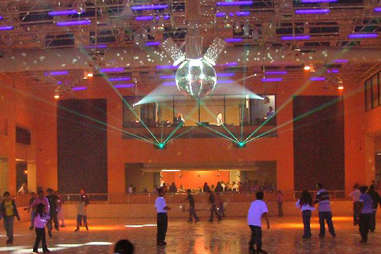 Tropical ice skating
You can get a tan and enjoy the beach anywhere in the Caribbean, but only in Puerto Rico can you get your triple salchow on with a visit to the Aguadilla Ice Skating rink.
Pigging out
Puerto Rico is the Lechon James of roast pork. Nowhere is it better than here, especially at the lechoneras that line the roads of Guavate every weekend.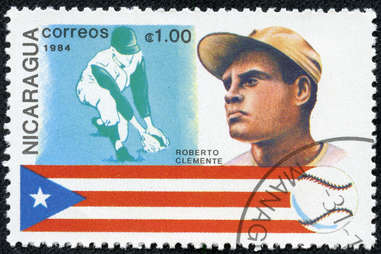 Playing béisbol
The DomRep may produce more Major Leaguers these days, but none of 'em will ever be Roberto Clemente. ¡Nunca!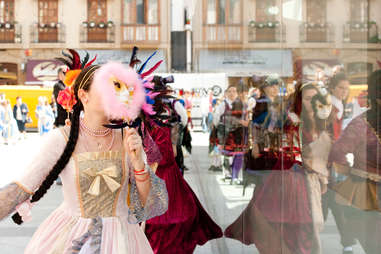 Starting the party early
Beads, balconies, beer, beauties, big giant heads -- Puerto Rico's San Sebastián Festival is a lot like Mardi Gras. The difference: it's held in January. Get with the program, New Orleans.
Putting the party in Pentacostal
San Sebastián isn't the only huge bash in Puerto Rico with ties to the Church. Noche de San Juan, held every June 24th, is the world's biggest (and sexiest) midnight swimming soiree with millions rushing into the sea and dunking their heads underwater seven times in honor of St. John the Baptist.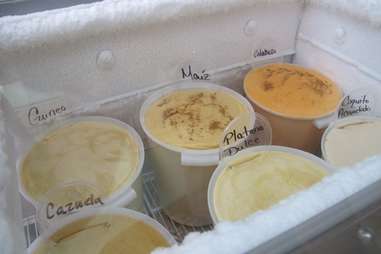 Innovating on ice cream
Crazy ice cream options are just now catching on elsewhere, but at heladerías across Puerto Rico people have been enjoying such uncommon flavors as rice and beans, plantain, and codfish for years. That's right, codfish.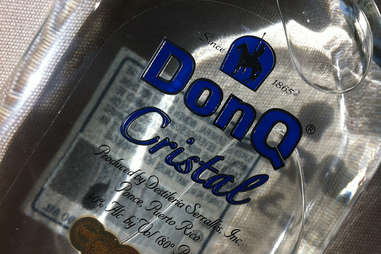 Making a LOT of rum
How much rum? How about 200 million+ bottles every single year -- and that's just Bacardi's share. A good 40 additional brands are produced all over the island. And don't even get us started about our Cañita moonshine…
Saving things for a rainy day
The legendary Freedom Barrel, a stash of rum commissioned in 1942 by the Fernández family of Ron del Barrelito fame, will only be opened if and when Puerto Rico achieves independence, at which point all those present will be given a taste.
Boy bands
Menudo. 'Nuf said.
Singing people to sleep
"Coquí… coquí…" The males among the tiny native frogs of the same name sing out all night all over Puerto Rico. Like most guys, all the noise is about lovemaking -- the "co" is a warning to other male frogs to stay away, while the "qui" is meant to attract females.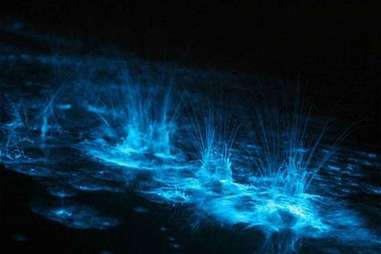 Glowing in the dark
All you've got to do is jump in one of three bioluminescent bays, where concentrated populations of dinoflagellates emit an eerie, emerald green glow when agitated. Definitely beats Chernobyl.
Close Encountering
If any real extraterrestrials get stranded on earth, the Arecibo Observatory is where they'll phone home. At 1,000ft in diameter, it's the world's largest radio telescope, capable of sending messages tens of thousands of miles into space, or a few hundred miles to your mom if you've lost your traveler's checks. Haha, traveler's checks…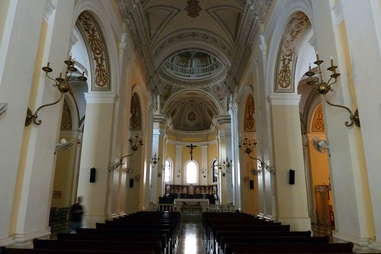 Old time religioning
The San Juan Cathedral in Old San Juan dates all the way back to the 1520s, making it the second oldest church in the Americas. No matter what sin you've committed, they've likely heard it.
Raising beauty queens
Five Miss Universe winners have called Puerto Rico home, trailing only the US and Venezuela, and blowing Sweden out of the water completely.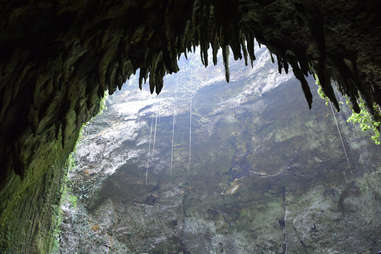 Adventuring underground
The third largest underground river in the world has carved out more than 10mi of caverns and 220 caves in Puerto Rico's Rio Camuy Cave Park. Some experts believe there are a good 800 more caves waiting to be discovered by an ace spelunker such as yourself.
Getting you here and back again
San Juan's Luis Muñoz Marín International Airport is the largest and busiest in the Caribbean, with over 4 million passengers a year. You should be one of them.

Steve Bennett is the Editorial Director of Uncommon Caribbean.