10 Reasons Puerto Rico Is Still a Place You Gotta Visit to Believe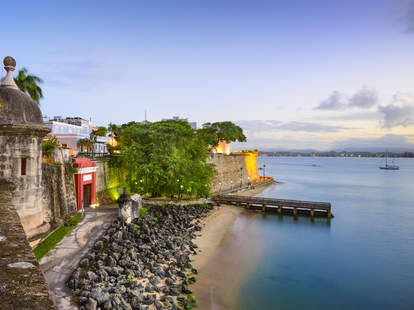 Puerto Rico has had a rough go of it lately. What with the president of the United States declaring health emergencies there (thanks, Zika!) and the commonwealth straight-up running out of money. Enter a slight reprieve in the form of Olympian tennis player Monica Puig, who just scored Puerto Rico its first gold medal ever. After her upset win, she gave a shout-out straight to her fellow puertorriqueños: "This is definitely for them. They're going through some tough times and they needed this and I needed this. I think I just united a nation."
But while the news swirling around the Caribbean of 3.5 million (and falling) holds a mostly somber tone, this is the time to remember: Puerto Rico really is amazing. Before a trip a couple months ago, I had yet to really appreciate how much so; I had only literally ported in for 24 hours while on a Carnival Cruise with my parents circa 1994. And despite the fact that I had long heard the country reigned superior in many ways, I'll admit, it never topped my "must travel here" list. Here's why I was wrong, and why you should head to Puerto Rico to help it get its groove back.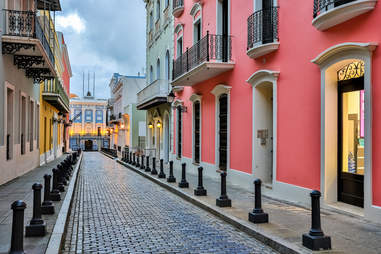 Sorin Colac/Shutterstock
Getting there is quick and easy
Half the reason most people don't book trips is the long-ass flight there, which is why I have yet to go to Thailand. Puerto Rico feels like, and is, a pretty serious escape … and yet it's less than four hours direct from New York, Boston, or Atlanta, and less than five from Chicago, Dallas, or Houston. And you don't need your passport, which means -- yep -- no customs. That shaves a couple hours off the travel time right there (maybe three if you're the sort who always insists on bringing fruit on your flight).
Driving there is a cinch
I was most pleasantly surprised about this fact. When I went to Costa Rica -- which, side note, is likewise incredible -- I severely overestimated the simplicity of road travel; my logic being "yeah, that's probably only, like, two hours away." It wasn't. As a result, a lot of time was spent in transit on many a teeny-tiny dirt road. Puerto Rico is similarly divided in the way that there is a "dry" side and a "wet" side (aka beaches vs. rainforests). But thanks to major highways and not as much land to cover, you can actually hit both sides in a day.
Dennis van de Water/Shutterstock
The outdoor activities are ludicrous
Some of the only US rainforests are in Puerto Rico, which not coincidentally is now home to El Monstruo ("The Beast"): the longest zip line in the whole wide world, spanning almost 7,500ft. After recovering from that, the move is to boat, swim, wade -- and dodge bats in -- one of the 200 caves in Rio Camuy Cave Park. At their deepest points the caves are pitch black, which is why I got to wear one of those kick-ass mining hats with a built-in light.
When you need a breather, hike a trail or find a cliff to rappel or jump from in these same parks. Condado Beach, at the island's tip, is a haven for every water sport ever -- and just as importantly, for every beach bar to hit afterward.
Do absolutely nothing in total bliss
Here's where to fully check out: Playa de Guanica. It's palm trees, grass huts in the water, mountains all around you, and proper cocktails at Copamarina Beach Resort & Spa. This beach is also the launch point for a ferry to a tucked-away spot (cleverly) called Gilligan's Island. It's not precisely where the S.S. Minnow went down, but aside from locals playing music and BBQ-ing on the banks, it has the same feel. The entire hidden island is a labyrinth of water and mangroves that you can stroll, swim, or just float through; if you drift deep enough you will be sitting on your own private little beach that, according to one of the locals I met there, "you can be totally naked on and no one will even see."
Puerto Ricans like to party
Oh, do they ever. My time strolling Old San Juan was a blur of massive forts, eating ceviche and everything else that's on Fortaleza St, hitting up the coffee counters (stop at one; they do coffee right here), and perusing impressive graffiti art. At night, it's a completely different kind of blur. The streets are swamped with people drinking, salsa dancing (Nuyorican Cafe is the spot for this), and general carrying on. And this isn't for a special occasion -- although I was there during Noche de San Juan, when everyone jumps in the ocean at midnight for good luck (TBD if it worked).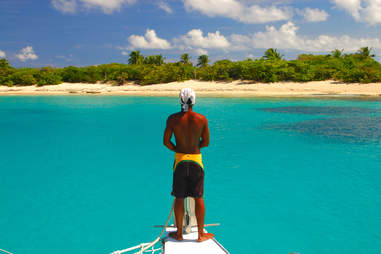 Artifan/Shutterstock
Vieques. Oh, and Vieques.
Eight miles off the east coast of Puerto Rico is a little island named Vieques. When you first boat up to it -- and you can only get there by boat or plane -- it looks scarily like that D-list Brooke Shields movie The Blue Lagoon. Nothing but palm trees, magically clear waters, expansive white sand beaches, and beaucoup sea turtles. Seriously, you will see one (likely more than one) while snorkeling, which is an absolute must. There is plenty of civilization (it even has a St. Regis), but you can feel hundreds of miles away from it if you choose.
And then, there is the Bioluminescent Mosquito Bay. Don't let the "mosquito" part freak you out. The water emits a blue haze from millions of microorganisms that live in it. It's like swimming in actual Narnia.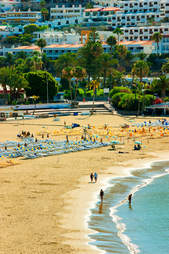 Kalin Eftimov/Shutterstock
All of your technology works
Pokémon-obsessed or not, this is a huge win. Calling your provider to figure out how to avoid roaming charges, finding chargers that work, only being able to post to Instagram when you have Wi-Fi (which, in some foreign countries, can be scarce) -- it's all just a giant pain in the ass. But since Puerto Rico is a US territory, none of that applies. Roam away, friends.
The food is excellent
Ever heard of mofongo? This stuff is so good it will ruin all other side dishes for you; technically, it can be eaten as an entire meal. It's made from plantains that have been mashed into oblivion with salt and water. Then you add whatever the hell you want to them. One of those things should absolutely be chicharrón (crispy fried pork).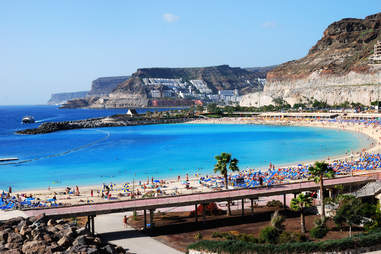 L.Trott/Shutterstock
The locals want you to love your stay
Puerto Ricans just make the experience of visiting more than any other place I've been, because they simply love the crap out of their homeland. They'd bear-hug their country every day if they could. Everyone I met there wanted to make sure I not only saw the best things, but really experienced them. For instance, it wasn't enough that I went to one local's favorite seafood place, I had to try the ceviche nachos… and the seafood mofongo… and don't forget the cappuccino, they have the best in San Juan. When I was strolling Gilligan's Island, a crew BBQ-ing on the beach directed me to a secluded mangrove spot with the best view (not the same guy who told me about "naked beach," but that sorta counts too). When I didn't see any sea turtles in the first snorkeling spot in Vieques, two local divers took me to a bridge where I promptly saw three. I swear, one dude talked to me about the new mall with possibly the greatest level of enthusiasm I've ever heard. Everyone contributes to this overall Isn't it amazing here? vibe, and it's catchy.
Good God, the rum
Studying abroad in Italy ruined wine for me back in the States. (Granted, when I got back I was still in college drinking Franzia. Still.) Drinking rum in Puerto Rico is similar -- once you've had the best stuff, you can't go back. And just your $30 bottle here is regular ol' house wine in Europe, in Puerto Rico you can drink the Pappy Van Winkles of rums at bargain prices. Fall in love with a bottle? Oh, well, gee, why don't you just stash some in your suitcase? After all -- since this bears repeating -- you may feel a million miles from home, but you're not going back through customs, cowboy.
Sign up here for our daily Thrillist email, and get your fix of the best in food/drink/fun.
Liz Newman is a contributing writer for Thrillist, and just traveled to Puerto Rico. In case that wasn't clear. Peruse more filtered pics from the trip on her Twitter and Instagram @lizn813.