Wesley Henderson does what everyone else in Orlando does when I ask about Pulse. He gives me this look that asks why am I even trying that.
It's not that he's over what happened -- far from it. No one here is. But like many other LGBT people in Orlando right now, he is done thinking about it. When I meet him it's been nearly three weeks since two of his friends died in the mass shooting at Pulse, and he's cried enough. "That can't be me forever," he says. "The world is not gonna stop. Cars are gonna keep driving on the road, even if you stay down or stay up. So why stay down?"
It's Independence weekend in Orlando and we're at Tsar, a posh little spot in the Thornton Park sorta-gayborhood where Wesley is throwing "Sexxy Sunday," one of a series of O.Party events he organizes, aimed at creating a place for gay men of color to gather and dance to a playlist that's more Lil' Kim than Lady Gaga.
Before June 12th, that place would have been Pulse. Likely Pulse's riotous Platinum Friday -- agreed upon by anyone I spoke to as the best hip-hop party in LGBT Orlando (and maybe just Orlando, period). There you'd see Pulse queen mother Angelica Sanchez whipping her big-ass wig around, or homegrown dance crews rocking tall socks and short-shorts, dropping down low to a Trina track. You'd have DJ Flawless bouncing the crowd back and forth between 1995 and some track that came out five minutes ago, as you sipped on $5 "Blue Motherfuckers" and tried not to spill them on a floor packed with black, brown, and white bodies. And at 3am, if you could walk, you'd follow the party down South Orange and watch it blow up all over again in the McDonald's parking lot. This happened every Friday.

Recommended Video
Please Don't Hang Up: The Best BBQ & Barcade in Dog-Friendly Kansas City
The club was girl-friendly, boy-friendly, trans-friendly, and beyond… Scan the faces of the victims, and you'll see a tribe unbound by race, age, gender, or body – but bound.
Tonight, though, it's mostly quiet. Maybe 10 guys have come through. Wesley assures me (as a promoter should) that it's early; but having been here three days already, I know that's only part of what's going on. Gay folks in Orlando are only just now starting to come back out. For some, it feels awkward or just wrong to try and pick up where they left off. Others are honestly still too scared to leave the house yet.
That's not to say people aren't trying. Ryan Daugherty, who danced at Pulse under the name Selfmade, trades iPhone shots with another former Pulse dancer. They both pop their asses out, serve face for the camera, get a good shot, and go back to twerking. Ryan danced on stage (or on the bar) at Pulse a few nights a week for almost five years. Tonight is his first time dancing anywhere since the attack. He dances slowly, deliberately, more Lazy Sunday than Platinum Friday -- lowering himself evenly to the floor and back up, gliding over the beat instead of grinding against it.
Behind him is DJ Infinite -- another Pulse staple who was spinning there the night of the attack. His eyes are intense, and he looks down at the decks like a surgeon, or a priest preparing a rite. Every now and then he glances up and surveys the empty bar from his raised platform, the whole booth bathed in red light. It looks like an altar. It feels like a vigil. He drops Aaliyah and some boys come running in from the patio.
"We can dust it off and try again, try again…"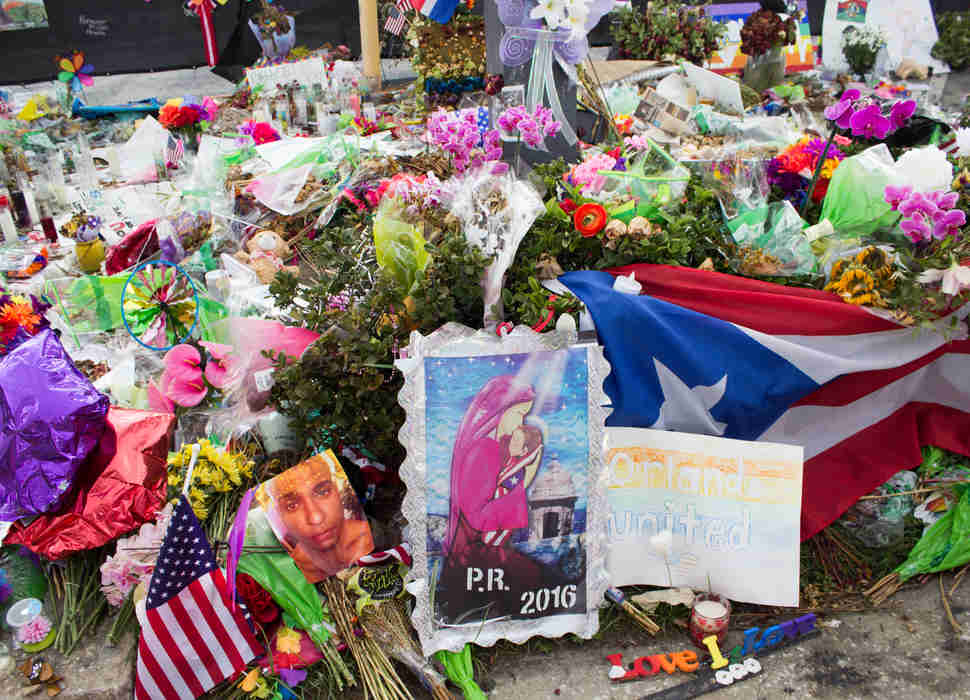 The further you get from Pulse, and the further you get from the events of June 12th, 2016, the easier it is to forget what happened here. The rainbow ribbons pinned to your flight attendants' uniforms on the way in may not be there on the way out. The "thoughts and prayers" that overwhelmed the city for weeks have petered out like retweets of thoughts and prayers. For most of us, once the news crews pulled out of Orlando -- heading for Dallas, or Nice, or Cleveland -- the word "Pulse" flipped its meaning, flattening into yet another generic American byword for slaughter.
But in Orlando, the word has outgrown the little black fortress of a club it refers to -- it means "what happened," but it also means "what now?" Americans have mostly seen Pulse from the news copters, or over the shoulders of reporters; but queer people who live here knew Pulse intimately. It was their home, even when it had a line down the block. It was a source of life long before it was roped off by death. I wanted to see if Pulse can live on even as the world around it moves on. So I got on a plane full of happy families and we all escaped to Orlando.
***
Twenty-two miles of I-4 separate Pulse's doors from the gates of Disney World, but they're really not so far removed from each other. Like a theme park, a gay scene is a safe world built within a hazardous one, an alternate reality constructed from carefully crafted illusions.
So in Orlando, for instance, you've got your bathhouse (Club Orlando is, in theory, part Fantasyland/part Splash Mountain). You've got your cruise bar (Hank's up north falls somewhere between Frontierland and the Tower of Terror). You've got your anachronistic resort (the 40-year-old Parliament House, which feels like a living museum of Ancient Gay Ways). And, in Pulse, you had a kind of Tomorrowland. Not just because it looked like it arrived here from the future (its interior was all sleek surfaces, lasers, and color-shifting LEDs), but because something about it actually felt like the future. Or, at least, a possible future. A better future.

In Orlando, everyone I talk to about Pulse says it: their family lived here. This was their house and now they can't go home.
Owner Barbara Poma opened Pulse in 2004 with partner Ron Legler, naming it in tribute to the heartbeat of her brother John, whom she lost to AIDS in 1991. As a straight teenager, Barbara had an early exposure to the vast thumping circuit of Ft. Lauderdale's gay bars under her brother's watch.
Orlando is a far cry (and a three-hour drive) from Ft. Lauderdale, but in opening Pulse, Poma's goal wasn't just to sell drinks to twinks, but to preserve John's spirit in a meaningful way -- the same way she watched it transform her own family dynamic, "from a culture of strict tradition to one of acceptance and love."
In theory and practice, Pulse offered the polar opposite of old-school gay-bar culture -- that stubborn, nearly unconscious tradition of sorting and separating ourselves into our bars by shape, size, sex, color, and type. More often than not, those old desire-driven ways of coming together just meant further isolation. For decades we've been united in acronym only.
Pulse's approach was an answer to this; a way of pulling "community" out of the abstract. The club was girl-friendly, boy-friendly, trans-friendly, and beyond. Unlike many places, the dancers didn't all have the same look. Straight people crammed into Latin night on Sundays just for the legit dancing. Its mishmash was its mission. Scan the faces of the victims, or the memorial on South Orange, or photos and clips that made it online, and you'll see a tribe unbound by race, age, gender, or body – but bound nonetheless. That was on purpose. "Pulse catered to anyone," Ryan Daugherty tells me. "It was the club that accepted everybody."
When former Pulse entertainment director Blue Star first moved to Orlando from NYC 16 years ago, there were two halfway decent gay bars, both of them institutions: the trusty Southern Nights, and the storied Parliament House. When word first spread about Pulse's opening, she recalls hearing excitement, but also grumbles of trepidation -- "Oh look, another straight person opening a gay bar."
"But once we understood where [Barbara] was coming from," Blue says, "it was embraced, and it was celebrated." Pulse was instantly popular, and seemingly open to everything. Blue herself threw multiple installments of her ongoing "Varietease" show there. She judged drag pageants and watched future stars of drag take their first steps in heels. She went to benefits, award ceremonies, community celebrations, burlesque nights, and theater performances at the club. And she credits it for giving her the shove into the spotlight that every performer needs.
"I have danced on that dance floor, I have put my feelings on that stage, I have spent many a night in that dressing room," says Blue. "Pulse was a playground. It was safe, and it was home -- to a lot of people."
Every time I see James for the rest of the weekend, he says, "There he is. That's the fucking guy who made me cry."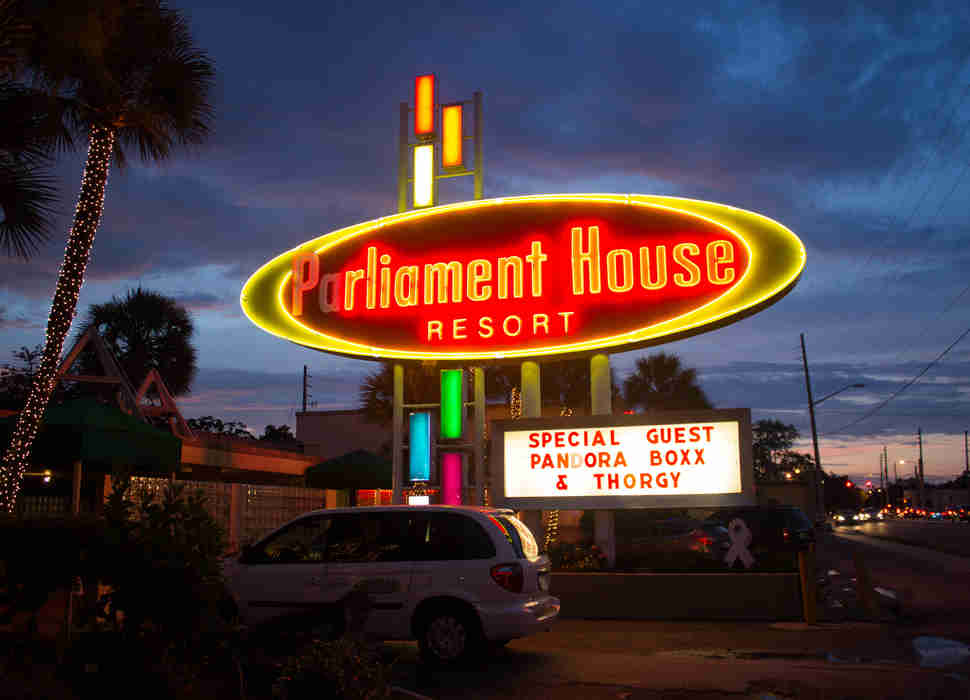 At least two times a day in the Bear Den, Candi Staton comes over the jukebox and urges young hearts to run free. Now we just need some young hearts.
It's an older crew today at the Den -- a small, smoky dive bar tucked into the back of the oldest gay venue in Orlando, the Parliament House. On the monitor hanging over the change machine, a steroidal '90s stud in a jockstrap smirks before his five seconds are up and he's replaced with another. Everyone's dragging on 100s. The bartender lifts his shirt and the old dudes at the end of the bar approve and waggle bills at him. In a small cubby off to the side of the entrance, a poker game is getting loud.
One of Pulse's lower-key offerings was its happy hour poker game three times a week, where Sai Tanghal was a dealer. Now he deals here at the Den, beating today's low-hanging afternoon humidity in a minuscule blue Speedo stuffed with dollars. Periodically he whips open a big black fan with a satisfying snap. He's a little intoxicated. Everyone here is. It's about 4pm.
Sai was at Pulse that Saturday night just an hour or two before the shooting. Somebody knocked him in the head with a chipped martini glass and he started bleeding. He ran out of the club to change his white shirt, and never made it back in. The two friends that came into town to see him never made it out. "We're all stronger now," he says, sounding as close as he's willing to get to the story. "And we're not gonna go away." This is a refrain I hear a lot in Orlando, and I get it. It's a response that's always sitting there close at hand if you need it. A bat by the door.
James Lacey was big into Pulse poker too. He'd get out of work, rush to the barber (he's an ex-Marine), and head there for games on Wednesdays and Fridays. He was here at Parliament House on the night of the attack ("It was a coin toss between there and here"), and he remembers the barrage of texts that started arriving in the middle of the night. He remembers the numbers mounting and names emerging, and realizing one of them was Emmanuel. Before he can tell me much about Emmanuel (Xavier Emmanuel Serrano, 35, local theme-park employee, great dancer, called him "papi"...), he goes silent. His face lands in his hands.
Grief here sneaks up like a song someone else puts on; it pulls you to the floor with no notice. Every time I see James for the rest of the weekend, he gives me shit: "There he is. That's the fucking guy who made me cry."
She appears in a dress styled to look like the poop emoji, and launches into a version of Katy Perry's "This Is How We Do" retrofitted with lyrics about shitting your pants. It gets warm applause.
True to its proud clientele, the Parliament House is both black sheep and survivor. It's the oldest and only gay member of the Parliament House Motor Inn family, once liberally scattered across Florida, Alabama, Louisiana, and Georgia. It's also the last one standing. It's a classic two-level motor lodge with cruisier-than-average catwalks. Unofficial etiquette dictates that the extent to which one's drapes are left open can be interpreted as an indicator of available hospitality. (I learned this while sitting here writing and having to shoo a man away from my window like a pigeon.) It's only three miles from Pulse but it feels like another planet.
There's a show here tonight, a performance from Pandora Boxx and Thorgy Thor (both revered alumna of RuPaul's Drag Race). Most of the drag in Orlando was split between Parliament and Pulse, but since the shooting, most of it has migrated here. I get wanded and patted down on the way in. If this were normal at a gay bar, we'd have silly sex jokes ready to go. No one says a word.
By midnight, Pandora Boxx appears on the pool stage in front of a subdued crowd. She's in a blonde wig that showcases the humidity, and a dress styled to look like the poop emoji. She launches into a version of Katy Perry's "This Is How We Do" retrofitted with lyrics about shitting your pants. It goes over like a fart in a car. She gets warm applause. People are really trying; they're here.
Thorgy comes on next, serving Grace Slick and Carol Burnett but ripping through a multi-phase Whitney medley, skillfully broken with scraps of dialogue (e.g., "Crack is wack"). People suddenly thrust clutches and cocktails into the air. They scream when the songs switch, and gag aloud when she works the industrial fan at the front of the stage. They're going bonkers. Whatever she's doing is working.
Thorgy, a trained violinist, had written and planned some somber string piece before flying down from New York -- rueful and meditative. "But I'm a Gemini so I pick everyone's brain," she tells me. The Parliament House queens (Darcel, Sonique, Jazelle, and Chantel) begged her not to. Please: just give us Whitney. Give us crack. Tell us how wack it is.  People have gotten enough somber, she tells me. "They need something else."
For the rest of the night, the floor at P-House is full. Lasers cross, strobes flash, and ridiculous diva-trance remixes overdrive the sound system. At least three men are crying at the bar. I ask a man if this is at all what Pulse was like. "Not even close," he says.
Pulse's owner Barbara Poma declined to talk about the club with me -- she's been getting asked about the future of the club since the morning after the shooting, but answers are in short supply around here. According to her publicist, though Poma has vowed to reopen the club, there's "no timeline yet for what she will do, it remains premature."
Until then, the closest you can get to Pulse is a peek through the police fence that still surrounds it, which has been transformed into a sprawling memorial facing South Orange. It spills off the wall onto the pavement -- dozens of posters, photos, flowers, and candles, all collecting around the legs of the Pulse sign. Most afternoons here, like this one, are a mob scene. And for most of us in the mob, craning our phones over the wilted bouquets, it's our first time here. Everyone has one. (Pulse made for a good starter club for nervous newbs.)
AJ Darter walks up to the memorial with his arm slung around his husband's neck. He's shaking a little. They'd been coming here regularly since the club opened its doors in 2004 -- even had their first kiss here in 2007, on Latin night. "This was where you'd come to be with your family," he manages when I ask why he came.
"Family." It's not a word you often hear in queer circles. Some have cut the word from their lexicons entirely -- either out of politeness for others or as a form of revenge on the word itself. Others transpose it into gay code, as when you're pretty sure someone is family. Like so many other imports from the straight world, we've smuggled "family" into the figurative, remade in our own image. But in Orlando it feels very literal, and everyone I talk to about Pulse says it: their family lived here. This was their house and now they can't go home.
As happens every afternoon, a bank of clouds as dark and gray as Pulse roll in, and the wind picks up, sending bloggers and tourists running for the shelter of the nearby Wendy's, blowing loose photos and flowers down the street. I almost run after them but it seems OK to let them go. Pulse isn't gone, it's just been scattered everywhere.
It takes so little to scatter a fantasy. Just like at the park, a lone thunderhead can steal the sun, chill the air, tangle the flags, and send families running for cover in paradise. How easy it is to forget we're still here in the world. How eager it is to remind us.
Sign up here for our daily Thrillist email, and get your fix of the best in food/drink/fun.