Queen of kitesurfing Susi Mai talks beaches, bars, and more
Born to windsurfer parents, Susi Mai was raised in the Dominican windsurfing mecca Cabarete. Her destiny changed direction when she ditched the custom board her dad had made for her in favor of something he hadn't: a kiteboard. Within eight months, she'd placed 2nd in her first international PKRA competition and was eventually crowned Queen of the Air -- one of the sport's most prestigious honors -- a record three times. Now retired from the circuit, she's focusing her energies on MaiTai, an annual kite retreat for entrepreneurs held at her friend Richard Branson's private island in the British Virgin Islands.
We caught up with Mai to talk snowkiting, her favorite beach bar, and her beef with the Miami airport. Oh, and we got her to reveal the location of her favorite secret stretch of sand.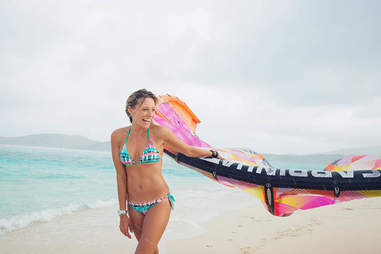 Quincy Dein
Before you moved to the DR, you spent summers living in a trailer on an Italian beach. Is that something you'd recommend for all kids?
[Vibrant, super-attractive laughter] It's a beach town, so people don't spend any time indoors. Electricity didn't even start coming in regularly until ten years ago. There was no TV minus one crappy channel. I used to be on the beach every single day boogie boarding or just splashing around in the waves.
Why did you ditch windsurfing for kiteboarding?
Ever since I was born, my dad wanted me to windsurf, however windsurfing's not really instant fun. But then kiteboarding came around, and windsurfers were getting annoyed by kiteboarding, and I thought, 'This looks awesome. I want to try and learn'. My dad was like, 'No, that's dangerous,' at which point, of course, I went out, got a job, and made enough money to buy my own. It was a little bit of a rebellious act.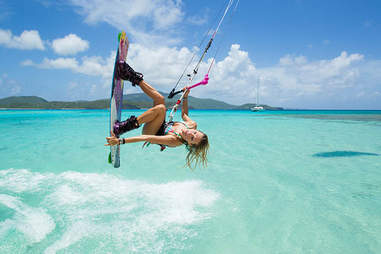 Quincy Dein
What's the most physically taxing part of what you do?
Kitesurfing is not that physical once you're past the learning stage. The big thing is to try to stay upwind, which means when you get on your board, you can edge and come back to the same spot where you ended and the wind doesn't blow you down. Once you learn the kite, it's pretty mellow 'cause you're in a harness, so you can sit back and cruise.
What's the worst injury you've suffered?
If you're pushing the limits, getting very technical, and have a very powerful style, it's going to happen. You're going as fast as possible, landing as hard as you can, and there's a lot of impact on your knees, ankles, and spine, and there's strain on your shoulders. The more beautiful the place, the more likely there's a giant coral reef under you. You get reef gashes. Nothing very major or seriously life-threatening, though.
Is their anything out there that does scare you?
I'm very respectful of avalanches because I haven't been exposed to them. I started snowkiting about four years ago. Before that, I'd been chasing Summer all my life. The first time I was in Norway, there was this big whiteout in this avalanche-prone territory, and even though I was on something that I knew -- a kite -- I remember being very scared.
Quincy Dein
You've lived and traveled all over. What places top your list?
It's like choosing which one of your kids is your favorite child. DR, 'cause it's home; plus, the more I travel, the more I realize that there's no other place like it. Up there with DR, I would say Hawaii, BVI, and Australia. I used to just be happy with an eat/sleep/kite set-up, but once I stopped competing four years ago, I was no longer trying to spend every minute training, so I began asking myself, 'What else can I do here?'.
What makes BVI such a prime location for kiteboarding?
The sheer stunning natural beauty of it is almost second to none, even Australia. In the BVI, you just pull out your iPhone, close your eyes, take a picture of whatever is in front of you, and it will be beautiful.
Quincy Dein
Best beach you've ever been to?
My favorite would be… somewhere I can't say. It's a secret spot. It's on a remote Island, almost uninhabited, not many people know about it. It's as far North as you can go in the BVI, a spot called Cow Wreck Beach -- I guess people can Google it -- on the Island of Anegada. There's a little restaurant on it, and they serve you the most insane lobster. It's all-around epic and beautiful.
Favorite surfer bar?
My all-time favorite is VacaBar in the DR. It's ironic because Vaca means cow in Spanish and the beach is Cow Wreck. It's my best friend's bar, and the social hangout where people meet-up after kiting. Have a smoothie or your breakfast, and as soon as conditions pick up, jump off your chair and you're on the beach kiting in seconds.
Worst airport you've ever been to?
I could be really mean... I really don't like Miami Airport. Maybe 'cause I'm there so much. But between immigration and trying to get through that airport, it's such a nightmare. I would love it if they could figure their sh!t out.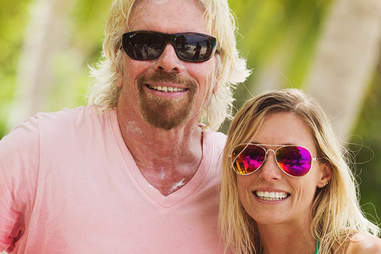 Quincy Dein
Who's your hero?
Richard Branson. For someone to be that successful and then still be the most friendly and amazing human being to connect with, that's a pretty big thing. In the world of extreme sports, athletes, and celebrities, it's quite rare to find someone who's made a lot for themselves and remains a solid human being.
What have you learned from instructing all these Silicon Valley entrepreneurs at MaiTai?
They have this mindset of 'you're going to fail, you're going to have a hard time, but you have to learn from it and keep on going'. Being a competitive athlete, failure is your biggest fear, losing a competition is the worst thing that can happen to you, and you're not really trained to think it's okay to lose. But with all these super-interesting people that come to these events, the biggest learning is that it's cool to try, and if you f**k it up, who cares, you'll try something else.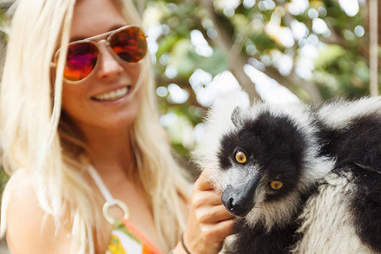 Quincy Dein
Which celebrity are you most-often compared to?
Anna Kournikova. Not because I want to... I guess when I started kiteboarding all the girls in the industry were 30+, everyone was doing their thing, spending their own money because there wasn't really an industry. I was the first 18yr-old. All the girls before me would be very tomboyish; they were wearing big board shorts and trying to be men, and I was the first person to put a feminine spin on it. In the beginning more inadvertently, but now that's become my thing. I want to make it accessible to chicks that aren't hardcore sports girls.
What would you be doing if you weren't kiteboarding?
I have no idea! I was trying to become a vet for a while. I grew up around animals, and the deal for me to move to the DR was that I'd only come if I could have a horse. So when I was 5 or 6, I got a horse. I was always saying I would be a vet one day. I might become a crazy cat lady, you never know.